Class Notes Winter 2018
1951
"After retiring from business, I got involved in the real estate market in Florida," writes Al Cohen. "After a few years of rapid increases in property values, there was a slight downturn, but being retired it didn't affect me too much. I have since changed offices to a smaller 'boutique' office in Tequesta, Fla., where I work at my own speed and do a comfortable amount of business."
1960
"After almost 58 years of practicing law in the Boston (Newton-Wellesley) area, I am still working full time and truly enjoying it," writes Mark Lichtenstein. "Carolyn, my wife of 58 years, and I still love to travel, especially to the New York City/Long Island area, to be with our daughter, Lisa, son-in-law, Scott, and our two grandsons, Jacob and Matthew (when they are home). We enjoyed the last reunion of Suffolk Law on June 2."
1968
Charlie Williamson notes, "I am still engaged in the general civil practice of law in Portland, Ore., although semiretired and working out of my home. At the age of 73, I think of retiring, but enjoy the work and helping people. I am glad to meet with other law school grads who move here or pass through. There are more and more Suffolk alums here all the time."
1969
L. Peter Farkas has opened a new firm, Halloran Farkas + Kittila LLP, a national corporate and litigation boutique with offices in Washington, D.C., Wilmington, Del., Palo Alto, Calif., and Jackson Hole, Wyo. Peter, who is based in Washington, D.C., writes, "I've had my own firm for 20 years and am ready for a new venture with a more pronounced focus on a national practice."
The Hon. Peter Panuthos has stepped down as chief special trial judge of the U.S. Tax Court, a position he held for 25 years. He will continue to serve as a special trial judge. In 2012, Judge Panuthos received the J. Edgar Murdock Award, the Tax Court's highest award, for his exceptional service to the court.
1971
Paul Cherecwich, Jr. writes, "I am now fully retired and spending my time skiing in the winter and golfing, gardening, and fishing in the summer. I also am involved in volunteer work, ranging from fundraising for homeless programs to providing pro bono tax advice to my city club. I was pleased to recently receive a note congratulating me for over 40 years of financial support to Suffolk Law School. I encourage everyone to try to beat my record."
1972
Christine Newman Garvey has retired after 20 years with the Prologis REIT Board. She continues to serve on the board of directors for MUFG Union Bank, as well as HCP, a health care REIT, and Toll Brothers, a high-end residential developer. She resides with her husband in Santa Barbara, Calif.
1973
Peter Ettenberg, a founding partner in the Worcester, Mass., law firm of Gould & Ettenberg PC, received the Joseph J. Balliro Award from the Massachusetts Association of Criminal Defense Lawyers.
1974
John Bonee writes that his firm, Bonee Weintraub LLC in West Hartford, Conn., has celebrated its 10th anniversary. His practice focuses on civil litigation, including personal injury, and probate litigation. John has enjoyed the convenience of the firm's move from Hartford, Conn., to his hometown because it's now easier for him to join his wife, Jeanette, and 15-year-old son at school and athletic events.
Mary Ellen Niles Howard, an attorney in Florence, Mass., participated in a presentation on the Hampshire Probate and Family Court's Family Resolutions Specialty Court at a session "Innovation in the Courts" held at the World Congress on Family Law and Children's Rights in Dublin, Ireland.
1976
Charles A. Gelinas Sr. writes, "I continue the practice at Gelinas & Ward in Leominster, Mass., joined by my son, Justin P. Gelinas JD '08, and daughter-in-law, Ashleigh C. Gelinas JD '08, with the firm's focus on commercial lending, real estate and trusts, and estates. No plans for complete retirement, but pleased to be turning the practice over to Justin and Ashleigh and the firm's other attorneys."
1977
James Kehoe of Tromello, McDonnell & Kehoe in Melville, N.Y., writes that he celebrated his 40th law school graduation by running the Boston Marathon.
The Hon. Daniel A. Procaccini, associate justice of the Rhode Island Superior Court, received the 2017 Chief Justice Joseph R. Weisberger Judicial Excellence Award.
1979
William F. Kennedy, a partner at the Boston-based law firm Nutter, received the Catholic Charities 2017 Justice and Compassion Award. He was recognized for his extensive philanthropic contributions and social impact on the Greater Boston community, which he has worked tirelessly to serve for over 40 years.
Alice Peisch, state representative for Massachu-setts' 14th Norfolk District and House Chair of the Joint Committee on Education, was appointed to the National Assessment Governing Board.
Tony Pelusi writes that he recently became certified as a parenting coordinator by the Massachusetts Probate and Family Court. Combining his skills as trial attorney, mediator, and professional coach, Tony serves as a catalyst for change in dysfunctional personal and business relationships.
1980
Thomas W. Madonna was appointed chair of the Rhode Island Supreme Court's Unauthorized Practice of Law Committee.
Carla Newton, a partner at Robinson Donovan PC, Springfield and Northampton, Mass., was included in The Best Lawyers in America in the practice area of family law.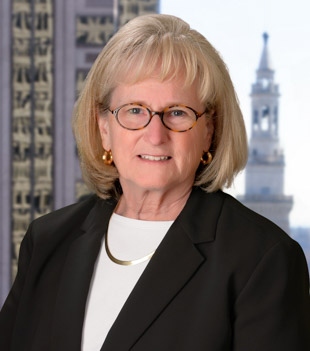 Carla Newton
1981
David Adelson received the 2017 pro bono award from the Norfolk County Bar Association for his volunteer work as a mediator of summary process cases at the Stoughton, Mass., District Court.
Richard Scheff was named president of the Partnership for After School Education, a child-focused organization that promotes and supports quality after-school programs, particularly those serving young people from underserved communities. He is a partner and executive chairman of Montgomery McCracken, a full-service law firm with offices in Pennsylvania, New York, New Jersey, and Delaware.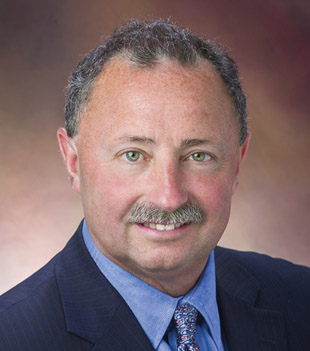 Richard Scheff
1982
Kevin Fitzgerald, a partner at Nixon Peabody, was included in the 2017 edition of Chambers USA: America's Leading Lawyers for Business.
Ed Wallack, one of the principals of Sapers & Wallack (S&W) in Newton, Mass., announced the February 2017 sale of S&W's group benefits division to The Hilb Group, a leading middle-market insurance agency headquartered in Richmond, Va., and a portfolio company of Boston-based private equity firm ABRY Partners. Ed and his partners will continue to operate their company's executive benefits, insurance, retirement, and wealth management divisions while collaborating with THG of New England to provide clients a full range of commercial insurance and employee benefits solutions.
1983
Robert Griffin, managing partner at the Boston-based law firm Krokidas & Bluestein LLP, was named to the U.S. News & World Report's 2017 "Best Lawyers" list. He has been included for more than 10 consecutive years for his work in health care law.
Steve Roach writes that he continues to practice general civil litigation in Boston with his firm Roach, Ioannidis & Megaloudis, LLC.
Paul Sanford, a partner at Burns & Levinson LLP, was named the 2018 Rhode Island Lawyer of the Year for trusts and estates litigation by Best Lawyers in America. He oversees the firm's civil litigation practice in state courts and the federal court in Rhode Island.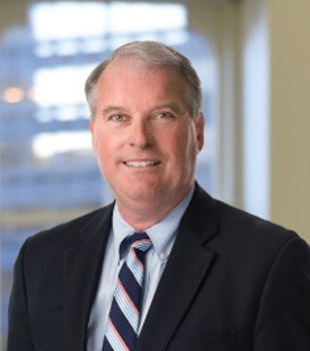 Paul Sanford
1985
Martin J. Alperen has published a law textbook, Foundations of Homeland Security: Law and Policy, second edition (John Wiley & Sons, 2017).
Vincent Bonazzoli, founder and principal of the Family Estate Planning Law Group in Lynnfield, Mass., was named a top-rated estate planning and probate attorney by Super Lawyers magazine.
Steve Cohen is Of Counsel at Feldman, Kleidman, Coffey, Sappe & Regenbaum LLP in Dutchess County, N.Y., where he manages the plaintiff's personal injury practice.
John Farina, a partner at Boyes, Farina & Matwiczyk PA, in Palm Beach Gardens, Fla., was selected a 2017 Top 100 Trusts and Estates lawyer by the American Society of Legal Advocates for the third consecutive year.
1986
Rachel B. Goldman is a partner at Grindle Robinson LLP in Wellesley, Mass., where she specializes in collaborative family law, mediation, conciliation, and settlement negotiation. She has been included in The Best Lawyers in America and has been named a "Super Lawyer" in the areas of family law and mediation for the past several years.
Ellen Harrington, director and chair of the Boston law firm Rackemann, Sawyer & Brewster's trusts and estates department, was named to The Best Lawyers in America for 2017.
Victor Milione, a partner at Nixon Peabody, was included in the 2017 edition of Chambers USA: America's Leading Lawyers for Business.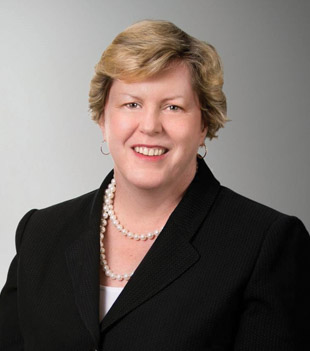 Ellen Harrington
1987
Michael F. Connolly has joined the Boston office of Rubin and Rudman LLP as a partner and co-chair of the litigation department.
1988
Lynn Coffin Brendemuehl was appointed first justice of the Concord, Mass., District Court.
Denise I. Murphy was elected vice president of the Massachusetts Bar Association for 2017–18. She is a partner at Rubin and Rudman LLP in Boston, where she chairs the firm's labor and employment division.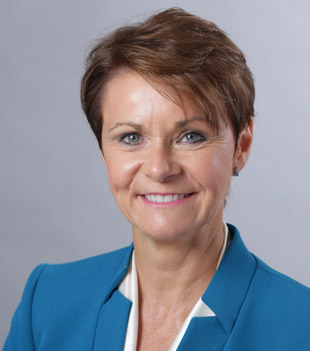 Denise I. Murphy
1989
Steven A. Minicucci was named a judge for the Rhode Island Workers Compensation Court. He has worked at Calvino Law Associates since 1989, representing employees in workers' compensation matters, and also served as the probate judge for Warren, R.I.
Sheldon C. Toplitt notes that he has affiliated with Keller Williams in Westwood, Mass., as a real estate agent. He also is Of Counsel to the Law Offices of John C. Dorn in Sandwich, Mass., and principal of The Write Lawyer in Ashland, Mass., a business that writes blogs and articles for attorneys and drafts pleadings and legal documents.
1990
The Hon. Richard Sinnott is an associate justice at the Boston Municipal Court and an adjunct professor at Suffolk Law School, teaching Laws of War.
After practicing in Boston for over 25 years, Joshua S. Tracey reports that he has relocated his domestic relations and litigation practice to Wellesley Hills, Mass. Josh has had his own firm since 2006 after having had the privilege of working with some of finest attorneys in Massachusetts. He handles all aspects of domestic relations litigation. Josh lives in Wellesley with his wife and two sons.
Jennifer Wells was appointed to the Kenai Superior Court in Alaska. Since 1994, she has served in communities around Alaska and filled roles including magistrate judge, acting district court judge, and training judge.
1991
Lisa Cukier, a partner in Burns & Levinson's Private Client Group, was named to the "Divorce, Trusts & Estates Trailblazers" list by the National Law Journal.
Gary Merken reports that he has been living near Philadelphia since 2001. As a senior attorney with the IRS Office of Chief Counsel since 2004, he advises revenue agents on issues involving large businesses and tries cases in the U.S. Tax Court. Gary also teaches graduate tax courses at Southern New Hampshire University. His son, Christopher, is a first-year law student at Villanova, so dinner table conversation focuses on various cases. Daughter Katie is a freshman at Syracuse.
1992
Lynne F. Riley, a partner at the Boston law firm Casner & Edwards, concentrating in bankruptcy and restructuring and litigation, was included in The Best Lawyers in America.
John Pankauski, founder of the West Palm Beach, Fla., law firm Pankauski Hauser PLLC, published a book, Pankauski's Trustee's Guide: 10 Steps to Family Trustee Excellence. John resides in West Palm Beach where he enjoys tennis, softball, following Boston sports teams, Hurricanes football and basketball, cooking, wine, and travel.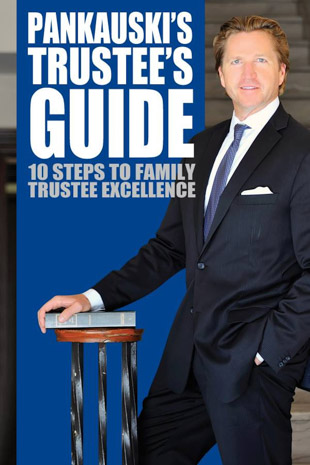 John Pankauski
1993
John Beals, partner at Nixon Peabody, was included in the 2017 edition of Chambers USA: America's Leading Lawyers for Business.
1994
Jeff Carter is the executive director of Physicians for Social Responsibility in Washington, D.C. He also was elected vice president of the Committee for Education Funding, a Washington, D.C.-based coalition of educational associations, institutions, and other organizations advocating for greater federal investments in education.
Josh Koskoff, principal of Koskoff Koskoff & Bieder, a Bridgeport, Conn.-based law firm, was named the 2017 Attorney of the Year by the Connecticut Law Tribune. He was recognized for his ongoing work as lead attorney representing families who lost loved ones at the Sandy Hook Elementary School shooting and for his courtroom achievements in 2016.
1995
Afzana Anwer writes, "After law school I moved to Washington, D.C., then Munich, and now London, and practice in the area of intellectual property law. Happy to hear from anyone who remembers me or needs help with IP issues."
Jeremy Cohen reports that he has opened a new law practice, Boston Dog Lawyers, at the Cummings Center in Beverly, Mass. The practice focuses on legal issues surrounding canines, including pet custody cases, dog-bite lawsuits, dangerous-dog defense, wrongful pet injury, and pet product liability. Jeremy has been profiled by the Boston Herald, Salem Daily News, and ABC News, and is a recurring guest on the WBZ radio show NightSide with Dan Rea.
Richard E. Gamache is a senior patent attorney at Bainwood, Huang & Associates LLC in Westborough, Mass.
Tannaz Saponaro, a partner in the Boston office of Verrill Dana, was named a 2017 Top Women of Law honoree by Massachusetts Lawyers Weekly. She also was included in Best Lawyers in America for her work in the family law practice area.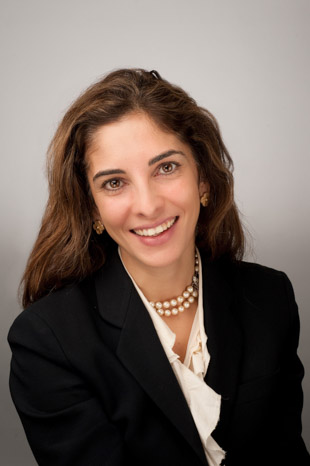 Tannaz Saponaro
1996
Michael P. Concannon reports that he "was recently appointed vice president of safety and compliance at LM Heavy Civil Construction in Quincy, Mass." He retired from the Massachusetts State Police as a major after 26 years of service. He and his wife, Annmarie, and their five children live in Woburn, where he serves as an alderman-at-large on the City Council.
Terri L. Pastori reports that she has joined with Heather Krans to launch Pastori|Krans PLLC in Concord, N.H. The firm focuses on employment law, family law, and business disputes for its clients in New Hampshire and Massachusetts. Both Terri and Heather have substantial experience working at large law firms prior to starting Pastori | Krans earlier this year.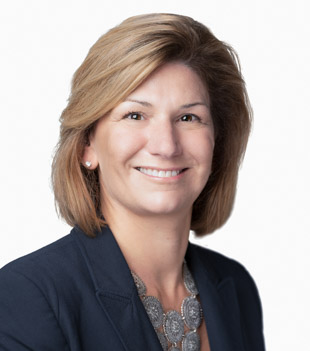 Terri L. Pastori
Jeannine (McNaught) Reardon writes, "Since my Law Review article published by SULS, I've released three mystery books, the Rebecca Tameron mystery series. I've also taught insurance law at SULS with my dad, Stephen R. McNaught, Esq., with whom I work, practicing mostly in insurance defense. I've also found myself in a few local movies in background roles, the most recent being Central Intelligence. The Investigation Discovery Channel's true-crime television show, Nightmare Next Door, reached out looking for a local attorney/author familiar with the Wakefield, Mass./southern N.H. area who could help tell the story of a double homicide. The episode, 'Death Takes a Toll,' aired on Sept. 30, 2016. The case was absolutely fascinating."
1997
Joyce Anagnos is staff attorney to Judge Thomas J. Ososwik of the Ohio Sixth District Court of Appeals.
Brian Glennon BA '94 was appointed vice president, general counsel, and secretary of Cumberland Farms, Inc. He oversees the law, risk management, environmental, and government affairs departments, and is a member of the executive Leadership Committee.
Jeffrey S. Shapiro was appointed first deputy comptroller of the Commonwealth of Massachusetts.
1998
Joseph John Reardon Jr., a shareholder at Cipparone & Zaccaro PC in New London, Conn., was awarded the Certified Elder Law Attorney designation by the National Elder Law Foundation, which is the only organization approved by the American Bar Association to offer certification in the area of elder law.
1999
Christian Capizzo has joined the Providence, R.I., office of Partridge Snow & Hahn as counsel. He chairs the firm's environmental practice.
George T. Comeau joined the Downtown Boston Business Improvement District, leading its marketing and brand activation. In this capacity, George helped lead the sponsorship efforts of Sail Boston, including a spectacular parade through Downtown Crossing. He is actively supporting plans for Revolution 250, the organizational support to commemorate the anniversary of the American Revolution. In addition, George is continuing his service as Commissioner of Public Libraries in the Commonwealth of Massachusetts.
Alyssa Nohren, a shareholder at Icard Merrill in Sarasota, Fla., was named Volunteer of the Year by the Conservation Foundation of the Gulf Coast. She is a real estate attorney.
2000
Brian Snell of the Law Office of Brian C. Snell in Reading, Mass., was inducted as president of the Reading Rotary Club, a service organization. Brian notes, "You can find me along with other Rotarians at the Friday night high school football games running the Snack Shack, where proceeds are reinvested in the community."
2001
Bethany A. Bartlett, chair of Sherin and Lodgen's Solar Energy Practice Group and a partner in the firm's real estate department, was elected to the Abstract Club, an association of experienced real estate lawyers, limited to 100 members, in Massachusetts. Joseph Maraia was named to the Intellectual Property Trailblazers list by the National Law Journal. He is a partner at Burns & Levinson in Boston.
2002
Jed Enlow reports that he was named partner at the Chicago office of Leavens, Strand & Glover, where he has been Of Counsel for a number of years while also serving as a production attorney for the award-winning Steve Harvey daytime television show. He focuses his practice on entertainment and media law, most prominently on issues in television show production and broadcast.
Jonathan R. Hausner of the Construction Group at Robinson & Cole LLP was promoted to counsel. He primarily works in the firm's Boston office.
Marc Mercier MSF '02, BA '98, was named director of the forensic accounting and business valuation practice at Boston's BlumShapiro, a regional accounting firm focused on audit, tax, and advisory services.
2003
Eric Gyllenborg was promoted to director at the Boston law firm of Rackemann, Sawyer & Brewster. He will continue to serve clients in the firm's business department and Finance and Workout Group.
Law Alumni Board member Sean R. Higgins and wife, Lindsey Burke Higgins '04, are proud to announce the birth of their son, Sean R. Higgins, Jr., on October 3, 2017. Sean joins big sister Madelynn Higgins.
Jaimie A. McKean was named a partner at Schwartz Hannum PC in Andover, Mass.
Michael Sciucco has published a book, Blueprint to Business: An Entrepreneur's Guide to Taking Action, Committing to the Grind, and Doing the Things That Most People Won't, writing under the name Michael Alden. This is his third book and a follow-up to his previous best-selling books 5% More and Ask More Get More.
2004
MaryDilys Anderson was named a partner in the Patent Group of the New England-based law firm Pierce Atwood LLP. She will practice out of the firm's Boston and Portsmouth, N.H., offices.
Rachel Self notes that she appeared on Fox News to discuss President Trump's travel bans. The clip can be found on YouTube using the search terms: Rachel Self Fox News Channel.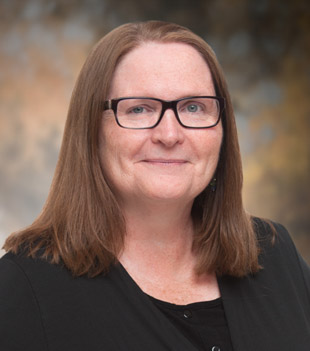 MaryDilys Anderson
2005
Brian J. Coughlin has joined the business law department of the Boston law firm Davis Malm & D'Agostine PC, focusing on U.S. immigration and global workforce mobility.
Anthony Donato was elected to the Watertown Town Council.
David Friedman was promoted to director at the Boston law firm Rackemann, Sawyer & Brewster. He will continue to serve clients in the firm's family law department.
Lisa Hawke has joined the legal technology startup Everlaw in San Francisco, Calif., as director of policy and compliance.
Suzanne Breselor Lowell has joined the real estate department of Bernstein Shur in Portland, Maine.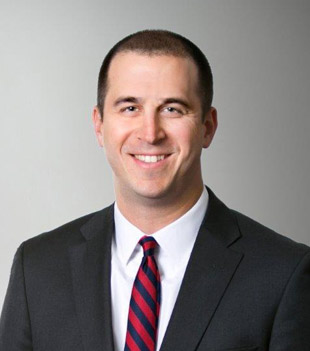 David Friedman
2006
Andrea L. Martin was elected a partner at the Boston-based law firm Burns & Levinson LLP. She is a member of the firm's Business Litigation and Dispute Resolution Group.
Kevin Powers has opened the Law Offices of Kevin J. Powers. He represents direct clients in civil and criminal litigation, and serves as consulting litigation counsel for fellow attorneys in civil and criminal matters. Kevin provides a particular depth of focus on detailed research and writing, and is active in litigating at both the trial and appellate levels and in both state and federal courts.
Michael Rossi was promoted to partner at Conn Kavanaugh Rosensthal Peisch & Ford LLP in Boston.
2007
Pedro Hernandez became a partner at the global firm Squire Patton Boggs in Miami, Fla., focusing his practice on public and infrastructure finance, primarily in Florida and Puerto Rico. He also was named a 2017 Rising Star by the Bond Buyer in the area of municipal finance.
Angel Kozeli Mozina of Feldman & Kozeli in Boston was named a 2017 Top Women of Law honoree by Massachusetts Lawyers Weekly.
Sonya (Roncevich) Murphy and James W. Murphy '06, welcomed their third child, Caelyn Joslin Murphy, on April 19, 2017. Big brothers Aedan, 5, and Dylan, 1.5, are excited to have a new baby sister. In January, James started a new job as senior wealth manager and fiduciary specialist at BNY Mellon's Boston office. Sonya continues her in-house legal career as corporate counsel at PerkinElmer in Waltham, Mass. The Murphy family resides in Beverly, Mass.
Jonathan Trotta was elected partner at Stinson Leonard Street. He practices in the firm's Washington, D.C., office focusing extensively on energy, transportation, telecommunications, and cybersecurity policy issues.
Steven M. Veenema was elected a shareholder at Murphy & King Counsellors at Law in Boston.
Shannon Vittengl has joined the New England-based law firm Pierce Atwood LLP as counsel in the firm's Patent Group.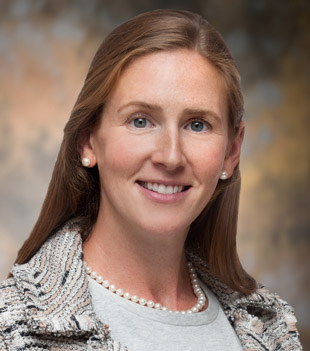 Shannon Vittengl
2008
Christopher R. Cowles has joined Boston-based law firm Burns & Levinson as a partner in its Life Sciences and Intellectual Property Groups.
Shane O'Neill was promoted to partner at Weinberg Wheeler Hudgins Gunn & Dial in Atlanta, Ga.
Stephen W. Ranere was promoted to partner at the global law firm Latham & Watkins LLP. Ranere, who works in the firm's Boston office, focuses his practice on the representation of private and public companies in the technology, health care, and life sciences industries.
Robert O. Sheridan, Of Counsel at Nelson Mullins Riley & Scarborough LLP in Boston, was named a 2017 Massachusetts Rising Star in the employment practice area by Super Lawyers magazine.
Rajat Singh writes, "After publishing my first two poetry collections, In the Brightest of Nights and Parading Past Closed Windows, I am writing my third book to be released in the winter. Residing in Brooklyn, N.Y., I also just began work on designing and creating for the new apparel and accessories brand Eterno. It has been nine years since 120 Tremont, but I still miss the good people of Boston."
2009
Lisa Cahan Rhoades and Cory Rhoades are "thrilled to have welcomed their first born, Clara Liona Rhoades (projected JD '41), in December 2016. When not busy chasing Clara, Cory continues to practice commercial real estate and corporate law at D'Ambrosio Brown LLP, where he has been employed since graduation. Lisa continues to work in the field of disability law, now an attorney adviser with the Social Security Administration."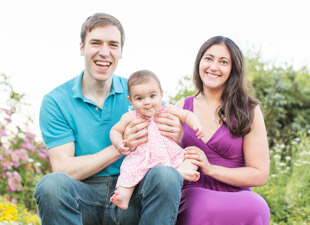 Lisa Cahan Rhoades and Cory Rhoades
2010
Otylia Babiak married Ryan McClanahan on May 20, 2017. She is the legal counsel for the International Centre for Settlement of Investment Disputes, which is part of the World Bank Group, in Washington, D.C. Otylia is pursuing an MBA at the Johns Hopkins Carey Business School.
Charles Richard Clark is the committee legal counsel for Nebraska State Senator Laura Ebke, chair of the Judiciary Committee.
Sean Fitzmichael Devlin reports that he has served as in-house counsel to Feeney Brothers Utility Services since 2010 and was named general counsel in 2013. He lives in West Roxbury, Mass., with his wife, Betsy, and two children, 3-year-old Winnie, and Teddy, who is 6 months old.
2011
David Bonzagni writes that he married Dahlia (Habashy) in July 2013 and they welcomed a son, Benjamin Noor, in March 2016. David is a prosecutor at the Rhode Island Attorney General's Office in Providence, R.I. Dahlia is a family law practitioner at Callahan, Barraco & Inman in Westborough, Mass.
Daniel W. Clarke has joined Boston-based law firm Burns & Levinson as a partner in its Life Sciences and Intellectual Property Groups.
2012
Richard B. Emmons has joined Boston-based law firm Burns & Levinson as a partner in its Life Sciences and Intellectual Property Groups.
John Wilusz, an associate at Pierce Davis & Perritano LLP in Boston, was named a 2016 Rising Star by Super Lawyers magazine in the area of civil litigation.
Christina Zhang has become a partner in the Boston office of McCarter & English, where she is a member of the Intellectual Property and Information Technology Group.
2014
Kevin Kahn is associate counsel at WME|IMG in New York, N.Y., specializing in fashion and entertainment law. He proposed to his girlfriend of three years, Sarah Wexler, an event planner in New York City, in May 2017. The couple will marry on April 21, 2018, at Temple Emanu-el of Closter, N.J. Kevin and Sarah both attended Rutgers University as undergraduates, meeting in 2014 when Kevin returned to New Jersey post-law school. They live in Hoboken, N.J., with their rescue dog, Cash.
Andrew Stacey notes that he "is very excited to announce the beginning of a new venture in Equitas Law LLP." Joined by attorneys Andrew DiCarlo Berman and Johanna M. Griffiths, Equitas Law LLP is a general practice firm located just outside Washington Square in Brookline, Mass.
2015
TiffanyAnn Johnson writes that "after discovering a passion for education advocacy, I have joined Achievement First working as a talent partner. In this capacity, I have been recruiting instructional staff poised to take on the mighty work of delivering a quality education to America's students regardless of race or economic status."
2016
Jessica F. Gonzalez has joined the Lyndhurst, N.J.-based law firm Scarinci Hollenbeck as an associate in the firm's Public Law Practice Group.
Jeff Salomon writes, "I passed the New York and New Jersey bar and have been working as a personal injury lawyer in New Jersey at Davis, Saperstein & Salomon. Interestingly enough, my advanced torts professor at Suffolk, Professor Hicks, had my father as a student in what was then both Professor Hicks' first class as a law professor and my father's first class as a law student at Akron Law."