Winter 2015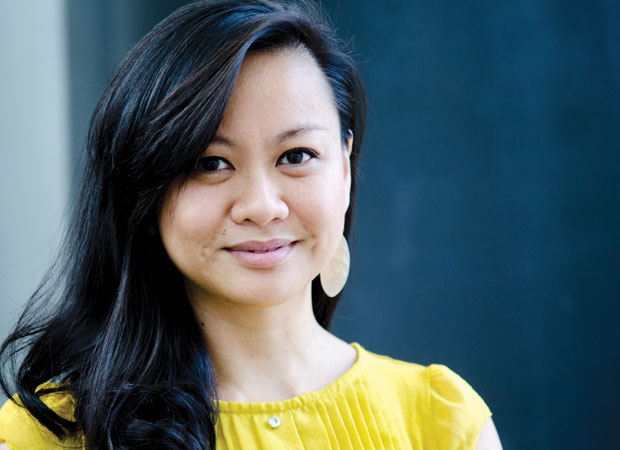 Without a Doubt
Law School student Sahara Defensor JD'15 developed a hard-won self-confidence, discovering that no woman is an island
By Reneé Graham
On the night beforeher inaugural day as a teaching assistant in Suffolk Law professor Renee Landers' constitutional law class last spring, Sahara Defensor was wracked with uncertainty. It wasn't the first time. When Landers originally offered the position, Defensor had asked, "Are you sure?"
"I had a huge amount of self-doubt," Defensor says. "I didn't know if I could meet her expectations, and I said this to her. She talked me through it, and then I eventually accepted. But the day before classes were to start, I had another huge moment of wondering if I could do it." Defensor needn't have worried. With an extensive background in government in her native Guam, Defensor brought her unique knowledge to the class, which was exactly what Landers wanted.
"Constitutional law is different from the other courses students take during their first year of law school because even though there is doctrine we are analyzing, it's also a course where the policies, ideologies, and political perspectives of the justices, litigants, and Congress come into play and factor into how you have to think about explaining decisions," Landers says. "Because of Sahara's experience in working in state government, I thought she would be very good in helping students understand that those considerations are as important as the doctrine. It's not just about memorizing some doctrinal rules and trying to apply them; it's about trying to fit those rules into the other parts of the landscape, and because of her background, Sahara understands that."
Before enrolling at Suffolk Law in 2012, Defensor, 29, worked for several senators and legislators in Guam, researching and drafting bills and coordinating and assessing government programs. Though her father was a community worker for Guam's government before he retired, Defensor says she had no interest in politics or law. Others saw her potential, however: "People kept saying 'You should be a lawyer.' In high school, I was always involved in student activities and organizations, and whenever a student had a problem, I was always the one saying, 'Well, come with me, we're gonna try to solve this problem.' Maybe that stood out for some people." After high school, Defensor was offered a position as a legislative aide to Guam Senator Carmen Fernandez, and Defensor kept the job part-time while she attended the University of Guam. She later worked as a legislative assistant for Guam Senator Larry Kasperbauer while finishing her undergraduate degree. "It wasn't until I was in college and trying to figure out what to do that it hit me. I took a legal studies course with an adjunct professor who was a sitting judge at the time," Defensor says. "One of our requirements was that we go to court and do an observation. It was fascinating, and that experience helped me to realize that I wanted to be a prosecutor."
An only child, Defensor was born in the U.S. territory of Guam, a small island in the western Pacific Ocean. Given its size, Guam is "like a big extended family," she says, where even strangers are addressed as "auntie or uncle." For a time, Defensor considered a career in teaching like her mother, and her love of reading broadened her perspective on "life outside the island. In Guam, a lot of people never leave the island. A lot them don't know anything outside of their little island life. I was very fortunate [to have access to books] and it fostered my need and desire to go out and see the rest of the world."
She joined the Rotaract Club, a youth-oriented spinoff of the Rotary Club, which allowed her to travel and to interact with other cultures. In her junior year of college, she was selected for a Harry S. Truman Foundation Scholarship, for young people with a commitment to public service. As part of that experience, she was also chosen to be a exchange program ambassador, traveled to the United Arab Emirates, and later worked as an intern in the Office of the Attorney General in Washington, D.C. (She also spent time in Independence, Missouri, President Truman's hometown.) After receiving both her bachelor's in political science and her master's in public administration from the University of Guam, Defensor knew she wanted to go to law school. She was accepted by three Boston-area schools, and chose Suffolk because the University offered the best financial package. Once enrolled, Defensor found further proof that she had selected the right place.
"I think it's about understanding the resources here and going and using the resource go and talk to professors, go and talk to the deans," says Defensor, whose concentration is health and biomedical law. "I feel like Suffolk is a small community where I'm able to walk into my professor's office and cultivate relationships. If I'm debating whether to get into this concentration or apply to this job, they are very much willing to be there for you." She's also found time to be involved in such on-campus groups as the University's Women of Color Law Student Association and the Asian Pacific American Law Student Association.
It was through those groups that Sarah Boonin, a Suffolk associate clinical professor of law, got to know Defensor. As a faculty co-chair of the Law School's diversity committee, Boonin participated in two events Defensor helped organize, including a panel discussion on reproductive health and rights for women of color.
"She's a real presence and voice on campus, and she's someone who is impacted by injustice and committed to making a positive contribution toward resolving that injustice," Boonin says. "She comes with an unusually nuanced and developed sense of public policy making, but from a different perspective. I think she's able to take experiences from a broad range of places, cull the valuable aspects of those experiences, and apply them in a way that makes them work for her."
Landers, also director of the Law School's health law concentration, says Defensor "brought this perspective of having always been engaged in practical governance before she came to law school. I think that added a lot to her comments in class. She's not willing to accept the status quo just because people in authority have said this is what's going to happen. I think she's very good at challenging the status quo in a responsible and constructive way."
Traveling abroad and being at Suffolk have given Defensor an appreciation for the world she never could have found in Guam, she says. Yet she hasn't ruled out someday returning to her homeland and sharing with her family and neighbors—and those assorted aunties and uncles—everything she has learned.
"In Guam, it's not unusual for people to be married and have two kids by the age of 20 because that's all they're used to. They don't know there's something bigger they can achieve, and they're just stuck on the island," she says. "It wasn't until I got in the Truman program that I met other people who said 'We can change the world, and it's OK for us to start in our communities.' I'm a small girl from a very small island in the middle of nowhere, but I know now that I can make a difference."