Winter 2015
Correspondence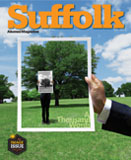 It's a great summer issue. The cover presents a picture that appears to be surely worth a thousand words. However, it reminds me of the comment of a NASA engineer when reviewing the first pictures being sent from the NASA Rover after it landed on Mars. He noted that "One word would be worth a thousand pictures."
The issue was a very interesting change from the usual alumni magazine. I'll look forward to the next issue.
Burt Kreindel JD '71


the reflector
William Greiner BA '86
What a pleasure it was to see William Greiner and his photography profiled in your Spring/Summer edition. As director of the University of Louisiana at Lafayette Press, I came to appreciate Greiner's willingness to document the everyday life of everyday people while working on his experimental book Show and Tell. The book turned out to be a remarkable record of artistic innovation using Greiner's photographs to spark fictional accounts by accomplished writers and then marrying the two together in combined form.
Greiner's work manages to tear down the boundaries between "high" art photography as found in museums and seemingly commonplace contexts. This is especially true of his work in his home state of Louisiana, and we here are better for his artistic endeavors.
Michael S. Martin
Director, University of Louisiana at Lafayette Press
Managing Editor, Louisiana History 
As William Greiner notes in the article that appears in the [Spring/Summer] issue of Suffolk Alumni Magazine, "There has been a seismic shift in the world of photography, spurred on by [the] digital age. The world is awash in images.…" It is indeed, but great images will forever be the domain of great imagists, skilled technicians like Greiner who are also close observers of the human condition, artists who are determined to capture something elemental in the world around us and to share it, generously and purposefully, with others. 
Given this museum's particular interest in the art and artists of the American South, we've long been aware of the work of William Greiner, one
of the region's preeminent color photographers. It wasn't until 2010, however, that the Morris Museum of Art acquired its first photograph by him. Not long afterward, we acquired, through gift and purchase, four more. Then, in 2013, Rochelle and Michael Beychok of Baton Rouge, LA, donated 30 more, making Greiner among the most heavily represented photographers in this museum's collection.
A few years ago, some of the early acquisitions were included in an exhibition, Local Color: Photography in the South, that also included work by Dave Anderson, John Baeder, William Christenberry, William Eggleston, Birney Imes, and Meryl Truett, among others. The exhibition closed with a panel presentation by Anderson, Greiner, Imes, and Truett. It was a great program and a rare opportunity to hear from some of America's leading photographers.
Greiner spent part of his weekend here, wandering the streets of downtown Augusta armed with his camera, doing what good photographers do: taking photographs, capturing the moment as well as the subject. He says he was "simply reacting to a new place." But he brought to this encounter years of experience as an observer and a photographer, as well as an instinct for the theatrical and ambiguous. 
The result is the exhibition, Oh! Augusta! It was on display here at the Morris Museum of Art from August through November.
Kevin Grogan
Director, Morris Museum of Art Augusta, Georgia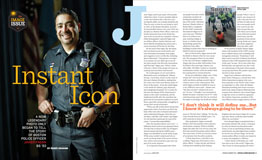 instant icon
Javier Pagan BS '93
Your profile of Javier Pagan was terrific. While Mr. Pagan is a well-known Boston Marathon bombing hero, it's critically important that our community—especially those students at your university and beyond, who will carry the torch of equality into the future—remember that our society's finest moments are jointly architected by every race, creed, religion, and sexual orientation. EDGE's headquarters are a few blocks from the events described in your article, and we had friends and staffers running and working the marathon that year; but they were athletes and journalists, not gay athletes and gay journalists. Mr. Pagan's dreams are no different than those of the people on Capitol Hill fighting for marriage equality: a world in which all individuals can feel safe to file a police report, or marry ... the person they love, without fear of bias or injustice. 
David Foucher
Publisher and CEO
EDGE Media Network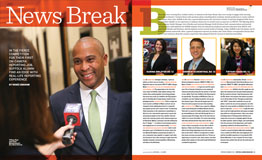 news break
Karina Bolster BS '12 
Andrew Scheinthal BA '12 
Tiffany Chan BS '13
It was great to see the Suffolk/NECN partnership featured in the Spring/Summer issue of SAM. On behalf of the NECN team, we have found the Suffolk students wonderful to work with. They are committed, hard-working, smart, professional, eager, and insightful. They truly offer hope and inspiration for the future of the media business. We are thrilled to see the alumni of the program doing so well in their careers. Thank you for highlighting this unique and mutually beneficial partnership.
Mike St. Peter
General Manager, NECN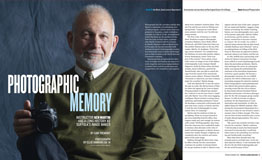 photographic memory
Ken Martin
Photography has always been a passion I have had—from snapping quick action photos on my camera phone to the tediously beautiful process of the darkroom. That is why, when I had the chance to take a class outside of my major, an MFA in interior architecture, I quickly signed up for a photography class. I did not know Ken before taking his class, but I quickly understood why [there was] a waiting list to take his course. 
Ken is so much more than just a professor of photography, and the article written about him rings true to my experience knowing him. He took the time to learn about his students' interests and tied them into the world of photography. The stories Ken told of his time spent overseas were heartwarming. His work inspire[d] me to set goals for myself that I couldn't imagine reaching at this point in my career. 
It was an honor to be a student of Ken Martin's, and I encourage the readers to take the time to listen to just one of his stories, as I guarantee they will learn something. 
Lindsay Bach MFA '14
I have read with great pleasure your recent article on Professor Ken Martin of Suffolk University, and I take the opportunity to confirm every single word of praise! The Istituto Lorenzo de' Medici has had an ongoing collaboration with him for study-abroad courses on photojournalism at [the] LdM Tuscania campus [in] Italy. Professor Martin's courses proved to be [some] of the best experiences that students and our local staff could ever [have] had.
As a historic small town located not far from Rome, Tuscania is the best place to get in touch with Italy's past and present, its people and its culture in a very cozy and quiet atmosphere. And this is exactly what Prof. Martin's students managed to do, thanks to his deep understanding of Italy and great passion for his work. 
Through their lenses, they told the stories of the people they encountered inside the medieval walls of the town, sharing their everyday life. They were invited to shoot during a typical wedding, they celebrated along with the local football club…they learned, had a life experience, and made new friendships. This is what is so special about Prof. Martin's teaching technique, and this is why we thank him for sharing it with us.
Carla Guarducci
CEO, Istituto Lorenzo de' Medici
Firenze, Italy