Suffolk Magazine Feed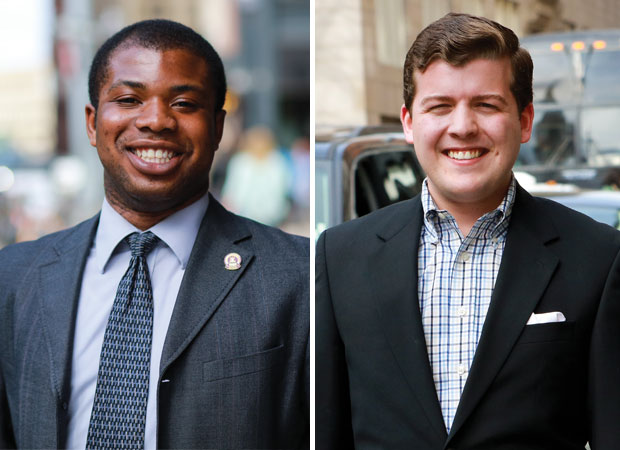 Civil Warriors
Political activists Isaac Berko '17 and Robert Cappelletti '17 debate the presidential campaign from opposite sides of the aisle
By Alyssa Giacobbe
Suffolk University's Government Department assembled a panel of students to talk about the role of  delegates  in the U.S. electoral process: who delegates were, what they did, and why they mattered. The panel, part of the annual Government Department Student Research Conference, was evenly split politically: two Republicans, two Democrats, and two faculty moderators to keep the conversation on topic—and civil. Or that was the idea, anyway. 
"Donald Trump has a clear message that people understand and agree with," argued Robert Cappelletti '17, a Donald Trump campaign volunteer both on campus and in his hometown of Mansfield, MA. "My 10-year-old brother could tell you about the wall," referring to his candidate's proposal for border security. Isaac Berko '17, a Hillary Clinton volunteer, took the opportunity to rebut: "Exactly," he said. "Trump is about division. That's not what we need." 
This is college, where debate is, of course, part of the point. But during an election season—and perhaps especially during this election season—campus discussions can get considerably more heated, and especially when, like Berko and Cappelletti, people are highly invested. "I would say for the most part the spirits are good," says Cappelletti, 22, who describes himself as a "moderate to slightly conservative" Republican. "Obviously I feel passionately, but I don't take things personally if someone disagrees, and I think most people feel the same way." 
Cappelletti's interest in politics, and Republican politics in particular, began in high school, where he was president of the Mansfield High School Republicans. "I think everyone is rooted in how they were brought up," says Cappelletti. "I started working when I was 16, and I would say I've learned the value of work more than some people." In high school, he interned with Massachusetts State Representative Jay Barrows, who later connected him with former Massachusetts Governor Mitt Romney's 2012 presidential bid. Working for that campaign, Cappelletti was stationed in Romney's North End headquarters in what was known as the War Room. "There were 10 TVs, and we watched them to collect relevant news and put together reports," he says. "I was hooked." 
While attending Suffolk, Cappelletti worked selling cars at a dealership in Mansfield while maintaining a full political science course load and overseeing the Suffolk University College Republicans, which included organizing a trip to the Conservative Political Action Conference in Washington, DC. He applied to volunteer for Trump's campaign early on. "He's a strong leader with experience to work with both sides and create solutions from a business point of view," says Cappelletti. "He has a tremendously successful organization worth billions of dollars and will do whatever he has to do without being glued to an ideology." As a Trump campaign "town captain" for Mansfield, Cappelletti goes door to door and works the phone bank to engage neighbors in discussions about the GOP frontrunner at key moments, including the delegate selection in April, when he worked to recruit Republicans in his district to vote for delegates who supported Trump. His hard work paid off: Of the 27 delegates selected, 23 were approved by the Trump campaign. 
Berko, 22, was born in Ghana, and came to the United States with his family when he was six years old. His grandfather, a village king, encouraged in his grandson an activist spirit. "Plus, I'm social, and I love to figure out how to overcome challenges," says Berko. In 2010, at high school in Worcester, he applied to be a volunteer on then-Massachusetts Governor Deval Patrick's reelection campaign, eventually serving as the city's youngest volunteer. He's also worked to help elect Congressman Jim McGovern, Massachusetts Senator Ed Markey, and Worcester Mayor Joe Petty, and in 2012, volunteered for President Obama, knocking on doors, doing data entry, working the phone bank, and organizing prospective volunteers in Worcester. 
He took his civic-mindedness to Suffolk. A McNair Scholar—a federal program designed for first-generation and income-eligible undergrads and named for astronaut and Challenger shuttle crew member Ronald McNair—Berko declared a major in politics, law, and the courts and became active around campus, serving on the President's Commission on Diversity Affairs, which works with students on issues that surround race, gender, and sexuality, and the Black Student Union. "I met Isaac our freshman year, 2013, and distinctly remember how interesting it was to meet someone else so involved in politics," says friend and classmate Joshua Weissman LaFrance '17. "Of all those who may offer their own ideas, a scarce few actually take action." When the U.S. presidential campaign began, Berko didn't struggle over whom to support: He's backed Clinton since 2008 and believes she's finally poised to be the first female president. "She's done a better job arguing for what matters and staying true to her core values," he says of her most recent run for the presidency. 
He's doing his part to help make that happen, working with Hillary for President groups on campuses around Boston, most prominently at Suffolk and Tufts, hosting phone banks, knocking on doors, and holding campus discussions to make sure student voters are registered, engaged, and informed. He admits that it's not always easy, given the lock Bernie Sanders seemed to have on people Berko's age. "But Clinton supports education and wants to make sure it's affordable. You might love the idea of Bernie's free college tuition, but who's going to pay for it? You are," he says. Trump, meanwhile, "has no ideas about college or education," says Berko. "He's more about ranting about women." 
Both Cappelletti and Berko see themselves working professionally in politics, likely following a law degree. In the meantime, each is glad he can still joke with the other about election issues, even if it's a topic they take very seriously. "We're good friends," says Berko of Cappelletti. "I just like to have a go at him." Cappelletti laughs. "I'd say the same." 
Photographs by Michael J. Clarke