Fall 2016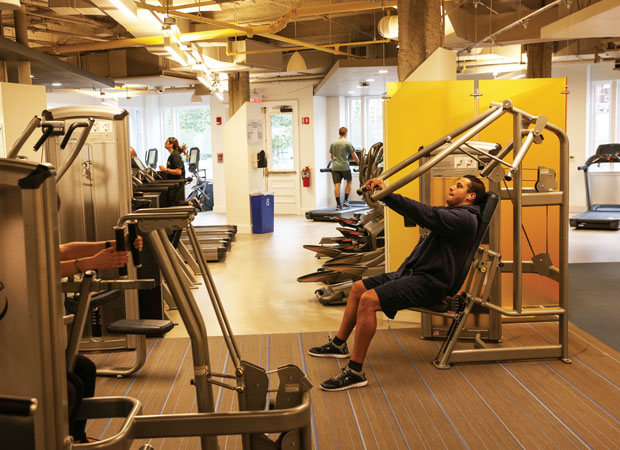 Fit for Campus
Students come to Suffolk University to exercise their minds. Now, at the brand-new Michael S. Smith '61, and Larry E. Smith '65 Fitness Center, they can enjoy a great workout between classes, too.
Staff Writer
The state-of-the-art center—named in grateful recognition of the Smith brothers' philanthropy—opened its doors to the entire Suffolk community on August 30, 2016. Located on the Ridgeway Building's first floor, this 5,800-square-foot facility features the latest in cardio equipment, including treadmills, elliptical trainers, and spin bikes. The 1,200-square-foot heavy lifting space is filled with free weights and benches. Visitors can also choose from more than 180 workout options at the Fitness on Demand kiosk and follow along on a wide-screen TV. The center is stocked with yoga mats, kettlebells, medicine balls, and other equipment. 
"We're very excited about this new fitness center," Director of Athletics Cary McConnell said, "because now everyone has a place on campus where they can come together to interact and meet their fitness needs."
"The Smith Fitness Center is a great addition to the campus," said graduate student Ian Gawron. "There are so many different pieces of equipment to choose from; it has everything you need."

For the Smith brothers—cofounders of Nation Safe Drivers and real estate investors in Florida and Massachusetts—leadership philanthropy is a way of life. "We were raised to believe that if you made it, you had an obligation to give back," they said in a joint statement. "We appreciate our Suffolk education. It taught us how to run a business professionally and gave us the skills we needed to create and grow a successful business on our own."  
"Michael and Larry Smith have been positively influencing the lives of students at Suffolk for decades, and we are deeply grateful for their continued leadership and generosity, manifested in so many ways across the campus," noted Acting President Marisa Kelly.
Photographs by Michael J. Clarke