Winter 2018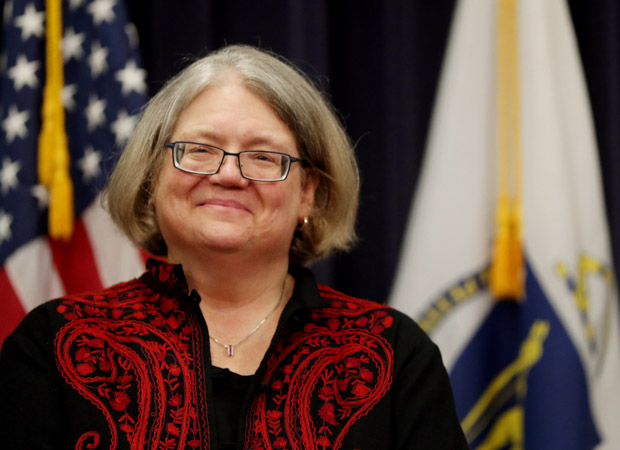 Suffolk Law Alumna Serving on SJC
Justice Elspeth "Ellie" B. Cypher came from Court of Appeals
Elspeth "Ellie" B. Cypher JD '86 began her tenure as a justice on the Supreme Judicial Court of Massachusetts in March 2017. She was nominated by Gov. Charlie Baker.
"Justice Cypher will bring nearly three decades of broad civil and criminal, trial, and appellate experience, including the last 16 years on the Appeals Court, to the Supreme Judicial Court," said Baker during a press conference. Cypher was nominated to the Appeals Court in 2000 by then-Governor Paul Cellucci.
Six other Suffolk Law alumni sit on state supreme courts in New England, with the chief justices of the Rhode Island, Vermont, and New Hampshire supreme courts holding Suffolk Law degrees.
Cypher has a long history of service to the Commonwealth, including 12 years with the Bristol County District Attorney's Office, first as an assistant district attorney (1988-1993) and then as chief of appeals (1993-2000).
"We're incredibly proud of Judge Cypher's distinguished career in public service. We also are grateful for all that she does for Suffolk Law. Judge Cypher regularly mentors our students and recent graduates, offering them her wisdom and practical advice," said Suffolk Law Dean Andrew Perlman.
Richard Pline JD '89 served as Cypher's career law clerk, and Daniel Goodrich JD '15 also served as her clerk on the Appeals Court. Goodrich first served as an intern for Cypher through Suffolk's First Year Summer Internship Program. Through that summer program, more than 80 first-year Suffolk Law students work alongside judges in courthouses across New England. Cypher has worked with Suffolk Law interns since 2007.
Cypher earned her bachelor of arts from Emerson College in 1980. At Suffolk, she was a literary editor of the Law Review.
"Justice Cypher will bring nearly three decades of broad civil and criminal, trial, and appellate experience, including the last 16 years on the Appeals Court, to the Supreme Judicial Court."
— Gov. Charlie Baker