On Fighting an Executive Order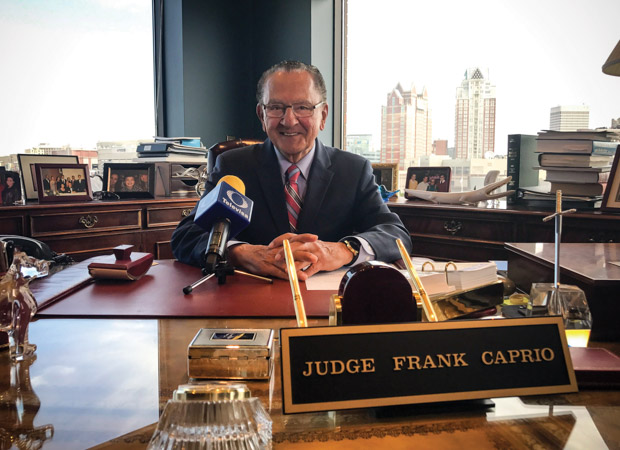 Suffolk Graduate's TV Show Watched by Millions
Judge Frank Caprio's proceedings go viral
It was a human and compassionate courtroom moment, captured on camera, that captivated millions on the Internet. A judge asked a 5-year-old boy to help him sentence the boy's father for parking illegally.
Judge Frank Caprio, chief municipal court judge in Providence, R.I., and a 1965 graduate of Suffolk University Law School, invited the boy, Jacob, to come up to the bench to help him decide on Jacob's father's punishment. He gave the boy three options: the full fine of $90, a reduced fine of $30, or no penalty at all. Jacob chose the $30 fine as the fairest option, to the laughter of the crowd sitting in the gallery.
Caprio praised the boy for taking the middle road but ultimately came to an agreement that if his father, a cook, took Jacob to breakfast, he would waive the fine entirely. Jacob agreed because, as he told the judge, "I love bacon."
A video of the case has been viewed nearly 37 million times.
HUMOR & FORGIVENESS
Caprio's courtroom sessions are filmed live for a reality show airing on WLNE-TV, a Rhode Island-area ABC affiliate. The show, Caught in Providence, captures the judge's humor, clear logic, and, often, his willingness to forgive underdogs who are honest about their mistakes. The cases include traffic and parking violations as well as arraignments for criminal offenses.
Broadcasts of Caprio's court proceedings have gone viral, with more than 1 billion views, according to the Boston Globe, and coverage in USA Today, Huffington Post, Inside Edition, and Britain's Mirror newspaper, as well as social media posts by stars from Ashton Kutcher to Steve Harvey.
In one episode featured on Inside Edition, a woman had received a ticket for parking at 9:59 a.m., just one minute before the legal time to park. After showing the woman the massive black book of city regulations, the judge laughs and points out that the actual time of the violation was 9:59 and 58 seconds. And then a philosophical question for the woman: "What made you take the wrong path in life?" Case dismissed. That video had more than 1 million views, according to Fox News.
In another video watched by thousands, Caprio questions an unidentified woman about an illegal right-hand turn after showing footage of the infraction. The woman, a Guatemalan immigrant, clearly frightened about being in court and upset about the ticket, explains in halting English that she hadn't seen the sign. When she adds that she was rushing to an English class so that she could get a job and help her children, the judge congratulates her for taking on that challenge. "You keep taking lessons in English and I'll dismiss the case," Caprio says.
Asked why Caught in Providence has become so popular, Caprio, the son of an immigrant father who worked as a fruit peddler, says he thinks the show resonates because many people around the world feel that institutions of government don't represent them fairly. "They feel that they are talked down to and scorned. In the 100,000 or so comments I have gotten from viewers around the world, the most common words are compassion, understanding, and fairness. I think we have given them a sense of hope through the decisions I make," he says.
"THE RULE OF COMMON SENSE"
As for how he decides when to be lenient in his rulings, Caprio says he refers to "the rule of common sense," trying to avoid verdicts that will only make matters worse for the individual and the city. "Let's say you've got a single mom, parking fines totaling $800. Not her fault—really the situation she found herself in—and she doesn't have enough money to feed her children.
"My choices are to suspend her license or try to do something that makes sense given her financial condition. I'm not going to suspend her license, because if I do, she will end up driving without a license. She'll end up back in traffic court or, for a repeat offense, in criminal court. That's what I mean by having some compassion for people who are underprivileged. So, I have placed a face of fairness and compassion on the judiciary."
SUFFOLK LAW OPENED DOORS
Caprio says that he wouldn't have been able to afford law school if it hadn't been for Suffolk Law. He attended the school's evening program while working during the day.
"I am forever grateful for the opportunity that was afforded to me by the Law School," he says. "Suffolk provided me with the tools to change my life, allowed me to become an attorney, and to subsequently become appointed to the bench. If not for that, I would not have fulfilled my parents' dream or my own dream. I have been able to provide an education for all five of my children, two of whom [Frank T. Caprio JD '89 and David Caprio JD '92] graduated from Suffolk Law School."
The judge says that for most people, especially children, the courtroom is an intimidating place: "They see an oak-paneled courtroom, a judge with a robe, court officers with guns, and all of the pomp and circumstance that goes with a courtroom setting. I try to make the court less intimidating, try to inject some humor.
"Sometimes," he adds, "I bring the children up to the bench to help me decide the case. Those experiences with young children will stay with them the rest of their lives, and I think will help them have a favorable impression of the institutions of government."