Winter 2018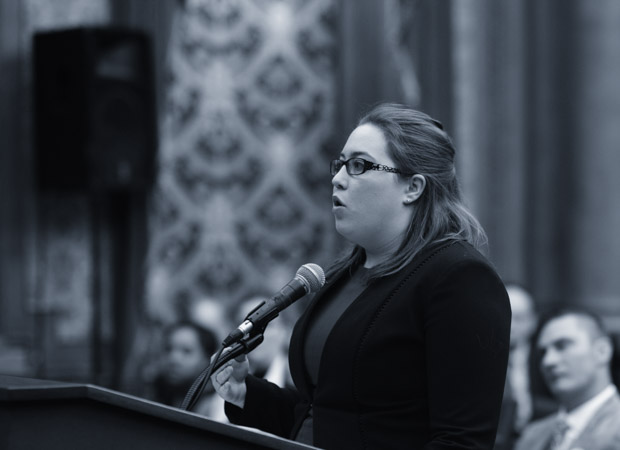 Unusual Experiment
Student among winners in CEO's legal competition — $25,000 prize
By Chris Caesar
Usually you need to at least graduate from law school before multimillionaires come knocking for legal advice, but a fierce court battle for control of a privately held New York company prompted its CEO to conduct an unusual experiment last spring: offering $100,000 in scholarship prizes to law students submitting the best defense of his position.
Suffolk's own Catherine Dowie JD '18 won a $25,000 prize in the Philip R. Shawe Scholarship Competition, tying for second place in a pool of 240 applicants who submitted briefs to the crowdsourcing contest.
TRANSPERFECT AND DEADLOCK
Contestants had a straightforward but intimi-dating assignment: Prepare a compelling legal brief in favor of reversing the 2015 court-ordered sale of TransPerfect Global, a profitable, privately held translation services company based in New York.
The 25-year-old company, originally founded in a dorm room at New York University, has grown to bring in over half a billion dollars in revenue each year, with offices in cities all over the world.
Founders and co-CEOs Phil Shawe and Liz Elting, once engaged to be married, ended their romantic relationship in 1997. Fifteen years later, Elting turned to the courts to explore what options she might have to sell off her 50 percent ownership stake in the company, prompting a series of legal challenges from Shawe, who opposed the forced sale of his shares to facilitate a higher price for hers.
The controversy ultimately lead to a 2015 State of Delaware Chancery Court ruling that found the owners were legally "deadlocked" and ordered their stock to be sold at auction—a ruling normally reserved for companies facing bankruptcy or whose sale might otherwise serve a compelling public interest.
But TransPerfect is not only profitable—it's slated to continue growing. And that fact has brought much attention to the case.
"UNCONSTITUTIONAL TAKING"
Dowie's argument focused on what the fourth-year evening student called "a lack of a sufficient public purpose." She contended that without such a public purpose, the ruling is unconstitutional, creating a scenario in which the government deprives an individual of beneficial use of his property without just compensation.
"If you look at the benefits that the Chancery Court identified, they are primarily about reputational harm to TransPerfect, the fact that they've been deadlocked and could potentially be more profitable if they weren't," she says. "That doesn't impact the economy. It doesn't impact the industry. Generally, it really only impacts the shareholders and potentially the employees at TransPerfect."
She contended that if there isn't a public benefit, the court cannot reasonably justify forcing a sale over the objections of the shareholders. Judges in these situations often appoint a conservator to work with the shareholders and the board to resolve the ongoing issues, she says, calling the order "unprecedented."
Harvard Law professor emeritus and legal scholar Alan Dershowitz, who represents Shawe's family in the appeal, raised similar objections when arguing in the Delaware Supreme Court. The justices did not allow him to employ that argument in his appeal, however, noting it was not part of the original argument brought before the lower court. Shawe is appealing the case to the U.S. Supreme Court.
A STAR-STUDDED AFFAIR
The scholarship competition was full of big names pulled not only from the world of law but also from sports and pop culture. The team of informal judges included Dershowitz and Melvin Schweitzer, a retired acting New York Supreme Court justice who had presided over hearings related to the real-life case. New York Giants Jason Pierre-Paul and Bradley Wing also were on hand, with Snoop Dogg himself making a surprise appearance to entertain attendees.
A SUFFOLK LAW SCHOOL FOUNDATION
Dowie credited close work with Suffolk Law professors and her practical learning opportunities on campus for preparing her for the competition. She specifically mentioned her first-year judicial internship with the Massachusetts Appeals Court and the school's Supreme Court Clinic last spring—a program that, fittingly enough, focused largely on legal writing and research related to amicus briefs in real-life appellate cases. Her time on the National Moot Court team also prepared her well for inquiries from "aggressive judges," she says. Suffolk Law's trial advocacy program is ranked 16th in the country by U.S. News & World Report.