Winter 2018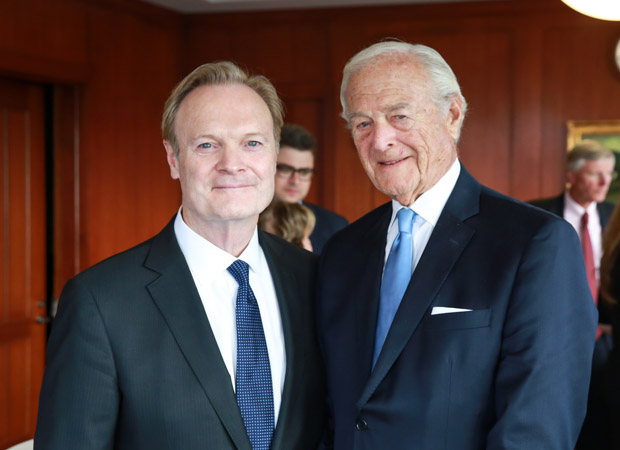 MSNBC Host on "Media in the Age of Trump"
Says lawyers are "the Constitution's best defenders"
Will political media learn to become prosecutors of lies and defenders of the truth?"
That was the key question posed by Suffolk Law School's 2017 Masterman lecturer, MSNBC's Lawrence O'Donnell, speaking on the role of the media in today's volatile and often disorienting political climate.
The Masterman Speaker Series on the First Amendment and the Fourth Estate—established by Edward I. Masterman JD '50, LLD '90 and his wife, Sydell—provides a forum for debate on freedom of the press and its attendant responsibilities.
O'Donnell, host of The Last Word with Lawrence O'Donnell, asserted that the old paradigm of "fair and balanced" news left reporters unprepared for the 2016 election.
Saying that there has been a long history of bipartisan political dishonesty, O'Donnell called on the political media to adopt lawyerly skills to safeguard the truth. That includes building a case based on solid evidence, providing proof, and demanding answers to "yes-or-no" questions.
"The mission of Suffolk Law School has never been more important than it is in the age of Trump," he said. "When the First Amendment is threatened, when the Constitution is threatened, lawyers and judges—not the news media—will always be the Constitution's best, most important defenders."
He revealed that President Trump had called MSNBC's president directly to request O'Donnell be fired—a fact he himself had just learned.
O'Donnell was awarded an honorary degree at the 2001 Suffolk University commencement. His father, Lawrence O'Donnell Sr. JD '50, was president of his Suffolk Law class.