Winter 2018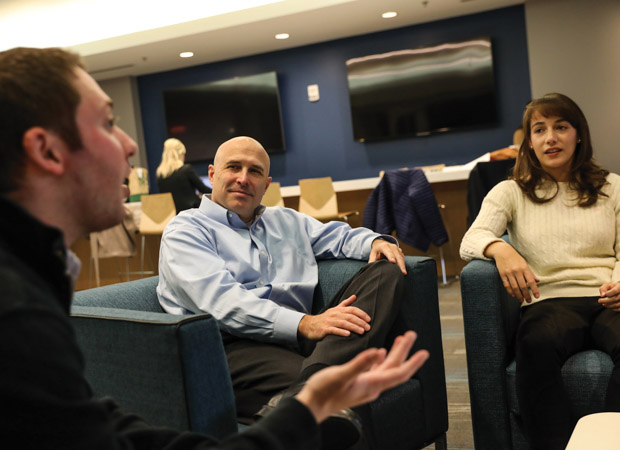 Teaming Up with Liberty Mutual
A real-world design challenge
Liberty Mutual Insurance sponsored the Design Challenge at Suffolk Law in November. A group of 25 Suffolk Law students competed to come up with the most useful and innovative approach to a real-world problem faced by the U.S. court system, AmLaw 200 companies, and corporate legal departments. The winning team took home a cash prize. [Editor's note: Results of the competition weren't available at press time.]
Design thinking focuses on clients' needs and on working collaboratively to develop solutions that can be tested rapidly. The events are often referred to as hackathons, as participants spend a good chunk of hours on a real-world challenge that didn't have a solution before the marathon began.
Liberty Mutual's sponsorship of the Design Challenge is part of a larger transformation at the insurer to create a more agile organization that leads change in the industry, said Robert Taylor, the company's senior vice president and general counsel, who hosted the event and worked with teams as they designed their presentations. "We are using out-of-the-box approaches such as design challenges like this one to test new ideas and more quickly take them from ideation to creation," he said. "We can't predict the future, and new competitors can come from many directions; we need to embrace changes and reconfigure our priorities in real time."
The judges for the event were Liberty Mutual's Michael Stevens JD '07, vice president and chief counsel; Jeff Marple, innovation director for corporate legal; and Suffolk Law professors Dyane O'Leary and Jeffrey Lipshaw.