Winter 2016 / Spring 2017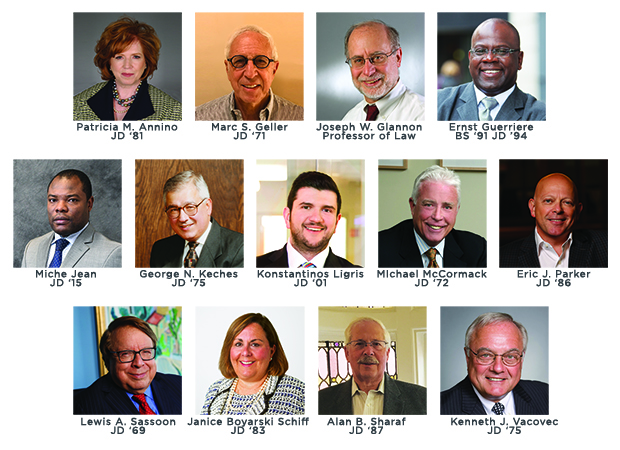 The Change Agents
Introducing the Dean's Cabinet
By Tom Mashberg
In June, Dean Andrew Perlman established the Dean's Cabinet, described as a "distin­guished community of loyal benefactors" who each pledge a major donation to the school and meet with Perlman to offer advice, enhance Suffolk's profile and encourage Law School friends and colleagues to advance Suffolk's mission. As of December 2016, the cabinet has 13 members.
"As the legal market—nationally and for our graduates—is changing, I reached out to the dean and I said, 'We need some jet fuel here to help propel our students—help them get an edge,'" says Lewis A. Sassoon JD '69, co-founder of Sassoon & Cymrot in Boston and a force behind the new cabinet. "The idea became really contagious, and we are already seeing positive results."
Patricia M. Annino JD '81, of Prince Lo­bel, says becoming an inaugural member was a natural extension of her years of involve­ment as a mentor to young lawyers and as a past president of the Suffolk Law Alumni Association.
"His vision is strong and unique," she says of Perlman, "and I think the direction he's taking is energizing the Law School. It's a critical time to support students."
Suffolk Law is not alone in implementing the Dean's Cabinet concept. Many universi­ties have leadership committees whose mem­bers pledge generous sums, serve as ambas­sadors for their schools, and are honored by the university community, says Jeff Foss MPA '00, senior director in advancement, who worked with Sassoon and Perlman to create the Cabinet.
"SKIN IN THE GAME"
In this case, he says, members must pledge at least $50,000 and agree to five-year terms on the cabinet. Gift commitments can be completed through five annual contri­butions and must be fulfilled by the fifth year of service. "They're really putting skin in the game, both in terms of their financial commitment and their strategic advice," he says.
An enticing aspect of the financial pledge, cabinet members say, is that they can direct their donations to the programs of their choice. For some, that means put­ting money in the general fund; for others, it means supporting a specific scholarship or initiative.
Eric J. Parker JD '86, co-founder of Parker Scheer LLC, says he donated to the Accelerator-to-Practice Program, a three-year course of study that includes cross-training in law firm management and legal technology. "It's one of the most innovative and essential programs Suffolk has adopted," he says.
Another longtime benefactor, Ernst Guerrier BS '91, JD '94, who owns a prac­tice in Dorchester, says, "It became clear right off the bat when Andy took over that we needed to make a commitment to him to ensure his success. So when they came to me, I jumped at the chance."
Guerrier is donating part of his gift to the Marshall-Brennan Constitutional Literacy Project. Students in the program learn constitutional law while simultane­ously teaching it to Boston-area high school students in urban minority areas.
"Suffolk has done more for me than I could ever do for it," Guerrier adds. "Those who can pay the debt forward really need to step up and get into the habit of contributing."
"CAN'T SIT ON THE SIDELINES"
Konstantinos Ligris JD '01, founder of Ligris & Associates in Newton, says his $50,000 will endow a scholarship "for someone who might not be able to afford to get a legal education otherwise." He says Suffolk Law immersed him in a "collaborative environment where people learn to work together and check their egos at the door."
"I can't just sit on the sidelines when a place like the Law School, which did so much for me, needs me most," he says, adding that alumni who want a voice in the school's future "have a duty to give back in terms of advice, financial support and strong feedback."
Sassoon said his donation would go mostly to scholarships and the general funds. Annino said hers would support a scholarship created by her family in honor of her aunt, the Barba­ra Connolly Hughes Memorial Scholarship, aimed at "Suffolk Law students currently working in education or a related field or to students who have a demonstrated interest in providing criminal defense counsel to the economically disadvantaged."
IT'S TIME TO ADAPT
Again and again, cabinet members said they felt they would never have achieved their pro­fessional and personal successes without their Suffolk Law education and that they embrace Perlman's vision for the School, which includes "developing a new curriculum to prepare law students for the 21st-century marketplace."
As Parker puts it, "The legal market is rad­ically different than it was when I came up; we need to work together to help our school and our graduates adapt to the new normal. We all need to step up here."