Winter 2016 / Spring 2017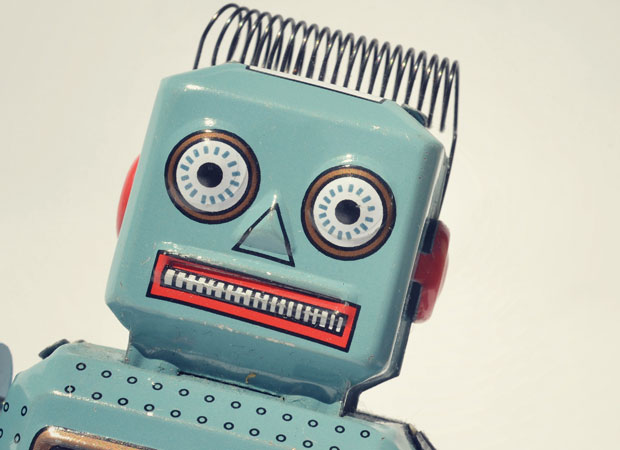 The Wisdom to Know It's a Machine's Job
Inside the Integreon Partnership
By Julie H. Case
Last spring, between "Conflicts of Law" and "Intellectual Property Survey", Maddy McCormick, 3L, was slipping away to a lab on the sixth floor of the library. There, surrounded by law books and computers, McCormick would review, dissect and evaluate some 20 different contracts for a biosciences company.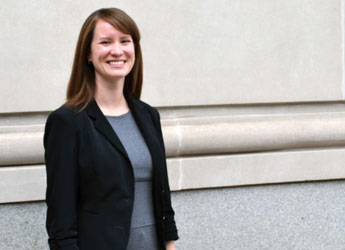 Maddy McCormick JD'17
Welcome to the new partnership between Integreon and Suffolk Law. Integreon supplies legal services to sophisticated corporate counsel, and Suffolk supplies tech-savvy students who get paid to work for Integreon's clients. Suffolk is among the first law schools in the nation to partner with a legal process outsourcing firm, and perhaps the first law school to put a dedicated lab and training facility on campus.
GOING WHERE LEGAL EDUCATION TENDS TO FAIL
Integreon sees this as a win-win. "We view this as a part of our corporate and social responsibility," says Integreon's Mark Ross, global head of legal process outsourcing. "Yes, we believe having delivery capabilities in a major U.S. metropolis helps our company, but we also believe that legal education has not done enough to arm students with the tools they need to thrive in an evolving market."
The partnership with Suffolk Law is one step in addressing that knowledge gap, he says. The work offers students exposure to technology that accurately and precisely extracts and organizes data from contracts; automatically assembles contracts; and learns to predict which documents in a large set of discovery materials are deserving of human review. Students will also benefit from seeing firsthand how disciplines such as project management and Lean and Six Sigma are applied to legal services, says Ross.
THE WOLF AT THE DOOR?
Some might argue that Integreon is the wolf at the door, and that legal process outsourcing companies take food off the plate of lawyers and firms. That's an idea that McCormick and Gabriel Teninbaum, director of the Law School's Institute on Law Practice Technology & Innovation and the Law Technology and Innovation Concentration, are quick to counter. Rather, they say, Integreon takes less-skilled work off the plate of higher paid attorneys, who might be better focused elsewhere.
Teninbaum compares this to doctors making diagnoses rather than performing nursing duties. "Doctors should practice at the top of their license. The person who takes your blood pressure when you first walk in shouldn't have an MD after their name," he says. Similarly, getting a third-year armed with software to perform the tedium of comparing clauses in contracts frees attorneys to do research, meet with clients, and draft contracts themselves.
"By using those sorts of efficiencies, by having lawyers practice at the top of their licenses, what we do is we outsource the work that lawyers shouldn't be doing anyway. And, in so doing, we train the next generation of lawyers to know when those tools should and shouldn't be used in their own practices."
Mastering tools that make you more effective and able to work faster leads to higher productivity and the ability to deliver legal services for a lower cost to more people, Teninbaum argues.
CONTRACT DISSECTION
Integreon tasked McCormick with dissecting, analyzing and comparing 40 clauses—which could contain up to eight subgroups each—across 20 contracts. She was trying to identify clauses that seemed non-negotiable; commonality in clauses in parallel contracts; and how clauses that weren't identical varied. As for who that big life sciences firm was, no one is saying. It's part of the deal—confidential information protected by attorney-client privilege remains confidential, even when it's outsourced. The end goal, however, was clear: creation of a contracts playbook for said biosciences company, with data and knowledge it could use in future contract negotiations and to streamline its contracting process.
"It's the kind of work that would be useful for a client, but not one they'd want to pay a senior attorney to do," says McCormick. "You're not drafting a new contract. What you're doing is trying to help them be efficient in drafting subsequent contracts."
The kind of skills students gain working on these matters are easily translatable to a small firm or solo practice, says Dean Andrew Perlman, who has known Ross for nearly 10 years and eagerly embraced the partnership when Ross pitched it.
"We are teaching our students a new form of issue spotting," says Perlman. "Rather than just spotting legal issues, we want them to spot when technology can help them deliver their services better, faster and cheaper. That's a skill that can help lawyers in any practice setting, but it's also helping students get jobs that didn't even exist a few years ago."