Spring/Summer 2013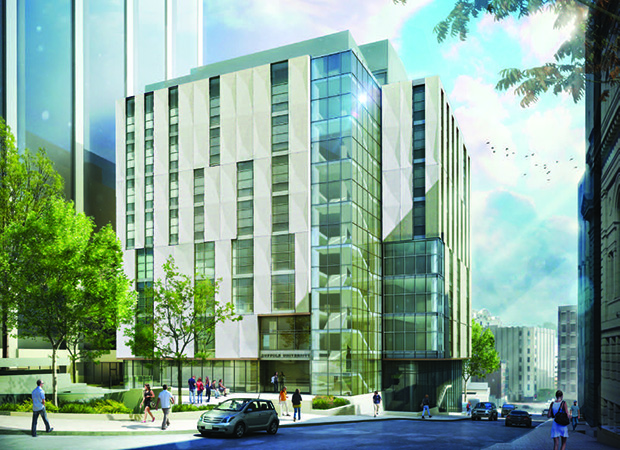 Building the Future
New classroom center to lead campus transformation.
In a dramatic advancement for the University, Suffolk will build a $62 million classroom complex at 20 Somerset Street, shifting all academic classrooms from the residential part of Beacon Hill.
"We are building on our history of access to opportunity, we are building curriculum around our place in Boston, we are building on our heritage as a career-focused institution, we are building alumni engagement, we are building on our ability to use technology, and we are building literally," said Suffolk President James McCarthy during his inaugural address. "This new facility, scheduled to open at the beginning of the 2015 academic year, will be a tremendous addition to our academic footprint. The long-vacant building that now sits on the site will be replaced by a state-of-the-art academic building that will contain 1,200 general-use and science classroom seats."
In addition to classrooms, the new facility will include a cafeteria that can also be used as a function space for the University. The eight story, 112,000-square foot edifice, designed by the Boston architectural firm NBBJ, will replace the Fenton and Ridgeway buildings, which Suffolk plans to sell. Classes currently held in the Archer and Donahue buildings will be moved to the new building, easing the student traffic that has long been a bone of contention for Beacon Hill residents.
"That fulfills a commitment in our institutional master plan," McCarthy said. "It's a good move for Suffolk, and it's a good move for our Beacon Hill neighbors." The site will also offer a first for the University—its own outdoor space on the adjacent Roemer Plaza, which will be open to both students and residents.