Fall 2016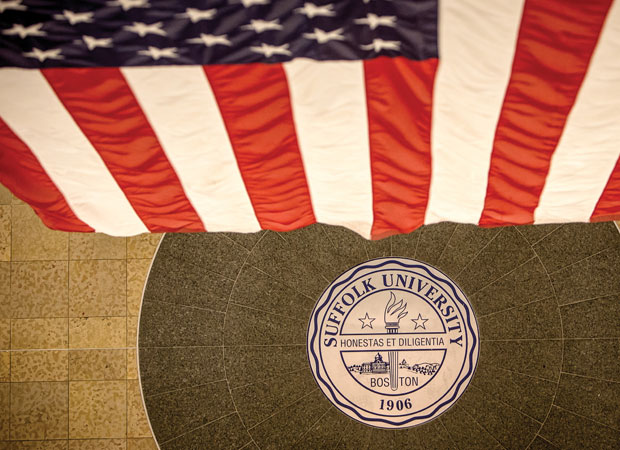 Survey Says
A Suffolk University/USA TODAY poll was the first to measure public opinion on some key national events
Staff Writer
A September Suffolk University poll of the presidential race in the closely watched battleground state of Ohio was among the first to reveal a shift in public perception about the likely outcome on Election Day. While the Sept. 15 poll showed the horserace moving from a tie in July to a 3-point lead for Donald Trump over Hillary Clinton, it also revealed something that hadn't shown up in previous polls. Growing numbers of Ohioans believed Trump could actually win the election. 
During the previous four weeks in Suffolk polls of Iowa, Nevada, Michigan, and North Carolina, Clinton held a roughly 20-point advantage over Trump on the question of who would ultimately win. But in the Sept. 15 Ohio poll, Clinton's advantage was just 8 points.
"The first two weeks in September weren't kind to Hillary Clinton," said David Paleologos, the widely quoted director of the Suffolk University Political Research Center (SUPRC). "Clinton's support among independents, a group that Barack Obama had been really strong with in his previous two elections, was showing significant signs of weakness, and the possibility of a Trump presidency became more real in the eyes of voters." 
Paleologos stresses that the Ohio poll represented a snapshot in time. "There will be at least two more swings of the pendulum before Election Day, if not more." 
What won't change is the reliability and accuracy of Suffolk polls and the work of the Political Research Center. If it's a battleground state this fall, Suffolk has been polling it and has often been first to pick up trends in the electorate. 
One of founding director Paleologos' tools is the bellwether poll, which looks at a ward, precinct, town, county, or other district that accurately reflects how a state will vote. In 2008, Suffolk University's bellwether polls in the towns of Kingston and Sandown, New Hampshire, famously and correctly had Clinton winning the Granite State primary, where all other polls had Barack Obama. Today, the Suffolk University poll is a national brand, and Paleologos is among the elite group of political pollsters whom the networks and political correspondents routinely turn to for predictions and analysis on issues as well as candidates. Suffolk has partnered with USA TODAY on a series of national polls of the race and issues, which receive attention across the country and the globe.
The methodologies of various polling outfits are different and so are their track records. As of January 1, 2015, Paleologos' proprietary bellwether model had an 89 percent accuracy rate, perhaps explaining his reticence to disclose what he calls "a pollster's secret sauce." He did, however, share a few thoughts about some of the issues SUPRC was the first to survey and how well such initial snapshots measure up over a long period of time.
"Issues are best measured over the long haul with a series of data points starting with the most immediate, following a national event," Paleologos says. "Measuring that starting point is important, though, because it provides a baseline to quantify the subsequent changes in voter attitudes over time as emotion is replaced by information." 
While Paleologos won't predict who will win on Nov. 8, there are plenty of pundits who predict his polls will be right on the mark.