Spring/Summer 2013
SAM @ WORK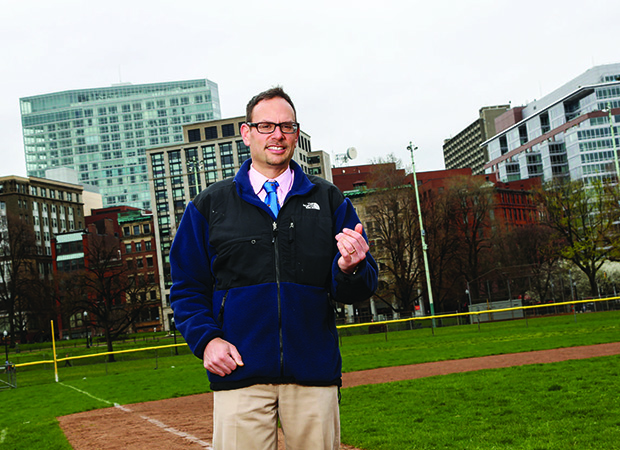 Play It Forward
Five progressive strategies from Mike Ginns MPA '03 to turn the coach into a fan.
When Mike Ginns learned the story of Will "Cannonball" Jackman, a pitcher in the Negro Leagues from 1925 to 1942, he was inspired to create an exhibit that would "highlight him as a person of critical importance in the fabric of sports history in Boston and New England." Yet he also wanted Jackman's "spirit of competitiveness, love for baseball, and passion for community to live on in an active and real sense." Ginns designed The Cannonball Prospects program "to help those kids who are good baseball players, committed students, and want to give back to their communities" by providing opportunities on and off the field, including assistance in achieving a college education. But Ginns also wanted young people who benefit from the program to earn their support, so he requires they volunteer for organizations such as Miracle League and Special Olympics.
The "pay it forward" concept is one Ginns knows from personal experience. While attending Suffolk, he was nominated for the Presidential Management Fellows Program by the faculty of the Public Management Department (now the Institute for Public Service). "This allowed me to get into the federal government and exposed me to various programs and agencies looking to hire graduates [wanting] to dedicate themselves to a public service career," Ginns explains. This experience led to his present job in public policy and statistical analysis with the Administration for Children and Families at the Department of Health and Human Services (HHS). "I use all the skills and knowledge I obtained with my Suffolk degree both at The Cannonball Foundation and at HHS," he says. "The professors and courses I took provided me with a broad foundation on how to look at government and nonprofit institutions and ask the tough questions. They encouraged me to do my own analysis and draw my own conclusions before passing judgment or making important decisions." Here, Ginns provides a perspective for parents who want to help their player develop strategic skills.
1. Play the Field 
A utility player is invaluable to every coach. Teach your child to play multiple positions for maximum versatility.
2. Ace the Basics 
Encourage your player to go for ground balls from different angles, hit the ball to all fields, and brush up on basic skills.
3. Don't Wait… Anticipate 
Teach, learn, and practice situational baseball, stressing the importance of knowing what to do if the ball is hit to each possible position.
4. Quick! Study! 
Smart base running means more than speed. Those who have analyzed the defense and know the situation are best on the basepaths.
5. Scout Out Your Coach 
Keenly observe the particular baseball skills your coach prioritizes and the parts of the game they believe are important in a player's development.