Winter 2014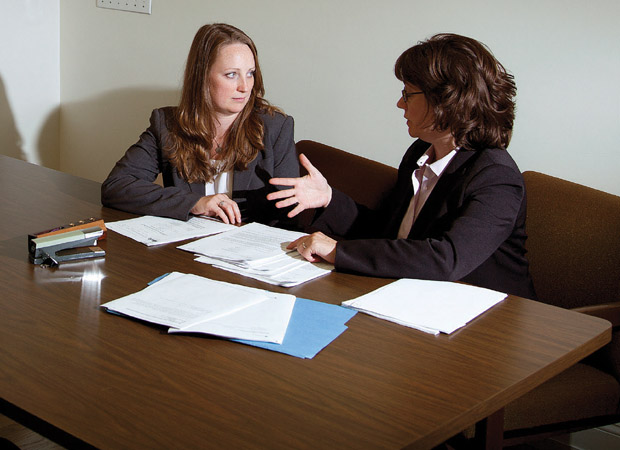 The Best Lawyers Money Can't Buy
The well-schooled student attorneys of Suffolk's family advocacy clinic provide clients who lack resources an alternative to self-serve representation.
By Renée Graham // Photographs by Dana Smith
A judge rules that a woman's ex-husband can cut his child support payment by nearly $50 a week, and the woman's lawyer, Jasmine Elatab '14, can barely contain her disappointment. After months of delays, it's a surprising end to a trying case at the Edward W. Brooke Courthouse in Boston. This is Probate and Family Court, where the frayed remains of relationships and familial ties are legally sorted and settled. At least that's the intention, but, as Elatab has come to realize, nothing in these wide, gleaming corridors is that simple.

When the hearing began, Elatab was confident that her client, a single mother, would not be forced to make do with less for her 5-year-old son. Her former spouse claims a medical problem prevents him from getting a better paying job, and though he has no paperwork to support this, a reduction in child support is granted. That the amount could have been cut even more is not lost on Elatab; this is the kind of law lesson better learned in a courtroom, not a classroom.

A third-year law student, Elatab is participating in Suffolk Law's Family Advocacy Clinic (FAC), which gives real-world legal experience to students. These are not mock trials. Students are assigned clients and must prepare and present their cases before a judge. And since these are family court cases, the serious issues can vary from child custody and support to divorce and domestic violence. This is why Elatab, whose devotion to helping children once made her consider a career in childhood nutrition, wanted to be part of the Law School's clinical program.

"As clichéd as it sounds, I've always had this inherent interest in helping people," says Elatab, who has a psychology degree from American University in Washington, D.C. "It was just a matter of me finding the right outlet to do it. I wanted to affect people long-term and make an actual difference."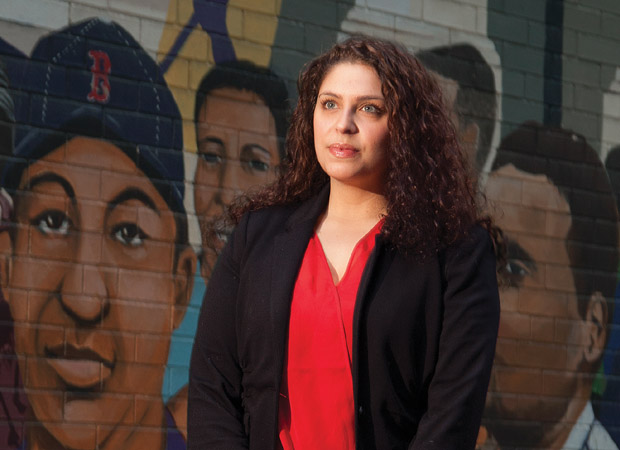 A third-year law student, Jasmine Elatab '14 is participating in Suffolk Law's Family Advocacy Clinic.
Win-Win
FAC is one of 10 in-house clinics offered at Suffolk Law to second- and third-year students. "Legal education began to recognize the need for experiential learning for law students in the '60s and '70s, so there was a burst of clinical programs for law students," explains Suffolk's FAC Director Maritza Karmely, who also teaches a trial advocacy course in family law. Along with practitioner-in-residence Christine Butler JD '78, Karmely is one of the supervising attorneys who attend court hearings with students. "Little by little, most law schools began to develop their own programs," Karmely says. "It's fair to say that family law cases are the kinds that have always needed help, and there's even more of a need for our kind of legal services. It's a win-win: the students get real-life lawyering experience, and clients get needed representation."

Established in the early 1970s, FAC was one of Suffolk's first clinical programs. In addition to the courtroom component, students must attend a seminar each week on lawyering skills and ethics, a supervision meeting focused on professional development and case strategy, and log a minimum of 13 hours a week on their cases. Recently, the Law School's clinical programs were cited among the nation's best by U.S. News & World Report.

Butler, who has been involved with domestic violence issues for more than 30 years, notes an expansion at Suffolk Law in both the number of clinics and the areas and fields of law they cover. "The multiple clinics now available to students provide more students the extraordinary opportunity to practice law under the guidance and close supervision of an experienced attorney," Butler says. "It is hard to imagine a more appropriate way to help law students transition into practicing attorneys."

To find its clients, FAC has a contract with HarborCOV, a Chelsea, Massachusetts, organization that provides emergency and long-term support services for victims of domestic violence, especially in Chelsea and the surrounding areas of East Boston, Winthrop, and Revere. FAC-eligible clients must fall within federal poverty guidelines. Usually, they would have no choice but to represent themselves in court because they can't afford an attorney, but FAC helps level the field, says Michaela Moshier, a HarborCOV legal advocacy specialist.

"They're an incredible resource for us. In addition to having experienced domestic violence, most of our clients are almost always low-income, and we serve a lot of immigrants and non-English speakers— people who are facing additional barriers in accessing the justice system and getting legal representation," she says. "To be able to refer clients in need of legal services to [FAC] directly and get people in touch with representation they probably wouldn't have had otherwise is an amazing opportunity."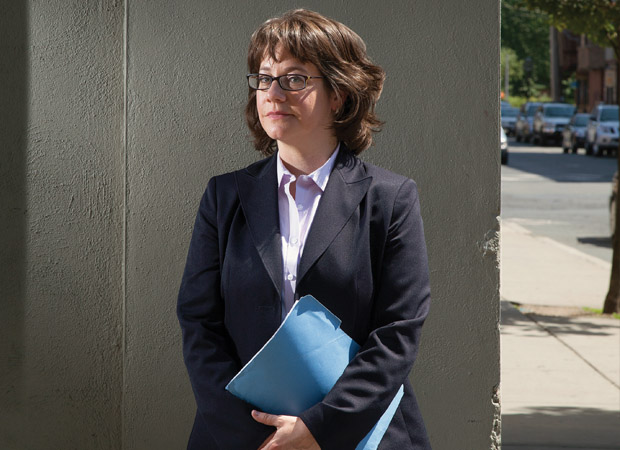 Suffolk's Family Advocacy Clinic Director Maritza Karmely
A Hand to Lead You
On the airy floor where family court is held, the halls teem with men and women awaiting their moment before a judge. Amid the cacophony of various languages and fussy babies, some gather with family members, while others hunch over smartphone calculators running figures on child support payments. Still more sit alone, a worn manila folder stuffed with various court documents, certificates, and receipts held on their laps. When their name is called, they will enter the court pro se, meaning they will represent themselves. The process "isn't a friendly one, especially to people who may not speak English and may not know how the system here works," Moshier says. Yet for Elatab's client, the court experience is vastly different. Long before her hearing begins, the woman sits with Elatab and Karmely, as well as an interpreter since the client is not fluent in English. They discuss strategies and weigh options with the client as an active participant.

"I feel like I can show clients that I relate to them," says Elatab, 25, who hails from North Haledon, New Jersey. "It shows them that you want to solve their problems, and I'm sincerely doing this from a position that we're in this together. I'm your voice. I hope people are in tune with that, and we can build a case together."

Clients are informed up front that law students supervised by attorneys will represent them, Moshier says. "People know that if at any time they're not happy with the services, they don't have to continue, but I haven't heard from anyone that they've been unhappy," she says. "People are usually pretty grateful for the opportunity to have legal assistance."

Either Butler or Karmely attends a student's initial interview with a new client, but they remain as unobtrusive as possible. "We'll sit [in]—not to direct the interview but to be in the background—and then sit down later with the student attorney[s] to talk to them about how they think it went, what they think worked, what they could do differently," Butler says. "During a session with a client, we're not going to stop [a student attorney] mid-sentence and say, 'You forgot to ask about this,' because that's not going to engender confidence for the client."

While clients know a seasoned lawyer will advise their attorney, "Students are really good at engaging with the clients and establishing a working relationship with them," Butler says. "If their first reaction might be, 'Oh gosh, is this a student who's going to represent me,' they become more and more comfortable as they spend time with the student attorney—and the fact that they know we're in the background."

Several years ago, Sindy Munoz, who lives in the working-class city of Chelsea across the Mystic River from Boston, was referred to FAC for a child custody issue. Without FAC, she would not have had legal representation, she says. "The student I worked with seemed like she was a lawyer already. She explained a lot and she knew what I wanted. She was driven, but she never doubted what I wanted. She was always checking up on me and my son in emails, text messages, and calls. At the end of the day, I'm the one making the decisions, but it's good to have a hand to lead you."

For the law students, the guiding hand comes from Karmely and Butler. In court, they sit at the lawyer's table with the students who present the case before the judge. Says Elatab, "I feel like we won the lottery with Chris and Maritza as advisers. They never get impatient, they really teach you A through Z. They make it the best learning environment possible." Lauren Standiford '14, a clinic fellow last summer, called Karmely and Butler "a safety net," but added that the two seasoned attorneys "didn't step on my toes or force my hand in making any decisions."

"I remember one negotiation, my second, and I was sitting across the table from two attorneys, both speaking at me at the same time, and [I] looked at Chris, like, 'Which one of them do I address?' So, Chris took the lead on that issue because she had worked on this case for a year and I was just getting my teeth sunk in," says Standiford, 26. "It's great when you have that 'deer-in-the-headlights look' to have her be able to help me. But it's not like Chris takes over and I'm just playing on my iPhone. I'm not just passively involved. I'm still actively taking notes and thinking about what they're saying, because I have to report everything to the client. But that was an instance when I felt, 'Thank goodness I have someone here with 30 years of experience.'"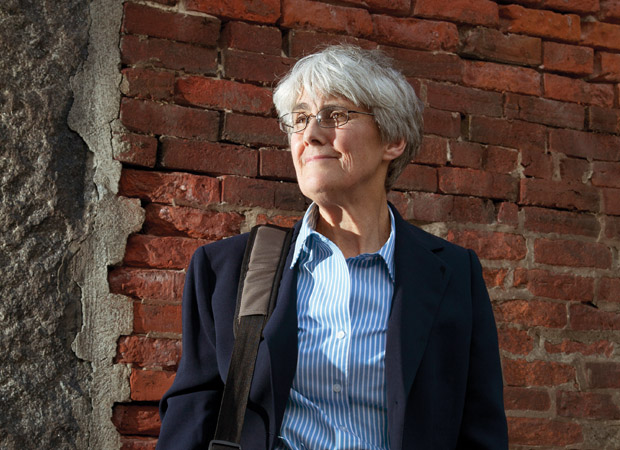 Practitioner-in-residence Christine Butler JD'78
Cross the Bar
For Elatab, there's now "a change of energy" she experiences walking into a courtroom, but it wasn't always that way. She recalls a case where, in order to pass a note to a state Department of Revenue attorney, she needed to cross the bar, the long wooden railing that separates the judge, jury, court officers, and attorneys from others in the courtroom. "At first I felt like a law student, like I was out of place. The attorney was all the way in the front, and she asked us to let her know what we decided to do. You can't talk in court so Maritza said, 'Just go, walk through, and hand her a note.' And I said, 'Cross the bar? You mean I'm just allowed to walk in it? Do I have to ask someone's permission?' And she said, 'You're an attorney, you're allowed there.'

"I was convinced the judge would stop me and say, 'No, you are out of place, you don't belong here. What are you doing, child?' But as soon as I crossed that bar, sat next to her, and passed her that note, I felt like this was my place and I felt more comfortable," Elatab says. "It's a little thing, but I felt like I was playing the part until then when I turned into the part. It's like being in the cool kids club."

Standiford's entry into "the cool kids club" came quickly—her first court date was also her third day of work at the Family Advocacy Clinic. "I hit the ground running and never quite stopped. The day and night before [my first court date], I worked for hours with my calculator adding and re-adding all of the child support payments a father had made to one of my clients. I remember looking at the clock on the wall in the office and saying, 'Is it really 7:15 p.m.? I really have to be in front of a judge in just over 14 hours?' But I was ready, as everyone always seems to be ready for the big day they've been thinking about for months." Standiford made her argument—the father was representing himself—and the situation was mediated in her client's favor without a judge. "I left feeling like I'd just won the lottery for my client," she says. "These are people who have real problems on their hands and we're their only resource."

That realization—that the strategies pursued and decisions made in these courtrooms can have long-lasting ramifications for their clients and families—is not lost on either Elatab or Standiford. It is also what moved them to pursue this clinic and fuels their desire to continue this work postgraduation and beyond.

"It's honestly disturbing to me to think our clients aren't the only people with these problems and there are other people who don't have anyone to help them," Elatab says. "Advocacy is everything to me, and being part of this clinic is one of the best decisions I've made in law school.'"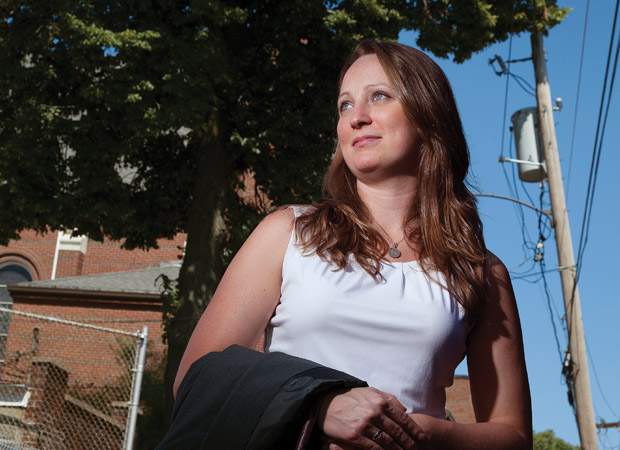 Lauren Standiford '14, a clinic fellow last summer