Winter 2014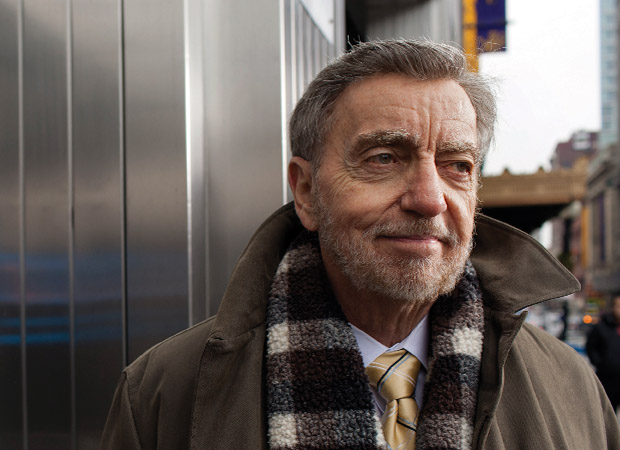 Soldiering On
ABCD CEO John Drew MBA '76 is a veteran of the war on poverty.
By Renée Graham // Photographs by Jarrod McCabe
Had Action for Boston Community Development (ABCD) existed when its President/CEO John Drew was a child, his family would have been exactly the kind of clients for which the antipoverty organization was founded.

Born in Boston's then-gritty Charlestown neighborhood, Drew and his four siblings were raised in a Somerville housing project. His father worked the graveyard shift as a shipper at a milk plant while his mother stayed at home to care for their children. At any given time, other relatives would stay for extended periods in the 4½–room apartment when they were out of work, or otherwise out of luck. In a place where criminals were more plentiful than college graduates and liquor was an easy salve to mask the pain, Drew witnessed how unchecked poverty can erode the soul and short-circuit a productive future.

"There weren't a lot of options," Drew says. "The usual thing in my neighborhood was that you'd get a job at 16, or maybe you'd be a crook."

In the faces of those who turn to ABCD for such crucial services as child care, job training, fuel assistance, and foreclosure prevention, Drew sees how harsh circumstances can defer dreams and how easily people can slip through the cracks without help. That's what's kept him at the organization for most of his professional life.

"I came in for six months to help out, and 41 years later, here I am," jokes Drew, 76, who has been at the helm of ABCD since 2009. "In a way, there was never a good chance to leave, because there was always something to be done."

Yet Syvalia Hyman III, chair of ABCD's 48-member board that represents neighborhoods throughout Boston, says more than professional obligations have kept Drew with the organization for decades. "If you experience something, you really understand it, and John has experienced the hardships many of our clients are going through," Hyman says. "I think that's a big difference, and you can see that in the way that John engages our clients and runs the organization."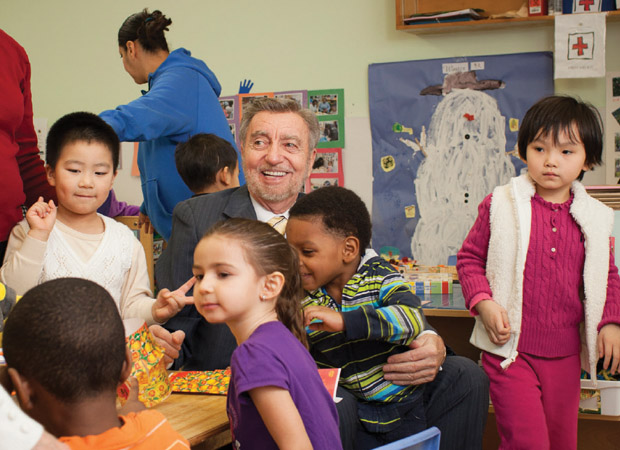 Drew at a Head Start class
The Breaking Point
The turnout for the rally is smaller than expected, the invited television cameras and reporters instead positioned about a quarter-mile away at Boston City Hall. On this crisp fall morning, the city awoke to the startling news that Boston Public School bus drivers had launched a wildcat strike, stranding thousands of students, flummoxing their parents, and infuriating the city's usually avuncular mayor Tom Menino.

It's the mayor's hastily called press conference that garners media attention, but those gathered in this third-floor room overlooking the Boston Common have issues just as pressing as the bus strike: the ill effects of the federal government's latest shutdown. For many of the people here—including a veteran dependent on fuel assistance to heat his home and a young mother lamenting the potential loss of a program that has taught her English—the stoppage means more than spoiled visits to national parks and monuments.

"Just because the government is shut down, doesn't mean we're shut down," Drew tells the small but vocal crowd. "I've lived through a lot of this, and I don't ever remember this much bumbling and idiocy from our national government. I'm here every day and I watch people come with pieces of paper, saying, 'I can't pay this, I have no place to live, I need some food.' People are angry. All of us here are stretched to the breaking point. So we have one simple message for Washington: shut down the shutdown!"

ABCD receives 85 percent of its $135 million budget from federal funding, and infighting in Washington, D.C. threatens agency clients like John MacPherson, a World War II vet who lives in Boston's Dorchester neighborhood. He receives $941 a month in Social Security benefits and is a longtime recipient of fuel assistance. Without it, MacPherson, 87, says, "I'm going to freeze, I can tell you that." At the rally, Drew places his hand on MacPherson's shoulder, lauds his service to this country, and calls him "a wonderful man who shouldn't be going without any assistance, any time at all."

Founded in 1962 by Boston community activists and officials, ABCD was established to help people overcome poverty by providing a range of services connected to housing, education, and employment. With more than 100,000 clients and operating under the motto "Helping People, Changing Lives," ABCD boasts more than 100 community and social service programs, including 22 Head Start centers, and other divisions such as Learning Works, a career development center. In 1993, ABCD founded the Urban College of Boston, and also runs two alternative secondary schools— University High, for young people at risk of dropping out, and William J. Ostiguy High School, known as Recovery High, for teenagers with a history of substance abuse. "They've left the school system because of addiction, and some of them even ended up on the streets," Drew says. "It's a struggle, but a lot of them have been able to get through, and we get referrals from all over the state for this high school." Boston Mayor Marty Walsh, a recovering alcoholic, spoke at the school's 2013 graduation as a mayoral candidate and praised the fortitude of its students.

As a boy, 21-year-old Iain, one of Drew's three children from his second marriage (Drew also has three children from his first marriage) loved spending time with his father at ABCD. But he also learned a great deal about the "gulf that exists between people who have much and many who don't. That's one of the main reasons I wanted to pursue a career in medicine—because ill health is both a major cause and effect of poverty all over the world."

Now a behavioral neuroscience major at Northeastern University in Boston, Iain says, "My father gave me the bulk of my understanding about the social injustices that occur and limit opportunities and hurt so many people here and around the world."
John Drew says he has "a visceral reaction to people being poor and not getting any help. I don't like when people are treated as beggars and takers. We should be doing whatever we can to make things better. Part of my job here is to be an advocate; I'm the public voice for a lot of people who don't have a voice, and I can easily articulate the needs of these people because I've been there."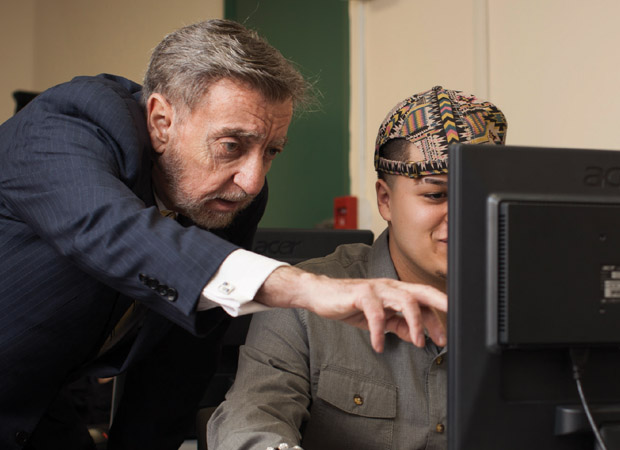 With student Louis Lopez during a computer class at ABCD University High School
Part of My DNA
Growing up in a tough Somerville housing project, Drew says education wasn't a priority. Working and keeping the family whole consumed his parents' days. His father dropped out of school in the fifth grade, while his mother, one of 15 children, ended her formal education in the eighth grade when she left school to care for her younger siblings.

"No one in my family was an academic achiever," Drew recalls. "My parents were very bright people, but they didn't have the opportunities, and higher education was something no one even thought of. You'd see someone going by and someone would ask, 'Where's he going?' If someone said, 'College,' you were like, 'What's that?" Some of his friends ran afoul of the law, ending up dead or in prison.

Drew's own education was hindered by a severe and undetected hearing problem. "I became introverted because I couldn't hear what was going on," he says. "So I turned off school." He started working at 14, doing odd jobs in bowling alleys and restaurants to help his struggling family. He "somehow sneaked through high school" and got a job as a milk truck driver after graduation. He married, became a father, and continued living in a Somerville housing project. Working at the plant, Drew managed a fragile living until a ruptured disc in his back left him unable to work.

Suddenly, he was 28 and unemployed with no prospects. Then, he says, "I got a break." Driven by the sense that he needed something more than low-wage jobs, he had taken a few accounting courses at Bentley College in Waltham, Massachusetts years earlier. A caseworker suggested Drew resume his studies. He took two classes and did so well he stayed on for the fall semester as a full-time student. Drew's insurer and Massachusetts Rehabilitation picked up the tuition, and Drew supported his family with a job as a security guard. Three years later, he had his degree in accounting and finance, and credentials as a CPA. He landed a job as an auditor with the international accounting firm Peat, Marwick, Mitchell (now KPMG), where he worked for several years. With his new position, he moved his family out of public housing. One of his assignments was an audit of a struggling Boston social services agency called ABCD. That's when Hyman, who was running the Roxbury Neighborhood Corporation and was an ABCD board member, first met Drew.

"I found him to be a really good guy who understood the business, and was committed to the organization and the work," Hyman says.

At 35, Drew had been considering leaving the accounting firm when he started working on ABCD's audit. Impressed by his work, then ABCD president Robert Coard asked Drew to become the agency's budget director for six months to sort out its financial problems. Within a few months, Drew was named finance director, and never looked back. "It was a challenging time, but it was an exciting time," he recalls. "There were all these people who needed help, and they weren't getting it. We saw ourselves as being in a position to do something about that. That mission really became part of my DNA."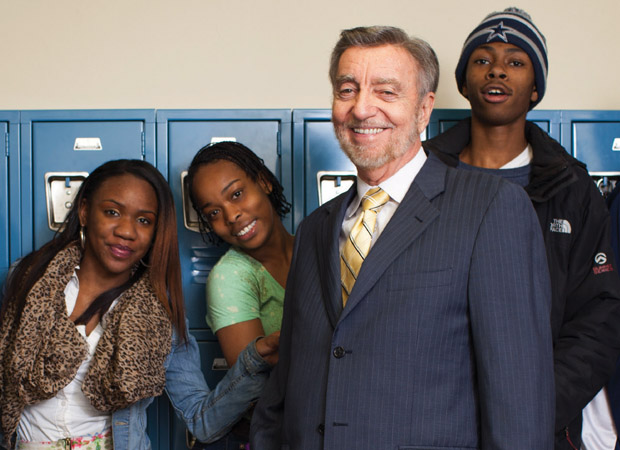 With computer class students at ABCD University High School
Level the Playing Field
After a half-decade, Drew was promoted to ABCD's deputy executive director, but wanted to expand his academic credentials with a master's degree. After starting at Babson College in Wellesley, Massachusetts, Drew transferred to Suffolk, located near ABCD's headquarters across from the Boston Common. "ABCD was at best a start-up, large, and, like any start-up, somewhat chaotic," he recalls. "It didn't have a lot of systems in place. I had my CPA, but by being enrolled at Suffolk for my MBA, I was able to implement the business practices I was learning about in class. I was able to institute ideas and theories related to real estate management and financial management. I was using all of the skills on the job that I learned about in class. What I learned while earning my MBA at Suffolk University helped ABCD in the long run, as a business and as a major human services force."
While Suffolk helped Drew hone knowledge of how to run an organization and manage its many people and departments, he also finds time to maintain contact with clients like Paola Garcia, a young Boston mother, whose daughter Emily is in Head Start.

"One of my goals is to become a lawyer. It was my dream since I was a little girl," she says. "I couldn't do it if ABCD and Head Start didn't ask what was stopping me. Because of my English, I was afraid to go to college. But thanks to the support of ABCD, I got my girl into Head Start as child care, then I got myself into ESL classes. And I keep working on my English so I can achieve my goal."

Like her brother Iain, Olivia Drew spent time at ABCD, and credits her father's work there for her decision to pursue a nursing career. "I always understood that my father helped people, but didn't realize the gravity of the situation for a lot of people until I was a little bit older," says Olivia Drew, who is also a behavioral neuroscience major at Northeastern. "It made me appreciate him even more for putting so much into helping people get the same opportunities, and give every person the same chance to be where they want to be. He wants everyone to get those opportunities, whether it's being financially stable or happy and healthy. My dad just wants to level the playing field, and I'm very proud of that."

John Drew is proud that, despite constant threats of government cuts, ABCD continues to serve some of society's most vulnerable citizens.

"Being poor does something to your spirit, and we want people to have independence, a sense that they have some control over their lives," he says. "We see people who have been victims of domestic violence, are disabled, or just can't find a job. The fact is unless we pay attention to them, it's going to be a lost generation. And if they have children, those children may be lost, too. That's something we have to change."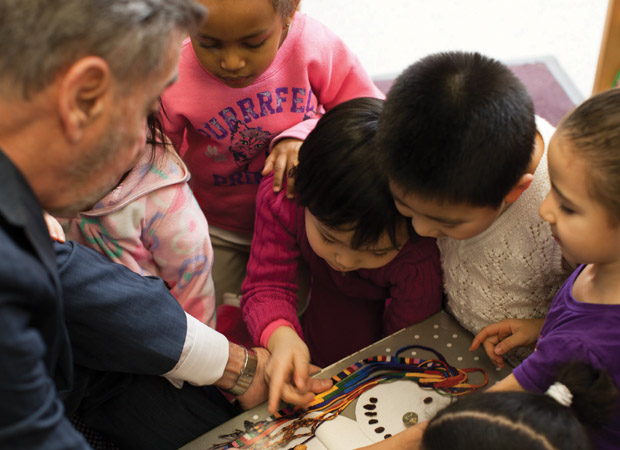 John Drew reads to a Head Start class in Boston that is a short walk from ABCD headquarters.