Winter 2014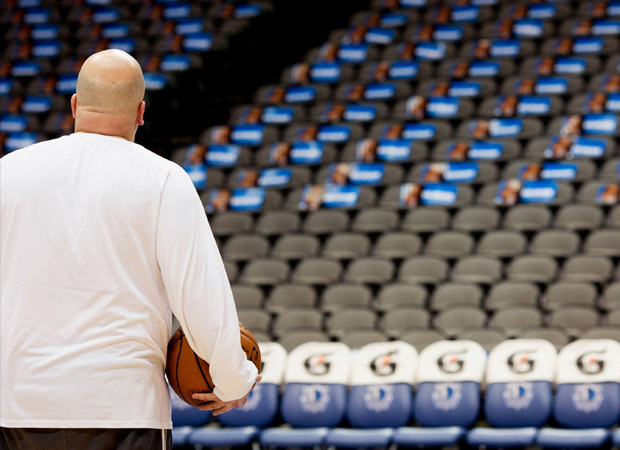 Get Shorty
When Dallas Mavericks owner MArk Cuban wanted "the best player development coach in the NBA," he turned to Mike Procopio BSBA '97, a profane, 5 foot 7, self-described "blending of Forrest Gump and Louie de Palma from Taxi."
By Jaime Aron // Photographs by Allison V. Smith
Three hours before tip-off—before 15,000 people arrive and the place buzzes with the overcaffeinated frenzy that is a Dallas Mavericks game—the American Airlines Center is practically asleep.

A cluster of game-day operations folks are testing spotlight patterns, sending balls of light jiggling across the seats. Several photographers are on ladders, taping cameras above and behind backboards. Two security guards with nothing to do are standing around savoring the inaction.

For the two guys on the court, though, this is game time.

The guy dribbling and shooting is Mickey McConnell, who is trying to keep alive his dream of making the NBA. The guy feeding him the ball is Mike Procopio BSBA '97, whose job it is to try turning McConnell's dream into reality.

"C'mon, focus in," Procopio says following a missed jumper.
"Everyone in the world knows you're not going left," he taunts.
"Short!" McConnell screams when the ball leaves his fingers.
"Keep shooting short," Procopio says after the ball touches nothing but net.

Procopio is in his first full season as director of player development for the Mavericks. Team owner Mark Cuban is paying Procopio to take castoffs like McConnell and second-round pick Ricky Ledo—players who, relatively speaking, cost the team pennies—and turn them into contributors, players who can move from the end of the bench to coach Rick Carlisle's rotation. If Procopio turns a single pupil into a reliable player, or even merely good enough to serve as trade bait, he will give the Mavs a great return on their investment. After all, people like Cuban become billionaires and build championship teams not only because they land players like star power forward Dirk Nowitzki, but also because they find ways to maximize their assets—even those at the bottom of the roster. Need proof that Cuban takes this seriously? Consider that he is personally responsible for hiring Procopio, the trail to his door blazed by Cuban asking, "Who's the best guy not in the NBA that I need in my organization?"

"He is a great asset," Cuban says. "He is the best player development coach in the NBA."

And, from afar, among the least likely.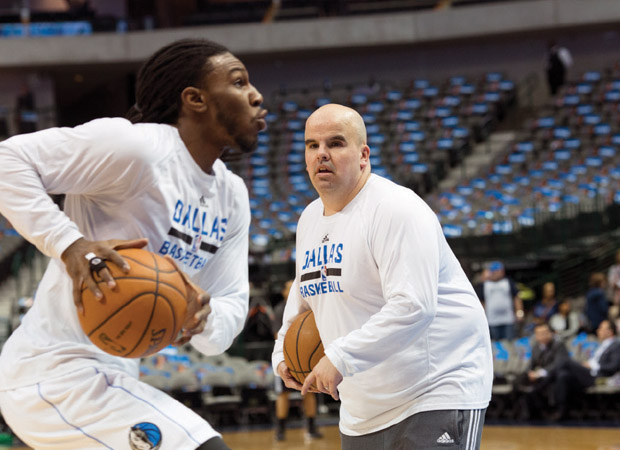 "Sweetchuck"
An hour closer to tip-off, ball boys are rebounding, dancers are stretching, and vendors are setting up shop. On the court, Procopio is joined by assistant coaches Tony Brown and Darrell Armstrong and the youngsters they oversee.

Brown played seven seasons in the league; a solid 6-foot-6, he appears as if he could still grab a couple of rebounds. The wispy Armstrong looks like he could fit into the uniform he wore when he won the Sixth Man Award in 1999.
Procopio? He's 5-foot-7 and north of 200 pounds. He looks like the beer vendors and security guards.

His playing career peaked in high school, when he scored all of four points—not even in the same game—on a Revere High team that went 0-20. But Procopio understands basketball at a microscopic level. His expertise is not Xs and Os, but nuances like where the right hip should be on a between-the-legs dribble going left, proper footwork on offense with the ball and without, and correcting flaws in shooting mechanics.

Communication—often through impeccably timed one-liners—is another strength. He can get through to anyone because he's worked with everyone, earning the trust and respect of some big names. Lakers star Kobe Bryant relied on Procopio during several championship runs. Tim Grover, Michael Jordan's longtime trainer, hired him to run the basketball side of his gym. Leo Papile, founder and coach of the Boston Amateur Basketball Club (BABC) and a longtime executive for the Boston Celtics, talks to him daily. Celtics veterans Danny Ainge, now the team's president of basketball operations, and Kevin McHale, coach of the Houston Rockets, remain on speed dial, along with Jim Nelson, Suffolk's legendary director of athletics who retired this year.

So, how did someone known in the basketball world as "Sweetchuck"—because, as a teenager, he resembled that character from the Police Academy movies—get this far?

Or, as Nowitzki says following a verbal zinger from Procopio, "Where did we get you?"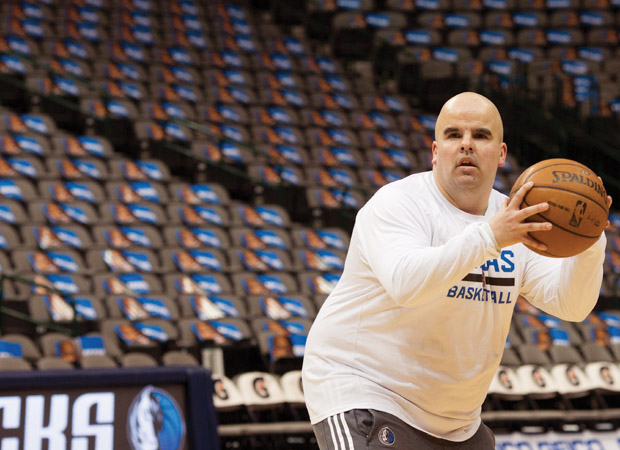 A Great Social Experiment
Procopio grew up in a Boston apartment that looked straight at the Boston Garden, home of the Celtics. His dad, John, was an electrician, and a good one, although you'd only hear it from others. He taught his son about humility, loyalty, and doing the right thing purely because it's the right thing. "Why waste time having an ego?" Procopio says, imparting the approach to life he took from his dad. The family moved to Revere, Massachusetts, when Procopio was 7. At 12, he got his first job in basketball: keeping score at the Hill Park Summer League. "To me, that was the NBA," he says.

He was soon going to every gym and camp he could, volunteering just to be part of the action. Over the years, he began studying the game, figuring out what worked and what didn't for each player. When he was around 17, he was smitten with the BABC teams and asked a friend how he could hook up with them. He still has the yellow slip of paper with Papile's phone number in red ink. 
They met in the parking lot of the Wonderland Greyhound Park. Within minutes, Procopio had the keys to Papile's blue Cadillac and the duty of chauffeuring players. He also kept score, tabulated statistics, and ran leagues and tournaments, plus did a little coaching and a lot of learning. "It was a great social experiment in what guys responded to and didn't," he says. "I found out how to get a point across."

After graduating from Revere High in 1993, he enrolled at Suffolk. He loved living at home while remaining nestled in his basketball world, and expanding it by being the Rams' team manager.

"Even his freshman year, when he was reluctant to speak up, it was obvious this young man had something to offer," Nelson says. "In the close games, the ones decided by one or two plays, Mike's suggestions on how to defend someone or how to attack someone proved to be fruitful."

Procopio held the job for three seasons, including Nelson's final two as coach. Their bond remains so strong that, after Procopio got married in Indiana, he had Nelson preside over a ceremonial second event in Boston. "I'd rank his influence on my life just below my mom and dad," Procopio says.
The Light Bulb Went On
One summer during his Suffolk years, Procopio landed a gig at the Nike All-American camp. The campers were high schoolers, with college players serving as counselors. While the youngsters were occupied, the college players gathered for individual skills training.

"Guys were teaching and correcting. The light bulb went on: This is what I want to do," Procopio says. The summer before his senior year, Procopio used Shona Mutambira as a guinea pig; he went from being a backup who averaged 8.9 points a game to a starter averaging 14.4 points, on his way to 23 the next year.

Nowadays, skills training is a money maker, from NBA development coaches to training kids hardly bigger than a basketball. Back then, there were no such jobs, so Procopio left Suffolk seeking a career path.

He applied to be varsity coach at his alma mater, and Papile had then-Kentucky coach Rick Pitino call to recommend him. He still didn't get the job. Instead, Suffolk Associate News Director Tony Ferullo BSJ '78 hired Procopio to coach the junior varsity team.

"It's halftime one night and I go to get a slice of pizza with the coach of the varsity team we're about to play," Ferullo says. "We walk down the hall, and all of a sudden you hear this really animated speech using vulgarity and everything else. This guy was really going off on them! The varsity coach says, 'Who's that?' I told him, 'My JV coach. He gets a little excited.'"

Next came a stint at a prep school, a job at Niketown, even time at a computer company. In 2002, Papile brought him to the Celtics, mixing gofer duties with scouting. "In the 2006 draft, he said, 'Here's my ranking of the point guards. Rajon Rondo is my number-one guy, and I'll stand behind it,'" Papile says. "That one has stood the test of time."

All along, Procopio kept working at summer camps, especially one at trainer Tim Grover's Chicago gym. In '06, Celtics forward Paul Pierce was walking in to lift weights with Grover as Procopio was walking out, and Pierce and Procopio agreed to meet later for an on-court workout. Grover witnessed that session and approached Procopio. "That was great work," Grover told him. "I've never seen a guy who looks like you work out a guy like that."

"Take a ticket and stand in line, because you're not the first guy or the last guy to tell me that," Procopio responded with a smile.

"Would you like to work for me?" Grover offered.

Grover's gym was the place for the intense one-on-one work he loved, and Procopio had spent years hoping for such an offer. This gave Procopio the best of both his worlds—seasons with the Celtics, offseasons with Grover. That is, until the NBA, fearing a conflict of interest, told him to pick one. "I didn't want to become a GM [general manager] in the NBA, and I didn't think I could move up with the Celtics," Procopio says. "That made the decision very easy."

It was a financial sacrifice because Grover's gym was seasonal work. As a result, Procopio's struggle to make ends meet continued, in part because he was always willing to work for free just to be part of the action.

The work, though, made it worth it. Like the summer morning in '08 when he spent two and a half hours alone in a gym with Bryant, a Grover client. Procopio showed up with scouting reports and a DVD of specific plays for Bryant to study. Despite a good workout, they went their separate ways.

In February 2009, Michael Lewis (of Moneyball fame) wrote an article for The New York Times Magazine about Houston's Shane Battier being the preeminent Kobe-stopper. Bryant told Grover he needed to counter this for an upcoming game against Battier—and he wanted that Sweetchuck guy's help.

Procopio discovered the issue wasn't Battier, but Bryant. See, Battier funneled Bryant toward Rockets star Yao Ming, daring Bryant to shoot over the 7-foot-6 center. He fell for it way too often. Telling Bryant he was taking too many shots, and a lot of dumb ones, was tough, but Procopio did it.

All this played out while Procopio was visiting McHale in Minnesota, where he was coaching the Timberwolves. They were at a team function the night of the Kobe-Battier showdown. Procopio slipped away to watch Bryant make 14 of 23 shots for 37 points in a 102-96 victory.

"You ever going to hear from the guy?" McHale asked.

"Probably not," Procopio predicted. Five minutes later, this text message arrived from Bryant: "We got San Antonio tomorrow. I want the same thing."

And so it began. Soon, Procopio was putting together scouting reports every morning and video files every afternoon. Procopio kept pumping it out during the playoffs, even in the days after his mother died.

The Lakers won the championship. It was Bryant's first without Shaquille O'Neal, and he was also named NBA Finals MVP for the first time. The next season, Procopio kept at it, even though he also became an assistant coach for the Maine Red Claws of the NBA's Development League.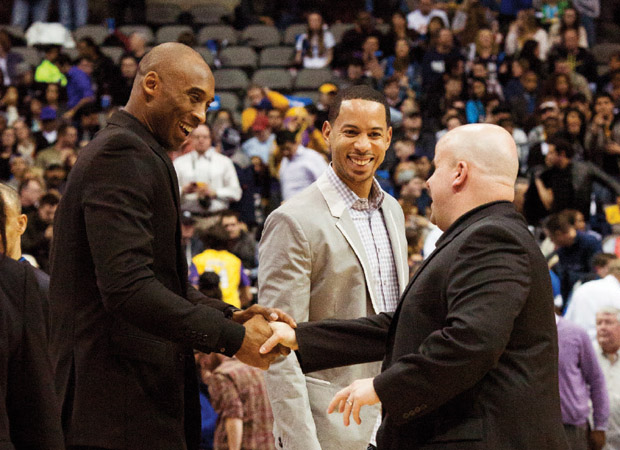 Bryant offered to pay Procopio, but he insisted on keeping it pro bono because of how much he was getting out of it. ("This guy's the best player on the planet," Procopio says, "and he's asking me for help.") His new bride was OK with it too, although she could've done without the texts that arrived at all hours, each time setting off a whooshing sound taken from the theme to the Knight Rider TV show.

Then came the playoffs and a finals matchup against—of all teams—the Celtics.

Around 1:00 a.m. the morning after Game 2, the Knight Rider theme sounded yet again. The series was tied and Bryant summoned Procopio and Grover to attend the rest of the games. They were at the news conference following Game 7 when Bryant— who'd just won his fifth title and second Finals MVP award—was asked about his traveling party. Grover they knew; who was the tubby dude?

"He's my Jack Bauer," Bryant said, referring to the fictional hero of the TV show 24. "He gave me all the edits and scouting reports and wrote defensive rotations of the Celtics. He was my eyes and ears, so when I played the game, I'd use all the scouting reports and all the information. And it was huge for me."

Several months later, Procopio went to a UPS office to pick up a package. Inside was a solid-gold, diamond-filled Lakers championship ring with "Procopio" inscribed on the side.

"It was surreal," he says.
All along, Procopio told Bryant he'd know they were done when the texts stopped. It happened in the summer of 2012, around the same time Grover lost his gym. Stuck outside the NBA for the first time in years, Procopio cranked up a basketball consultancy business he'd been dabbling in for years—until March, when Mavs coach Carlisle called. Cuban's talent search led the Mavericks to Procopio, and Carlisle's former Celtics teammates Ainge and McHale vouched for him. Next came a call from Mavs president Donnie Nelson: "We're bringing you in to stay for a week. But pack to stay for the rest of the season."

Procopio has set up a program that expands on practices and drills through film sessions and quizzes. He works closely with the director of sports psychology and the rest of Carlisle's staff. As always, he jabs everyone with a sharp tongue.

"If you've seen the movie Ted, he's a lot like that [profane] teddy bear," Carlisle says.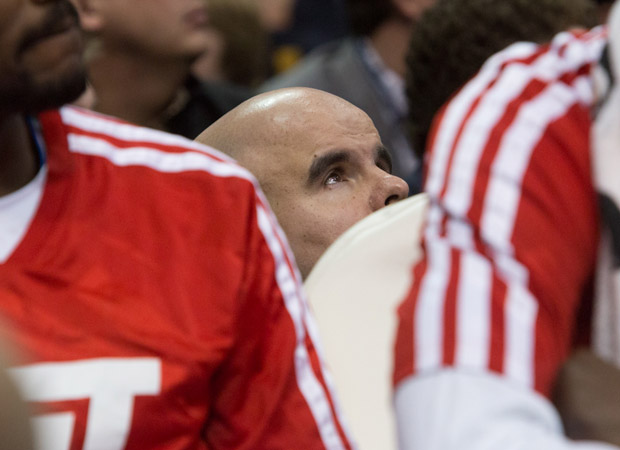 Both Feet in Cement, Thrown in the Atlantic Ocean
Back at the American Airlines Center, everything has fallen into place. The swirling spotlights were on target for the introduction of lineups, the dancers got the crowd going when the arena lights went on, and the ball is now poised for tip-off.

Procopio is nowhere in sight.

Because his work comes in the hours between games, he usually watches from the locker room, where he doesn't have to wear a sports coat. It fits what his friends say about him—that he's the same guy as 20 years ago, and he'd be just as happy coaching the Revere Patriots as he would the Dallas Mavericks.

Asked about that scouting report, Procopio nods and smiles. After all those years of trying to match a good job with a good salary, everything's clicked. At 38, he's starting a three-year contract that will provide for his wife, Natasha, and 1-year-old daughter, Maria. The owner of one NBA ring, he's chasing another that would be even more meaningful.

"At the end of each day, I catch myself saying, 'Are you serious? This is my life right now?'" Procopio says. "I've hit a goldmine jackpot with the Mavs. This is not a stepping-stone. I'm in this job with both feet in cement, thrown in the Atlantic Ocean."

All the threads of his life story have stitched together perfectly. Not that he planned it this way.

"I'm sort of like the blending of Forrest Gump and Louie DePalma from Taxi—a wiseass, mutant-looking guy, and a guy that's done all these cool things that he probably shouldn't have. That's how I see myself."