Spring/Summer 2013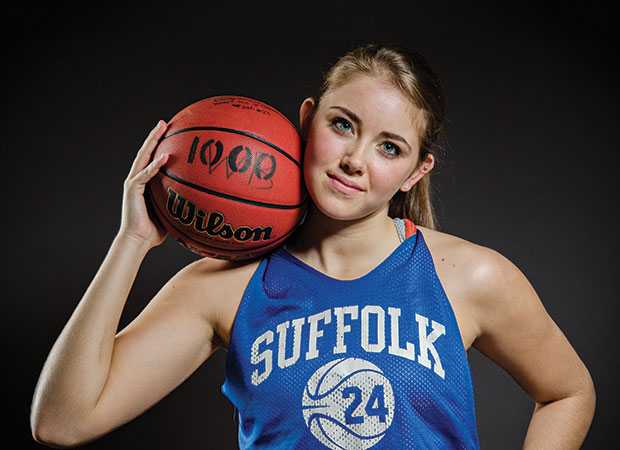 On Point
Biology Major Jennifer Ruys '15 has basketball in her DNA and one number on her mind.
By Renée Graham
When Jennifer Ruys '14 scored her 1,000th career point for the Suffolk University women's basketball team earlier this year, it marked the fulfillment of a lofty goal she had set during her freshman year.
"I knew it was something I wanted to do, so I worked hard to get it," says Ruys, who became only the second basketball player in the University's history to achieve that milestone as a junior. "Going into the game, I was trying not to think about it, but [Head] Coach [Ed Leyden] mentioned it during practice. I didn't want to think about it; I just wanted to concentrate on winning."
Putting the team ahead of personal goals has helped Ruys, 20, become a standout on the team, which finished the 2012-13 season with a 21-7 record, setting the University's mark for wins in a season by a basketball team. Ruys, a 6-foot forward who averaged nearly 16 points per game, was also selected as a Great Northeast Atlantic Conference First Team player for the first time in her collegiate career.
"On the base level, she's just a very, very good basketball player," says Leyden, who has coached Suffolk women's basketball for 19 years. "She's a very good shooter, and that doesn't happen by accident. She's someone who after a two-hour practice will shoot for another hour. She puts a lot of time into basketball, and I think she sees that as a huge release because she's also a very serious student. I think she sees the two hours of running and sweating and being with people who share a real passion as a release that balances her."
For all intents and purposes, Ruys, who hails from Wallingford, Connecticut, was born with a basketball in her hands. "We have a picture in my house of me at less than a year old holding a basketball that's bigger than me," she says with a laugh. Her father, Rob, now an assistant basketball coach at Ruys's old high school, used to take his daughter and her brother to his men's league games. "She started playing organized [basketball] at age 7, and I coached most of her teams until she got to high school," Rob Ruys says. "I think she always enjoyed basketball but did it more for me than for herself when she was young. At age 12 or 13 she…became interested in seeing just how good she could be."
Once the half court in the Ruys's driveway was transformed into a full court, the house became a magnet for hoops-loving neighborhood boys. "Every day in the summer I was outside with the boys," Ruys says. "It always kept it fun. I could play competitively in AAU [Amateur Athletic Union], but then I could play games with my neighbors and just have fun."
Leyden first saw Ruys play during a recruiting trip to an AAU tournament in Albany, N.Y., when Ruys was a high school student, and he was determined to bring the "tall girl who was an exceptional shooter" to Suffolk. He sent Ruys information about the University and later invited Ruys and her parents to Boston to tour the school. "I still remember when she said she was going to come to Suffolk. There were a number of other schools and coaches that were chasing her, and when she called me, I was on cloud nine. I was so excited."
For Ruys, coming to Suffolk "couldn't have worked out better," she says. One of the most positive aspects has been her relationship with Leyden, who, she says, sets the tone for the team. "He's been really helpful for me. He's a great coach, but he really cares about us as people. It's really comforting to know he has your back and that he'll do almost anything for us." Team camaraderie is also a big plus for Ruys. "We spend a lot of time together, but it never gets old. They're my best friends."
Over the years, more than Ruys's basketball skills have impressed Leyden. "For someone like me who has been a lifelong teacher, she gives me a lot of hope for the future. This is one of the most exceptional kids I've come across."
"When we visited Suffolk during the recruiting process, I told Coach Leyden that only the tip of the iceberg had been seen so far with Jen," says Rob Ruys, who attends 10 to 12 Suffolk games per season. "For her to do what she has done in three years is a credit to her and her coaches."
If her father influenced her love of basketball, then Ruys's mother, a nurse, inspired her daughter's major at Suffolk. A self-described "huge science nerd," Ruys is working toward her degree in biology. "I knew I wanted to go into medicine or sports medicine. Biology was just the way to go because I just love how the human body works," she says.
After graduation next year, Ruys hopes to enroll in a graduate program for athletic training and physical therapy. Wherever she goes, basketball "will always be there."
"I'd really like to get into a women's league or a coed league," Ruys says. "I'd really love to coach. I talk to my dad nonstop about coaching drills and practice. Whether I'm playing or coaching, [basketball] is definitely going to be a part of my life."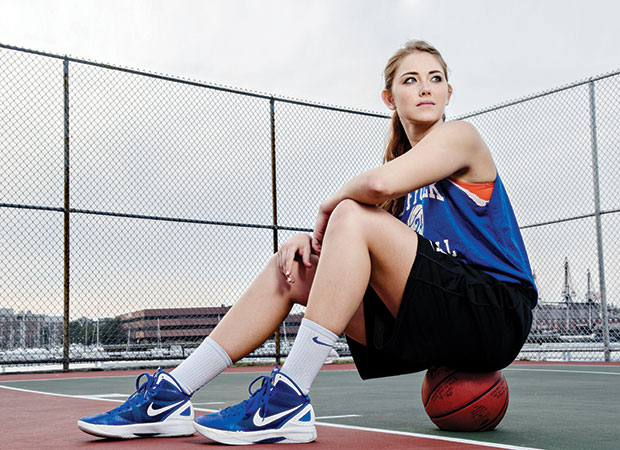 Pop Quiz
Last Book Read: The Man 
Watching: Anson Dorrance and the University of North Carolina Women's Soccer Dynasty by Tim Crothers 
Last CD/MP3 Purchased: Two Black Cadillacs' Carrie Underwood 
Favorite "Only in Boston" Experience: "The environment at Fenway Park during a Red Sox game. There's no place like it."
Where She Would Like to Be in Five Years: "Ideally, I'd like to be an athletic trainer for a Division I or pro team." 
Words to Live By: "Failure to prepare is preparing to fail," from legendary UCLA basketball coach John Wooden. "It was something my dad etched in the driveway when we were younger, and it's something I've always carried with me." 
Role Model: "My parents. They're just really strong people who taught me the importance of hard work, compassion, and finding the joys in life every day."