Winter 2015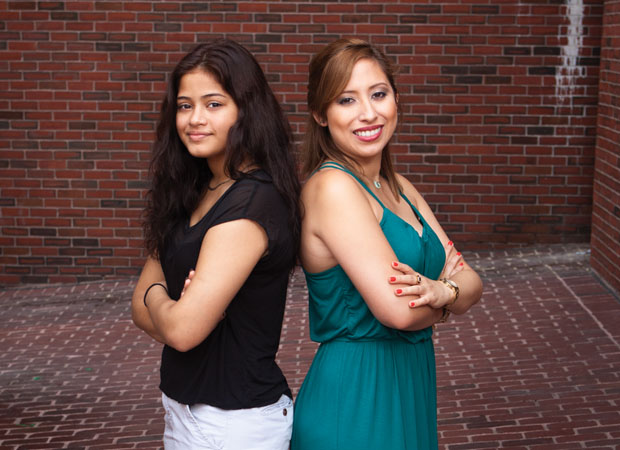 Why iWorks
A unique summer jobs program gives disadvantaged youths and their mentors life-changing experience
by Janelle Nanos
On a quiet Tuesday morning in July, Sandy Matava MPA '81, the director of Suffolk's Moakley Center for Public Management, sits perched on the edge of a file cabinet, looking a bit like a mother hen tending to her flock. Matava coordinates more than 20 programs over the course of the academic year that provide students with experience in public policy and public service. But during the summers, when the students clear out, she oversees one of her pet projects, iWorks, an intense six-week internship program for disadvantaged youth. This morning is the one chance Matava will have to convene with her staff, who are Suffolk alumni, grad students, and undergrads, before they scatter to visit the interns at their job sites across Boston.
Matava is the former commissioner of the Massachusetts Department of Social Services (now the Department of Children and Families, or DCF) and has been the head of the Moakley Center for over 20 years. A decade ago, she saw a need to help vulnerable youth find viable employment options and partnered with her former colleagues at DCF to create iWorks. The program provides job training, work experience, and financial education to young adults aged 16-21 who have entered the DCF system due to troubles at home or brushes with the law, and it has enabled over 380 of these young people to get jobs at day-care centers, restaurants, museums, and offices. This summer, iWorks arranged for 47 young people to work at 16 job sites across Boston. Because these six-week internships are often the participants' first jobs, Matava's team at Suffolk act as coaches, going on site visits to track the interns' progress. The program is "special for me for lots of reasons," Matava says. It's a remarkable opportunity for the young adults, but it's also a chance to watch the Suffolk students on her team really thrive. "Everybody's learning. Everyone is growing," she says.
Matava says the Suffolk students have been an integral part of iWorks' success. "They're about as wide a range of people as you're ever going to see," Matava says. And yet for the next few weeks, they'll all share the same vision: Bringing their experience and training they've gained at Suffolk to a group of young people who need them.
Mother Earth
Immediately upon first meeting Irma Davila Rodriguez '15, it feels like you're only seconds away from being hugged. "Irma is Mother Earth," says Matava. Sure enough, as Davila hops off the train on her first site visit of the day, she springs into mothering mode. She spies two of her interns, who are working at the Ellis Memorial day-care center in Roxbury, herding packs of elementary-school studentsthrough the turnstiles as they prepare for a field trip. Davila Rodriguez sizes up their efforts—both young women seem engaged with the youngsters—and then a smile passes over her face. "Look at her, she was up in front, leading the pack," she says of one of her charges.
Davila Rodriguez grew up the youngest of three sisters in Puerto Rico, and she moved to Massachusetts for graduate school in part because she was attracted to Boston's progressive government and nonprofit communities. She's working toward her master's degree in ethics and public policy at Suffolk. This summer, Davila Rodriguez has been a job coach to 11 interns and says iWorks has been one of the most gratifying experiences she's had while at the University. "Every day is a new day with them. I get surprises," she says. "But seeing them succeed is very rewarding."
Of course, not all of them succeed. As Davila Rodriguez meets with the day-care coordinator that morning, it becomes clear that one intern who had shown tremendous promise now needs to be held accountable for skipping out on her shifts. "It was hard for me see my kids do well and all of a sudden sabotage themselves," Davila says later. It's obvious that the issue gnaws at her—no one ever said tough love was easy. "Pity is the worst enemy of a job coach," she continues, "because it will not help the kid gain the proper job skills they need to succeed in their careers."
But Davila Rodriguez says the skills she's learned as a job coach—patience, resilience, and persistence—will help her on her own career path. "I learned that I am stronger than what I thought I was," she says.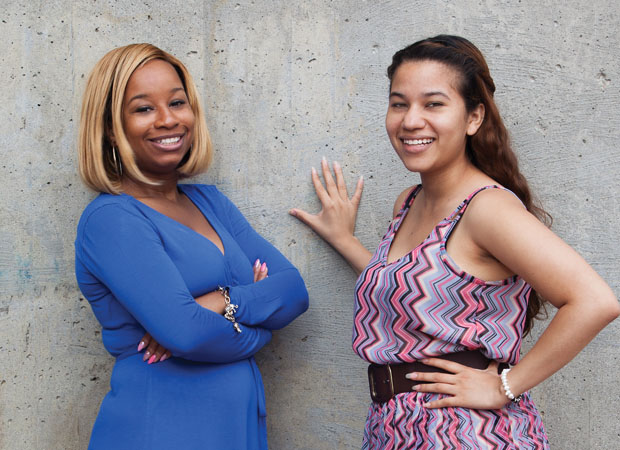 Dannielle Jones, left; Marilyn Romero, right
A job coach first
It's early Wednesday morning—payday—and Dannielle Jones '15 is texting with her interns to make sure they're on their way over to Suffolk to pick up their checks. The Dorchester native is the center's newest job coach, and she's been a quick study this summer. "She knows these young people, and she is able to relate to them in ways that are more difficult if you don't know the geography," Matava says. "She's tenacious in terms of making sure they stay on track."
That tenacity comes from her upbringing, says Jones. Her father was a Boston firefighter, and her mother stayed home to raise her and her three siblings. Jones started college in Atlanta several years ago, but took time off after learning she was pregnant. Now, she's a mom to a three-year-old and on track to complete her bachelor's in government at Suffolk. She talks of getting her MBA next, or of pursuing law school.
A young woman arrives to pick up her check, dressed in a crop top, sneakers, and ¾-length sweats. Jones has a commanding presence that may translate well into a courtroom or a corner office, and it's on display as she looks the young woman up and down and shakes her head in disapproval. The girl begins to protest. It's hot, she says, and nobody from work would see her here. "You're a walking billboard for yourself," Jones replies. "I expect you to respect and represent yourself with pride. This is a business setting, and I'd hope that you dress and speak appropriately when you're here."
Jones checks her phone again. Another intern is having trouble making it to the office because she's trying to find childcare. It's clear that each young person presents his or her own set of challenges, but as a 24-year-old college student with a young child, Jones says she knows firsthand many of the struggles her eight interns face. "Working with these kids, you have to have a lot of patience," she says. "I can relate. I have a child, too." Jones says she strives to find a "balance between being compassionate and stern," knowing that so few of them have someone in their lives who can help them understand professional expectations. "You're a job coach first and a mentor second," she says.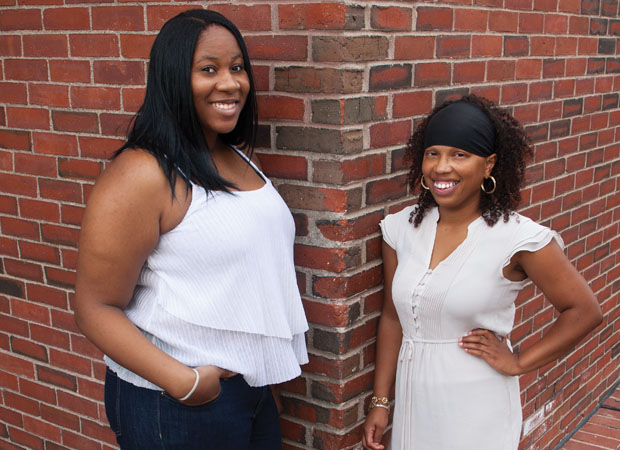 Khadija Julien, left; Claudia Andrade, right
Close to home
As the manager of the iWorks program, Claudia Andrade MPA '11, MSCJ '11 spends months lining up intern job sites and coordinating with DCF social workers to find candidates for the summer. "The whole goal is that we're not their social worker, we're a support system for them," says Andrade, a quiet, supportive presence in the office. "For most of these kids, it's their first paid internship."
Andrade's current role started as an internship as well; she began work under Matava at the Moakley Center four years ago. "She has grown into that role tremendously," says Matava, who says it's been remarkable to watch Andrade come into her own as the leader of the team.
Like Jones, Andrade grew up in Dorchester, but was the seventh of eight siblings. "Both my parents didn't come from much, but the most important thing they taught all their children was an outstanding work ethic," she says. It seems to have sunk in: Andrade earned a master's degree at Suffolk in criminal justice and public administration and says she hopes to one day work for DCF.
Andrade is typically out visiting her 18 interns at sites across the city, but since today is payday, she's teaching them financial literacy. "They're excited that they're earning money, but we have to teach them the right way to use their debit card and save every week," she says. "It's usually the first time that one of these kids has a bank account."
A few of the teens are ripping open their checks as Andrade ushers them downstairs to the ATM. "My check looks good!" one young man announces to the group with a bit of swagger. "What if the ATM eats my check?" a young woman asks. "I'm scared." Andrade reassures her that the machine will be fine and proceeds to walk each intern through the process of making a deposit. As a sponsor of the iWorks program, Santander Bank has promised the interns that if they save $100 in their account by the end of their internship, the bank will match the amount. It's an enticing incentive, one that Andrade reminds the group of interns as they approach the machines. A few of them peer at the ATM as if it were a fortune teller, trying to discern the secrets inside. Within seconds, their digital-savvy nature takes hold. As they each hit the withdraw button on the machine, Andrade reminds them: "How much do you want to save this week?"
When the young woman who seemed uncertain about the ATM leaves some money in her account, Andrade claps her on the shoulder in a slight embrace. "This was easy," the young woman says, checking her ATM receipt.
Andrade feels she's become much more grateful after overseeing the iWorks program. "When I was a teenager like these youths, I didn't encounter anything close to what they have to deal with on a daily basis," she says. "I live in the same area as these kids, and if I can help them out in any way, I will try my hardest."
The tally
Matava has an actual tally for the iWork team's progress at the end of the summer: 38 of the 47 interns completed the program, 14 of whom had perfect attendance. Even better, several interns have stayed on as volunteers at their job sites. Together, they saved $3,120 in their bank accounts. "The summer was an absolute success," says Matava, thanks in no small part to the leadership she's seen on the part of her staff. Each year the Moakley Center holds a small graduation ceremony for the interns once they complete the program. "When I see the coaches at graduation," she says, "I've seen they've grown as much as the interns have."