Fall 2016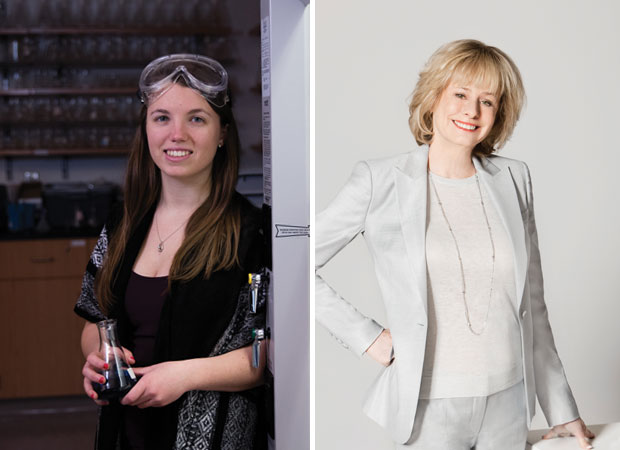 Bone Digger
Crime thriller aficionado Emily Persson '15 unearthed a career path and passion in the work of forensic anthropologist and novelist Dr. Kathy Reichs
Staff Writer
 "My inability to put books down, coupled with the television show Bones were the most influential things in directing me [toward] a career in forensic science," recalls Emily M. Persson. In high school, the East Bridgewater, MA, native was an avid reader and "couldn't be bothered by romances or sci-fi or other genres except for crime thrillers. I was able to learn about the different areas in forensic science and their applications in cases in a fictional manner based on real life."
When Persson was looking at colleges, she discovered that "Suffolk University is one of the only schools in New England that offers an undergraduate program with forensic science." As an undergraduate, she majored in chemistry with a concentration in forensic science. "The main advantage to the program here at Suffolk is that the director of the Boston crime labs was my professor and many different criminalists [crime lab technicians] have taught at the Forensic Science Lab. I was able to network with these people, which opened up many opportunities for me."
Asked who in the world she would most like to ask three questions of, Persson thought of the Fox series that encouraged her vocational interests and the author of the book upon which it is based. "[Forensic anthropologist] Dr. Kathy Reichs first got on my radar when the show Bones premiered. I fell in love with the field of forensic science and started to do a little digging on the background of the show, which led me straight to Kathy and her books. I chose her because she has done a little bit of everything, from earning her PhD and membership into the American Board of Forensic Anthropology to being a teacher, novelist, forensic scientist, and even a consultant for the television series Bones.
She is an amazing woman and I aspire to a career like hers so I selected her, from everyone else in the world."
EMILY PERSSON: You are a novelist, a forensic anthropologist, and a teacher. Which aspect of your career do you enjoy most and why?
DR. REICHS: I've never liked having my foot in just one world.  First, I focused on motherhood and working full time at the university; then it was working at the crime lab, and teaching in academia; and then it was the world of literary publishing and television entertainment. I like moving among the different menu items—I don't like doing just one thing. I don't like living in just one place either, evidenced by my going back and forth between Canada and North Carolina, with two different climates and two different languages. I like variety.
Q: How close are some of the cases in your novels to real-life cases that you have worked on?
A: In the books and the show, I offer a peek into my cases.  Not every book is based on a specific case, but they're all related to something I've done, like disaster relief work or human rights work. Déjà Dead is based on my first serial murder investigation. Death du Jour derives from work I performed for the Catholic Church and from the Solar Temple cult mass murder-suicides. Deadly Decisions stems from the many bones brought to me grâce à la Québec Hells Angels. Fatal Voyage is based on mass disaster recovery work.  Grave Secrets was inspired by my participation in the exhumation of a Guatemalan mass grave. Bare Bones' investigation into poaching sprang from moose remains. Monday Mourning grew from the pizza parlor skeletons (and my most recent book, Bones Never Lie, sprang from Monday Mourning). Cross Bones draws on my visit to Israel, weaving strangely unreported Masada bones, a burial box purported to be that of Jesus' brother James, and a recently looted first-century tomb into a modern murder plot. Break No Bones finds a modern skeleton mingled with archeological remains. Bones to Ashes  involves time spent with the Acadians of Canada—a community of people that savor la dolce vita to the fullest, yet still have to deal with death in their midst. In Devil Bones I return to my home in Charlotte and explore the world of alternative religions. 206 Bones deals with the unavoidable downside of the popularity of forensic anthropology — incompetent or dishonest forensic scientists. Spider Bones is based on work I did as a consultant to the Joint POW-MIA Accounting Command, a military laboratory dedicated to identifying U.S. war dead. Bones of the Lost was drawn from my experience visiting troops in Afghanistan with the USO.
Q: Who has been the biggest influence on your career?
A: Neely Smith. When I met Neely Smith in 1981 she was the same age as my daughter.  Both were friendly, talkative 5-year olds. The difference was that Neely was a skull, rib cage, and lower jaw on a steel gurney, and it was my job to confirm her identity as the young girl snatched from her east Charlotte neighborhood two months earlier. In fiction, the murders get solved. That's not always the case. My training was in archaeology, with a specialty in skeletal biology.  I first found my way into forensics through a request for help in a child homicide investigation. The tiny bones were identified. The killer was not. That case changed my life. Anyone who has come from a town that harbored such a crime will remember the name of the child and carry it with them. Charlotte, North Carolina. Soham, England. Praia de Luz, Portugal. These stories are important. They instruct us about the place where they happened, about ourselves, and about how to bear the burden of such memories and move on. They speak to the permeability of "objective science." My work is filled with these names. While I strive to keep personal and professional separate, it is never entirely possible. There will be another unsolved child murder.  There will always be more work to do. Both the dead and the living etch their names into my bones, crossing paths within my sphere. I don't explain to my daughter why I sometimes hug her too tight, nor do I explain to my colleagues why I sometimes refer to an 8-year-old only as "the victim." After the Neely Smith case, I abandoned ancient bones for recent. I switched to forensics and never looked back.
Dr. Kathy Reichs photo: Marie-Reine Mattera; Emily Persson photo: Michael J. Clarke