Winter 2014
Conversation Starter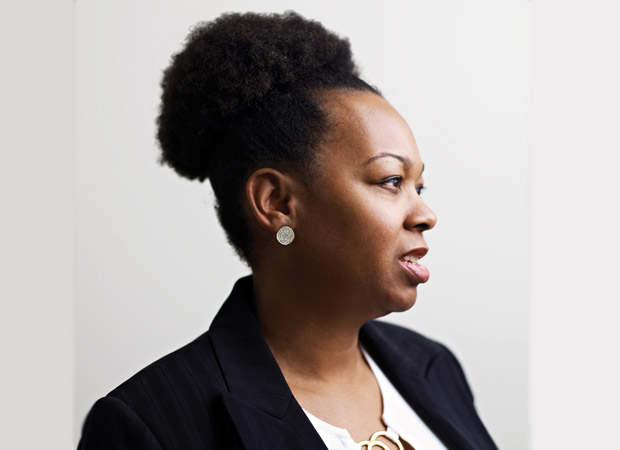 Infusion of Inclusion
Suffolk's first chief diversity and inclusion officer, Nicole G. Price, is working to build a strong foundation for innovative recruitment and retention.
By Renée Graham
How did you find out about this position, and why were you interested?
[President James McCarthy] reached out to me and we had some conversations around it. At the Law School, I was director of diversity, so I dealt with diversity as it related to our students, our alumni, our relations outside of the Law School in the community, and [our] faculty and administration. So when the president approached me and I began thinking about it, I was excited about the possibilities and opportunities of taking on such a task here at Suffolk. One of the great things I loved about being at Suffolk Law School was the fact that you have a leader [Dean Camille Nelson] who supports diversity. That was one of the reasons I came to Suffolk. I was really excited to be able to work for somebody who got it. I didn't have to make the argument to her as to why we needed this; I just had to figure out how to do it.
As diversity officer for the Law School, what were some of the challenges you faced? 
One, as with most diversity positions, you face the challenge of resources—not only financial, but also human capital. There's a lot of work to do, but as one person, as two people, you can only do so much at a given time. So sometimes it's frustrating because you have the ideas and even have the support, but there are only so many hours in a day, only so many days in a week. [Another challenge] was trying to touch on various levels of diversity. You have your student population. You're hoping to diversify the legal profession. You do that through your students, but you also have to do that through the pipeline before they get to law school. So trying to do some pipeline work is important, but pipeline work to be done well requires financial capital and human capital.
For this position, what are your main objectives?
One of the things I believe, as it relates to diversity, [is] you can't come in on the first day and decide what you're going to do. Diversity is very specific to an institution, so you have to learn the culture, the history, what the needs are and the wants are, because often our needs and wants are very different. So I listed things that needed to be done. One of the main objectives I have is to make sure we are foundationally strong. Before you can do some of the innovative things around faculty diversity or student diversity, not only in recruitment but retention, to really begin to affect the culture of the institution...you have to have a strong foundation. [In general,] policy and procedures need to be in place—something as basic as a nondiscrimination policy, a statement of diversity. . .Those things help our community understand [that] those things are important. That's one of my objectives for the first year: honing in on policies and procedures and mak[ing] sure we are sound there. And those touch on the different constituencies, so it's not just the students or the faculty, those policies will touch on the community as a whole. So that's one of the main objectives. I will create a diversity strategic plan and that's something that will be done, hopefully, by the end of this academic year. And that will be based on me getting out there and meeting people here, learning what's here, what we have, what we want, and then devising a plan. There's so much you can do, but you have to focus so you can actually get things done. If you try to do it all, you end up not doing many things very well.
Given the reticent feelings some people of color have about Boston, do you see part of your job as selling the city as well as the University?
Part of my job is making sure we tell our story more accurately. I can tell people, "Boston's not perfect, Suffolk's not perfect." But I think we do better than most people realize. Students will say, "Boston is racist." I tell people Suffolk's first black law graduate [Thomas Vreeland Jones JD '15] was in the early 1900s. I went to law school [at University of Virginia], and UVA's first black graduate was [in] 1953. So while Boston is not perfect, there's a whole lot of good history there. Part of the struggle is selling Boston, but we can help ourselves by telling our story more accurately. I don't think Suffolk really highlights all the good we're doing on the diversity front, and we need to change that.
Was there anything in your early life that you can trace to what you do today?
As accountants in corporate America who grew up during segregation, my parents knew I would have more opportunities than [they] did and prepared me for those through my schooling, extracurricular activities, and travels. My parents instilled many things in me, but one was a healthy does of self-confidence grounded in varied life experiences and expectation of excellence. This was essential to excelling in the various spaces I have found myself [in]—growing up as one of a handful of children of color in school, attending the University of Virginia, attending the College of William & Mary Marshall Wythe School of Law, practicing law in New York and Virginia, and even moving into higher education at Boston University School of Law, Suffolk University School of Law, and now Suffolk University. I believe I have a responsibility to share the knowledge, experiences, and information I have gained over the years with those who may not have access or who are the next generation.