Winter 2014
Faculty File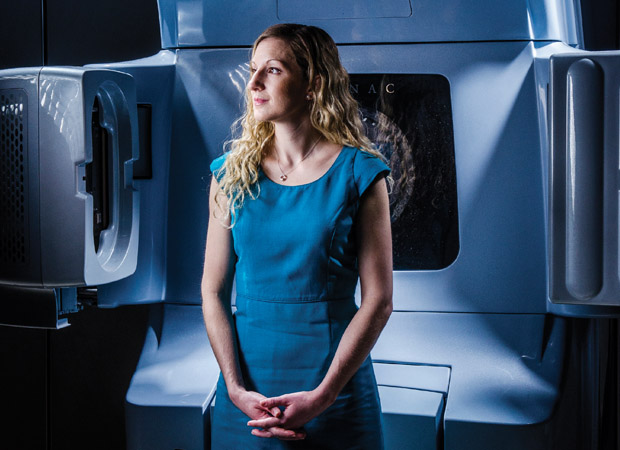 On the Beam
With her students and patients alike, Jessica Mak radiates light
By Sam Tremont
For a course about cancer set in a hospital, the atmosphere in Introduction to Radiation Oncology is surprisingly upbeat. The 14 students gathered around a large conference table in the basement of Massachusetts General Hospital (MGH) this evening are clearly well prepared, answering all of the questions instructor Jessica Mak raises in her PowerPoint review. Yet while the conversation is purposeful, the atmosphere is anything but morose. In fact, as the group advances from the makeshift classroom to the treatment room, where students role play practitioners and patients using awe-inspiring machinery, laughter is in good supply.

"With oncology being such a serious topic, when it is appropriate, I like to add humor to make the topic a little lighter and make the learning experience more enjoyable," Mak explains.

Growing up in Buxton, Maine, Mak was affected by a family friend and two lacrosse coaches who were diagnosed with cancer. In high school, she became president of the Fight Against Cancer Society, which raised money for the American Cancer Society and public awareness.

"During my freshman year as a biology major at the University of Vermont, I stumbled across the major of radiation therapy and realized this was the perfect fit for me," she recalls. "I entered the field as someone who has compassion for people and an interest in healthcare. I do feel that the field has an excellent balance of both technology and patient care."

Mak joined Maine Medical Center as a per diem staff radiation therapist in 2006. Three months later, she became a staff radiation therapist at MGH, and two years later a senior radiation therapist. "When I was working full time in the hospital, I found myself to be a natural teacher in explaining or demonstrating various aspects of radiation therapy" to students, residents, and staff. In 2010, Mak moved down the street to fill the role of clinical coordinator for the radiation science program, which is part of the physics department at Suffolk.

The Radiation Therapy undergraduate and post-baccalaureate certificate program collaborates with such Boston area medical icons as MGH, Brigham and Women's Hospital and Dana-Farber Cancer Institute. Ten students are selected each year following an application and interview process. Upon graduating from the program, they are eligible to sit for the American Registry of Radiologic Technology board examination, enabling students to become certified radiation therapists.

"I see myself fundamentally as a teacher who also practices," explains Mak, who continues to practice at MGH while adding the title of program director at Suffolk. "I preach what I practice. I teach from the perspective of a radiation therapist, which reflects on my experiences with patient interactions, as well as knowledge and experience with the execution of all the elements that go into radiation therapy treatment." 
Alexa Barrios '15 came to Suffolk from Florida as a journalism major but transferred to science with the goal of "finding a degree that could land me a successful healthcare job right out of [college]." She describes radiation therapy as "an accelerated program with amazing professors and hands-on working experience with Boston's top hospitals so it looks great on paper." She has taken two courses with Mak and describes her as "extremely down-to-earth and friendly. She has no problem explaining the same topic in five different ways to make sure all her students are on the same page and understand the subject. She throws in light humor to keep us intrigued and always tries to make class more of a discussion rather than an hour-long lecture. . . her patience is eternal, and she will answer any questions in class, and respond to every e-mail."

Describing her own teaching style, Mak says, "I like to check in with students frequently, to make sure everyone is grasping the topic at hand and not getting lost in the medical or technical jargon."

This evening's class winds up in the conventional simulator room, where Mak demonstrates everything from proper needle disposal to the creation of medical tattoos, which help minimize radiation by adjusting the beam as precisely as possible. Students practice their tattoo art first on clementines before advancing to their own skin or a classmate's. Mak allows a reluctant student to move at her own pace, then accommodates the request of another who asks her to try a second tattoo on him. She finds a teachable moment when a student of considerable girth who volunteers to play a patient needs to be assisted to his feet. Throughout the class, Mak is reaffirming and upbeat.
"I really enjoy the excitement radiation therapy students have when they are learning new techniques, and especially when we are discussing, practicing, and role playing various aspects of being a radiation therapist," she reflects. "I am very passionate about the field and appreciate seeing the same enthusiasm and spark come alive in the students." 
Read more about Suffolk's radiation therapy program in the 2014 Winter issue of SAM.