Spring/Summer 2014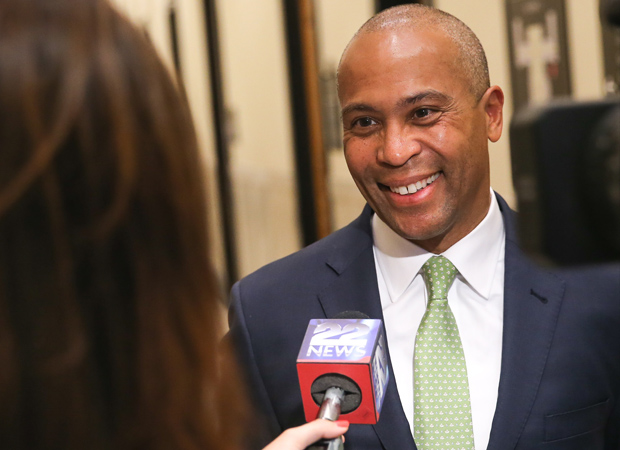 News Break
In the fierce competition for their first on-camera reporting job, Suffolk Alumni find an edge with real-life reporting experience
Before they were covering fires, weather stories, or sessions at the State House, they were trying to engage early-morning passersby on Boston's Tremont Street with questions about everything from Academy Awards predictions to wacky celebrity baby names. Since 2011, Suffolk in the City, a partnership between the University's Studio 73 and New England Cable News, has provided valuable on-air experience to students chosen for six month terms as reporters on NECN's The Morning Show. Each semester, Studio Manager Jerry Glendye and Assistant Manager Keith Erickson, both communications and journalism instructors, hold auditions for Suffolk students. Four are selected by producers and news directors from NECN, with input from Glendye and Erickson, and the students receive several weeks of training. Today, Suffolk in the City alumni can be found on stations nationwide. Here, a general assignment reporter, an anchor, and a State House correspondent discuss their careers and reminisce about the common experience that prepared them for success in television journalism.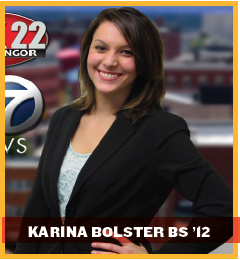 AGE: 24
HOMETOWN: Stuttgart, Germany. I grew up military so there was no set place.
CURRENT POSITION: Nightside reporter and anchor, WVII-TV (ABC), Bangor, Maine
HOW SUFFOLK IN THE CITY PREPARED HER FOR HER CURRENT JOB: The opportunity to do a live shot every week [at Suffolk] really helped coming to this station. Also, putting together interesting packages that aired every week [on Suffolk in the City] played a part in [teaching me] to keep viewers tuned in to my packages up here.
FAVORITE STORY: That's a tough one. I just covered a LifeFlight of Maine [critical-care air transport] series talking about how it's a nonprofit; most people up here aren't aware of that. To help bring [that] awareness to the community is something I really love to do. I also had the opportunity to meet with several great people on that story. Another [favorite story] was covering a prison work release program up in Charleston [Maine]. Covering it was like walking the line of "danger" — in relation to interviewing convicts and stepping foot in a correctional facility.
THE STORY SHE WISHES SHE COULD HAVE COVERED: I wish I could have been a part of the Boston fire stories, where the two [Boston]firefighters passed away [in April]. To see a community come together to support each other [is] the kind of story I like covering. It really shows the empathy, humanity, and personalities of Bostonians and those in the Northeast.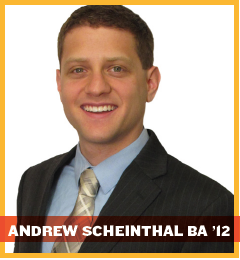 AGE: 24
HOMETOWN: Houston
CURRENT POSITION: General assignment reporter, WINK-TV (CBS), Fort Myers, Florida
HOW SUFFOLK IN THE CITY PREPARED HIM FOR HIS CURRENT JOB: It gave me real-life experience. Part of the job of being live is not coming off rehearsed and interacting with the anchors to the best of your ability. That's how Suffolk in the City prepared me specifically. The people at NECN know [that, as a student], you won't always be perfect, but you get that leeway to grow. That was the largest part of it. Those live shots prepared me more than anything else.
FAVORITE STORY: When I was a reporter in Maine, I went scuba diving with the Maine Warden Service. Their job is to search for bodies underwater. If people go snowmobiling on a lake and fall through the ice, if someone jumps off a bridge, they're the ones who are called in to recover the bodies. So I went scuba diving. with them and learned how they train to do that.
THE STORY HE WISHES HE COULD HAVE COVERED: I wish I were in Syria covering the civil war. Here in North America, I think a lot of times we don't realize the effects that things happening across the ocean can have on the world. I think it's so important to realize how issues overseas can greatly affect us. To have an opportunity to travel for work, share stories, and show people what's going on in the world would definitely be a wonderful experience.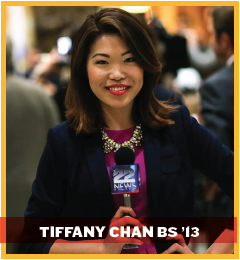 AGE: 23
HOMETOWN: Jacksonville, Florida
CURRENT POSITION: Massachusetts State House Bureau correspondent, WWLP-TV (NBC), Springfield, Massachusetts
HOW SUFFOLK IN THE CITY PREPARED HER FOR HER CURRENT JOB: Suffolk in the City taught me a lot about the technical work that goes behind going live. My first month on the job, I kept having issues with my IFB, which is the earpiece that allows my producers to tell me when I'm live. Through my experience with "SITC," I knew that I could dial in on my cell phone. I used to be very nervous going live, but after doing it for seven months on Suffolk in the City, it's a piece of cake now.
FAVORITE STORY: I really like when I get to ask the tough questions and expose wrongdoings within our state government. I did a story about how Department of Transportation officials were using state resources to campaign against the gas tax ballot question, which is illegal. I got confirmation from the secretary of the department, and I ended up getting credited by the Associated Press.
THE STORY SHE WISHES SHE COULD HAVE COVERED: I wish I could've covered the Boston Marathon bombings. I was a student [in 2013] when that happened, but I had the incredible experience of covering the 2014 Boston Marathon. It was a moment I'll never forget because news outlets from all over the world were all at one place.