Spring/Summer 2014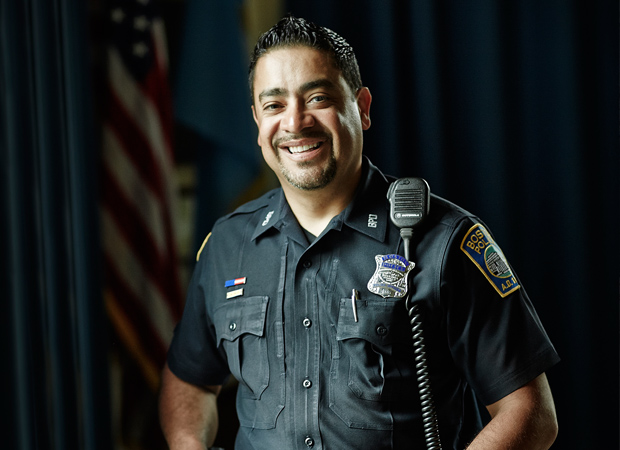 Instant Icon
A now legendary photo only began to tell the story of Boston Police Officer Javier Pagan BS '93
By RENÉE GRAHAM
 Javier Pagan used to get upset when people called him a hero. It never sounded right to a man who believes that, when he is protecting the public, he is simply doing his job. That, he says, is what he was doing on April 15, 2013, at the Boston Marathon, an event he has patrolled almost every year of his two decades as a Boston Police officer, when two bombs detonated close to the finish line. Just as the second device exploded, a Boston Globe photographer captured Pagan and two fellow officers, Rachel McGuire and Kevin McGill, bounding into action near a runner knocked off his feet by the blast.
By the end of that tragic day, the photo had ricocheted across social media, and soon dominated newspaper front pages and magazine covers worldwide, including Sports Illustrated. "That picture was taken in an instant, but you didn't get to see all the other people who did such tremendous stuff that day," Pagan says. "When I think of heroic, I think of the people who have no training and went above and beyond."
He would appear on two more Sports Illustrated covers, including the "Boston Strong" crowd shot, which ran the week of this year's Boston Marathon, making him, for a time, one of the most famous police officers in the nation. It has also made Pagan a role model for lesbians, gays, bisexuals, and transgendered people. For 12 years, he has been the Boston Police Department's liaison to the LGBT community, and his heightened profile after the marathon has given him an even greater platform to reach those, especially young people, struggling to accept their sexual orientation.
"When you talk to kids, there's always that opportunity where if you have one kid in the back of the room who is closeted and doesn't quite understand being gay, when they see me there, I feel like a role model," says Pagan, 43, who has been openly gay for most of his career. "I accept that responsibility."
After the marathon photo went viral — a billboard-sized version even appeared above The Red Hat on Beacon Hill, one of Pagan's favorite haunts during his Suffolk years — Pagan was identified on social media as gay. While some couldn't understand why so much was being made of his sexual orientation, others were proud that a gay man was part of an iconic moment.
"It is important that people know there are people from [the LGBT] community out there defending [the public] every day of the week," said Scott Kearnan, lifestyle editor at Boston Spirit, a magazine for the LGBT community that featured Pagan on its cover last year. "Whether they're in uniform overseas, wearing a badge at home, or whether they're doing things quietly but effectively from office buildings or picket lines, they're working on behalf of America in general."
Born in Puerto Rico, Pagan moved with his family to Boston when he was 3 years old. The youngest of four, he was raised in the city's Dorchester neighborhood. (Pagan also has an older half-brother from his father's first marriage.) Money was often tight. His father worked as a hospital maintenance worker, while his mother held low-paying jobs in various factories.
By his own definition, Pagan was a "little wimpy kid" who loved television – especially cop shows, perhaps an early sign of a future career in law enforcement. Still, when Pagan enrolled at Suffolk he was on a very different career path —theater arts. "My idea was that I wanted to be an actor," he says. "I thought I was interested in theater because I watched a lot of TV." After realizing acting wasn't for him, he switched his major to sociology. He recalls his college years as "the best time," adding, "To this day, I have friends from my Suffolk years. I'm still connected to those people."
After graduation, Pagan eventually landed a full-time position with a telecommunications company. While at Suffolk, Pagan had taken the civil service exam, the first step toward becoming a police officer. Two years later, in 1995, he received a letter of acceptance into the police academy.
"I think deep down, I feel like it was a calling," Pagan says of his desire to be a police officer. "I enjoy the job, and there's nothing more satisfying than helping people. When I was on patrol, you can go to 10 calls a day and nine out of those 10 calls can be the worst people you'd ever want to see. But then you get that one call where you've found a lost child and retuned them home, and the gratitude of one person saying 'thank you' wipes out all the negativity from the other calls."
In his position as police liaison, Pagan meets with members of the LGBT community to address issues, such as dealing with transgender prisoners. "Sometimes I wish there wasn't a need for [a liaison], but there's still part of the LGBT population that's afraid of the cops," he says. "So it's nice when they feel that they can approach you. But I wish we could just get to the point where people can just go anywhere, file a police report, and not have to have an issue."
Pagan lives in Boston with his husband, Pedro Velázquez, a retired New York Police Department sergeant who was a first responder at the World Trade Center on September 11, 2001. After the Boston Marathon bombing, their home was inundated with copies of Sports Illustrated and requests from admirers who wanted Pagan to sign the covers on which he appeared. Yet Anthony Imperioso, president of the Gay Officers Action League (GOAL) of New England who has known Pagan for 14 years, says that "Javier is still the same humble officer he was before."
Even though Pagan is easing back into a less media-intensive life, rarely a week goes by when he doesn't see that photo somewhere. It was an astonishing moment captured forever, one that Pagan knows neither he nor the city will ever forget. Yet for the veteran police officer, it marks one instant in a career, one snapshot in a lifetime.
"I don't think it will define me. I still have a lot to do in this world," Pagan says. "But I know it's always going to be there."