Spring/Summer 2014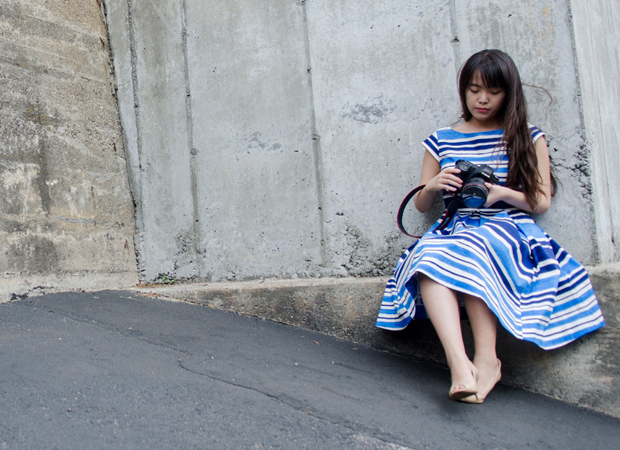 The Creative Type
THE DESIGN IS IN THE DETAILS FOR YUMENG CHENG '15
By RENÉE GRAHAM
 Whether she's taking photographs on Beacon Hill's quaint Charles Street, marveling at the riotous color of a New England autumn, or collecting artistic renderings of the Eiffel Tower for her Pinterest page, Yumeng Cheng '15 always seeks the wonder and beauty of design.
A native of China, Cheng long knew she wanted a career in graphic design. After moving to Maine to attend boarding school, Cheng spent several long weekends in Boston and was smitten with the city's history, architecture, and charm. As graduation approached, the budding artist set her sights on the New England School of Art & Design (NESAD) at Suffolk University.
At NESAD, "I found my confidence in my professional field, and I have a clear career goal after the three years I have been here," says Cheng, a graphic design major. "This is the best college experience I could ever have. All of my professors know me very well, they know what kind of person I am, they know my artistic style; some of them even know my personal life. It's a place just as comfortable as home."
Cheng, 21, is making a name for herself at NESAD. This year, she won a RAMMY Award, which annually honors Suffolk's best student-produced media, for her photo essay on a New Year's parade in Boston's Chinatown. Ken Martin, a NESAD senior lecturer in photography and photojournalism, encouraged Cheng, whom he describes as a "new kind of Renaissance person," to enter.
"She's out of the box, so to speak, and able to do great things," says Martin, who had Cheng in his digital photography class last semester. "She carries around this big book and she draws in it, and she collects type. And she'll sit during breaks and constantly be jotting down notes. When she did her final project, it was all in that book — photographs she had taken, connected with watercolors that she had done. It was just great. She knows so many things."
Growing up in Shenzhen, a bustling city north of Hong Kong, Cheng was always fascinated by American culture. That's why she did not object when her parents — her father manages a technology company, while her mother owns a hotel — decided that Cheng's collegiate aspirations would be best served by sending her to Hebron Academy, an elite prep school in Maine. Only 16, Cheng made the nearly 7,800-mile trip from China to Hebron, a small town in southeast Maine, alone.
"My parents felt I could do it myself because they trust me. I'm very glad, because some Chinese kids rely on their parents and they're not independent enough," Cheng says. That's not to say that Cheng didn't face significant challenges. "My English was not that good. It was much harder for me to communicate with my first teacher, even my first taxi driver. When I first arrived at [the] Portland [Maine] airport, I needed a taxi to take me to my school. It was a one-hour ride, and I didn't even know how to bargain with him. He said '$100.' That was too much. I was thinking, 'Can't it be $80?' But I didn't even know how to say that."
Still, Cheng says despite missing her family (which includes a younger sister), she felt at home in Maine and at boarding school. "Americans made me feel so comfortable," she says. And whereas her classmates would sometimes complain about having little to do socially in the rural town, Cheng used her free time to immerse herself in local culture. With a new camera from her parents, she took photos documenting the dramatic arc of New England's seasons, unlike anything she had experienced in China. She also nurtured a love of typography, sharpened her English skills, and devoted herself to her studies.
Cheng's tireless work ethic, instilled by her parents, was the first thing that stood out for Laura Golly, NESAD's director of graphic design, who taught Cheng in her Basic Typography class.
"Another thing that was exemplary about Yumeng is that she would go back and rework things even though the grade was in, and even though I may or may not have been willing to upgrade it," says Golly, who is also Cheng's adviser. "She just wanted to get it right, and as a teacher that's always delightful."
Going into her senior year, Cheng is already thinking about graduate school, where she wants to study industrial design. Until then, she isn't worried about "senioritis," that affliction teetering between ebullience and ennui known to strike students in their final year. She mentions the "golden triangle" of a college student's life — sleep, study, and social. "I definitely pick study and sleep. You have to survive and keep healthy, so you have to sleep. And you have to study. Social is not that important. Social can come later." She plans on working as hard as she ever has — "I want to take every advanced typography class I can before I graduate," she says — and making the most of her remaining time at Suffolk.
"Even though I'll be a senior, I really care about my GPA. Because I'm a graphic designer, people will say, 'You don't have to care about your GPA,'" Cheng says. "I don't just want to be a good graphic designer, I want to be a top student. Even when you achieve a certain level, you can't just stay there. You have to keep going."
Pop Quiz
Last Book Read:
Just My Type: A Book About Fonts by Simon Garfield.
Last Music Purchased:
I don't actually purchase music. I listen to a lot of music on YouTube. I think the last album I bought was in high school. 
Favorite "Only in Boston" Experience:
 Jogging along the Charles River.
Where She Would Like to Be in Five Years:
I want to start my own business. My career goal is to promote Chinese creative industries — advertising, design, fashion, and film. 
Wisest Words to Live By:
My father would always tell me, "Get used to excellence." 
Role Model:
There's this blogger from Shanghai who studies at [the University of Sydney], and I check her blog every single day. Her blog is so positive. Every time I feel depressed or I have so much work to do, I go to her blog and see positive words from her, and I feel better.