Winter 2015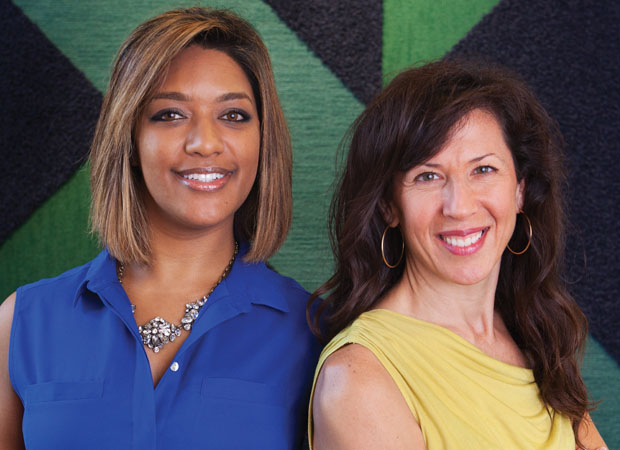 Room for Improvement
NESAD graduates Leah Cantor, MA '10 and Shalini Sookar MA '09 create a dream space for a chronically ill teenager
Interior designers Leah Cantor and Shalini Sookar recently completed a project for a very special "client"—a 14-year-old boy named Sean, who is recovering from leukemia. Working with the Room to Dream Foundation, a Boston-based organization that transforms personal spaces for chronically ill children, the collaborators, who volunteered their services, spent six months converting the teenager's drab bedroom into a bright and airy sanctuary. Cantor and Sookar spoke to SAM staff writer Renée Graham about using the skills they learned at NESAD, why they made the boy's sports memorabilia collection a focal point, and using design for a greater purpose.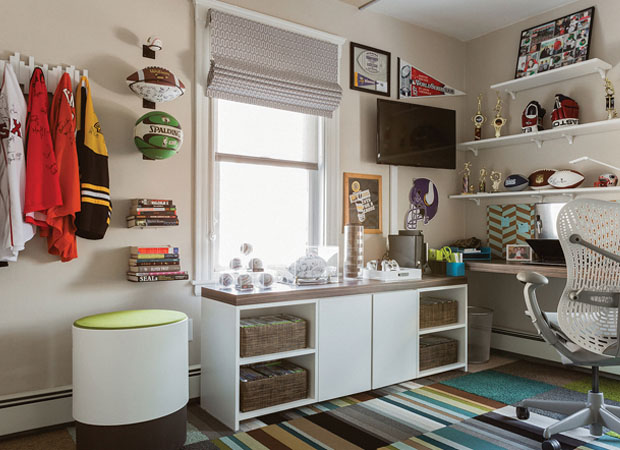 How did you connect with Room to Dream?
Cantor: I found out about Room to Dream about three years ago and had wanted to do it for a long time. I liked Shalini and I really liked her work, [so] I approached her and asked if she wanted to work on it with me.
Sookar: The idea of giving back to the community appealed to me. I originally came into design wanting to do healthcare design as a way to give good design to the masses. I think everybody should be able to experience that, and that's what appealed to me about this project.
Did Sean express any preferences for his new room?
Sookar: [At] our first meeting, he presented us with some images of things he liked, and he was very good at describing the kind of space he was interested in, as well as the colors and theme. He was quite instrumental in the entire design process.
Did you achieve your goals for the project?
Cantor: The main thing was to create more space. Sean needed a place to study. He had nowhere to sit, no desk, and no desk light. And he wanted a cool place for his friends to hang out when they [come] over, and there was no space in the room. We changed that by changing the floor plan—we moved his bed to the other side of the room, and that was a game changer.
Sookar: To make the room look larger, we also used the basics you learn in design school— how to use color to make a wall recede, or using light to make the ceiling seem higher. It's those little things we learned that we use on a daily basis in our careers.
How did you integrate Sean's sports memorabilia collection?
Cantor: He has a huge collection— 75 baseballs. The custom builder we worked with made little rabbited grooves under every ball so they wouldn't roll around. And they're accessible so when his friends come over, he can just take a ball out and show it to them. He had these miniature hockey sticks, so we mounted them and used two of them put together as a handrail for the steps leading to the bed. Even Astro [the family's black Lab] got a new bed.
Sookar: Obviously it was important to Sean to have the dog close by, because he was used to having the dog sleep in the room. So just by raising the bed up a little bit, there's storage for clothing on one side, and then Astro has his own little nook on the other side. And he seems to like it.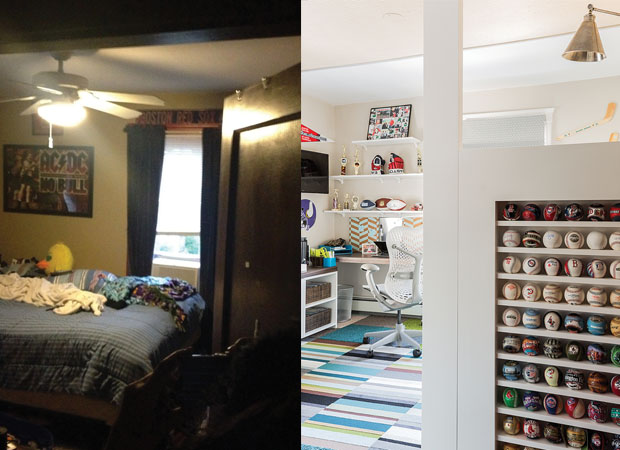 Sean's room before and after the makeover, with his baseball collection as a focal point
It's obvious what Sean and his family got out of this project. What did each of you get out of it?
Sookar: Sean's been through a lot, but his family also has been through so much. And even though they've struggled with Sean's illness, they're still so positive and so giving of themselves. So even though we were trying to create a nice space for them, Sean's mom baked cookies and pastries and left them for us. To see people open their hearts is so heartwarming. In this world we're living in, it's great to see people still be so kind and generous.
Cantor: When you tell people you're in interior design, they say, "Oh, that's exciting." And it is great and exciting and pretty. But it's also functional, and I feel like a lot of people don't understand that good design doesn't just look good, it feels good. So one of the things I took away from this was I helped create a different life for someone, and that vision made someone's life happier.