Winter 2015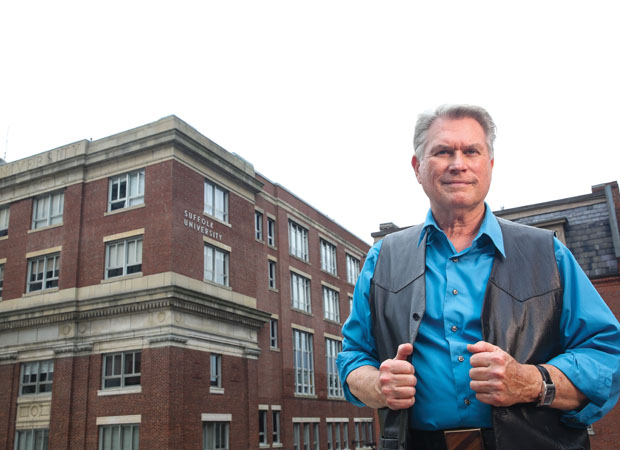 His Intention is Reinvention
Self-made success Garvin Tate BA '68 is always looking ahead
By Jaime Aron
"If a man does not keep pace with his companions, perhaps it is because he hears a different drummer. Let him step to the music which he hears, however measured or far away." – Henry David Thoreau, Walden
Garvin Tate is hearing it again, that compelling beat of wooden sticks whacking against drumheads.
His muse is calling. Another adventure looms.
What will it be this time? He has no idea, and that's part of the fun. Tate might note that whatever it is, it's got to be interesting to fit with all the previous calls he's answered. He's been (take a deep breath) ... a teacher, farmer, historian, architect, world traveler, volunteer fire chief, creator of fire-fighting equipment … a community organizer, early adopter of the PC, pioneer of that new technology to enhance educational methods, member of a National Endowment for the Humanities committee… a beekeeper, caregiver, Jaguar automotive enthusiast, and collector of Tibetan artifacts and of artwork by the Native American Kiowa and Comanche tribes.
Father and grandfather are on the list, too. Sadly, so is widower. Nancy, his wife of 41 years, recently ended a seven-year battle with a rare, incurable brain disorder. As the disease peeled away her ability to move and think, he never strayed far from Nancy and their home on Tate Farms near Rockwall, Texas, about a half-hour drive from downtown Dallas. Her passing in May left a void in his life, which is why he says it's time "to reinvent my life again."
"Whatever it is, I think I will have to find it," he says. "I feel that a big part of being properly engaged with life is doing things that you don't know how to do and teaching yourself how to do them. No one has ever offered me a job. I've always created my own. Self-training is a recurring theme in my life."
The first strains of the drumbeat lured Tate from Texas to Boston. It was 1966 and he was eager to break free of the homogenous thought that had blanketed his life experiences, which were then limited to growing up in Dallas (he was a senior in high school when JFK was killed) and two years at Baylor University. When he applied to a university where enrollment was already closed, an admissions officer recommended Suffolk. He applied even though he'd never heard of the school, and he drove to Boston without even knowing whether he'd been admitted.
On a train ride to visit a friend in Cambridge, he found himself surrounded by three families, each speaking a different language. "This is like visiting the whole world!" Tate thought.
Next came a stroll along Tremont Street, and a peek into the Granary Burying Ground. He saw "Franklin" written on an obelisk and knew it wasn't Benjamin, because he's buried in Philadelphia. Upon discovering it was the grave of Benjamin's parents, Tate—a native of a town that had come to life after World War II—thought, "How old is this place?!"
Then Tate arrived at Suffolk. An admissions officer scrutinized his file and officially admitted him. The next two years changed his life. That passion for exploring and mastering the unknown—the essence of the man Garvin Tate became—all blossomed from seeds planted at Suffolk. Some of it came from his formal training as a philosophy major, but much also sprung from the other aspects of campus life.
"The sense of reality I got at Suffolk University was that it was okay to march to my own drummer," he says. "I had the freedom to be myself. I didn't feel the pressure to conform intellectually or any other way. In that society of diverse people with different, sometimes unpopular, points of view, the new guy from Texas was just as welcome as anybody else."
Now Tate is helping to welcome others. He set up the Garvin Tate Endowed Scholarship Fund to support upperclassmen in the fields of philosophy or humanities. The first grant went to Domenic Scopa BS '14. "I knew that going right into grad school would be difficult financially," Scopa explains. The scholarship "made it feel like that much better of a decision. It was like I had been been going the right way the whole time."
Sitting in the book-filled library of the house he designed, on the property he cultivated, in the community he's helped shape, Tate smiled and paused.
"I still pursue some of the interests and use some of the intellectual tools that I acquired at Suffolk," he says. "This scholarship is a way of hoping someone else benefits from the same broad liberal arts experience that I had and that I believe in."
Somewhere in the distance, a drumbeat echoes.
"I don't know what's next," he adds, "but it's exciting to have the future open."