Fall 2013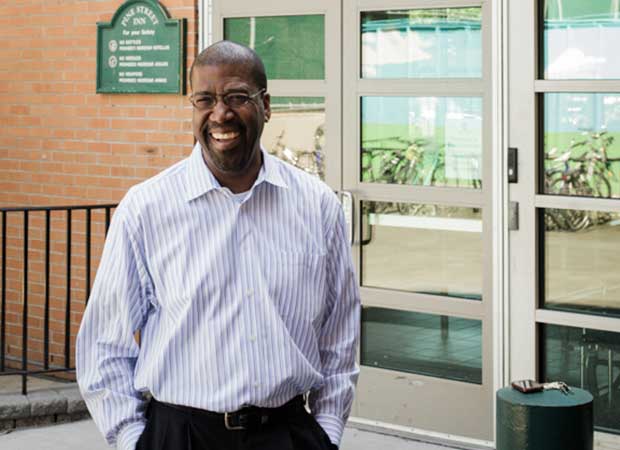 Home Plate
By catering to some of Boston's corporate bigwigs, Roger Wellington MPA '01 is supporting the city's largest homeless shelter.
By Renée Graham
Roger Wellington's first day at Pine Street Inn was nearly his last. After moving to Boston in 1991 to study hospitality administration, Wellington answered a newspaper ad from the organization, which was looking for a food services instructor. He sent his resume and, after several phone interviews, got the job without ever setting foot on the premises. "When I saw the name 'Pine Street Inn,' I thought it was a quaint little B&B in the city," he says. Born and raised in Trinidad, Wellington had no idea that he had accepted a position with the city's largest homeless shelter.
Arriving at the Inn for his first day, Wellington encountered an agitated homeless man. "He used some blankety-blanks to say 'Get out of my way' and I thought 'This doesn't look right.' When I got to the front desk, I was observing these characters, and in my head I was thinking, 'Something is wrong with this B&B.'" Soon Wellington met his supervisor, who took him to a shelter annex, an open warehouse clouded to the ceiling with cigarette smoke. "She brought me into a thing that looked like a kitchen, and there were four or five people dressed in plastic aprons and paper hats and gloves. She said, 'These are your trainees,' and she left."
Wellington reluctantly decided to spend the day. Hours later, as he prepared to leave, the only woman present approached him and asked, "What are you going to teach us?" She told him she wanted to prepare herself for a job as a cook but had learned little since joining the program. Wellington took her words as a personal challenge from someone who, whatever her tribulations, wanted more for her life and was looking to him for help. "I went home that night and felt that I had to at least go back and teach her something—and that brought me back a second day," he says. 
Twenty-two years later, Wellington is still answering the challenge of replacing hardship with hope at Pine Street Inn. He is now director of the organization's
iCater Enterprises
, which prepares more than 2,400 catered meals a day for local businesses, nonprofit organizations, and its own clients. Wellington also oversees management of the Inn's Food Services Training Program, providing Pine Street clients a foundation for work in the food services industry as well as so-called soft skills, such as punctuality, proper conduct, and teamwork.
"For some people, walking in [to Pine Street] and thinking it was something else, you'd turn on your heel and walk out. But for Roger, he saw that what [Pine Street] needed was a better match for him than what he was thinking about," says Sandy Matava MPA '81, director of Suffolk's
Moakley Center for Public Management
and one of Wellington's former professors. "That says a lot about the man he is. He has a really strong belief in public service and that people deserve options."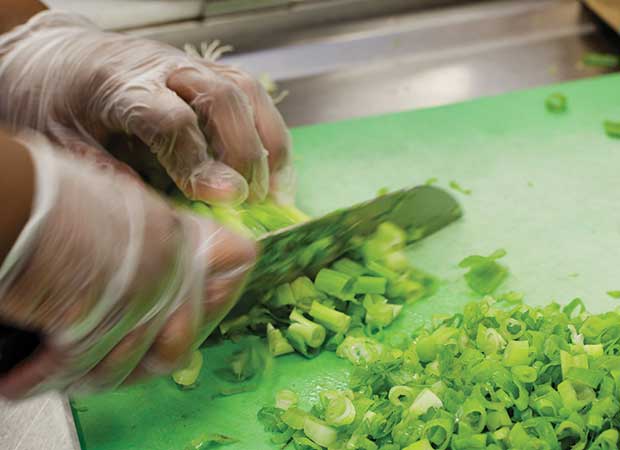 Not Ready to Succeed
On a balmy morning, nearly two dozen men and women quietly fill the seats in a sun-brightened classroom. A range of races, ethnicities, and ages, they are strangers, yet bound by life's capricious cruelties. Some have been homeless. Others have done jail time. Many have fought and, in some cases, still wrestle with crippling addictions. This is their first day in a program run by IMPACT, Pine Street's job training and employment service. There are three sections, including food services and iCater. Wellington has been part of iCater for more than a decade, since its origins as Abundant Table. It was rebranded in 2010 when the program expanded into corporate catering; 100 percent of its proceeds fund Pine Street's job training and placement services. (iCater brings in about $1 million per year.) Those in the program will receive training from the iCater staff, and two will eventually be selected as iCater interns, a significant step toward full employment.
But first the participants must attend two workshops led by Wellington on conduct and sexual harassment. Shortly after introducing himself, he asks those assembled to "talk really loud so I can hear you." In 1995, Wellington developed an acoustic neuroma, a benign tumor on the nerve connecting the ear to the brain, which cost him the hearing in his left ear. He admits to the class, "I'm bad with names, so I may ask you to repeat it because I want it to register. But I never forget a face; I can see you once and I'll remember where I met you." That small exchange alleviates some of the nervous tension in the room. Throughout the workshops, Wellington keeps the mood easy and the group engaged as he encourages opinions about the kinds of cooperative skills necessary in any professional setting.
"Roger is approachable and insightful, and he can always lighten up the stressful times with a good laugh," says Susan Miskell, iCater's business development and operations manager. "He also has a natural ability to command respect, and in return give respect to everyone he works with and serves. He sets high yet very achievable standards for employees, but also training program participants."
On this day, Wellington recognizes a man who has been coming to Pine Street for 15 years; today is his first in its job training program. After the seminar, Wellington also mentions another man in a previous workshop who has not held a job in 26 years. That they are here is meaningful, yet Wellington and his staff recognize that simply enrolling and receiving training for employment is not a predictor of success. "You run into people who may not be ready for it—people who are coming out of the prison system, people who are coming off serious drug abuse and detox," says Jason Carpenter, iCater's sous chef. "You do run into people who are not ready to succeed."
During the workshop, Wellington tells the clients, "Have the right mindset, and you'll get out of this what you put into it." It's advice one participant, Amanda Cobb of Dorchester, seems ready to accept. "I'm so sick of sitting around doing nothing, and I know I can be productive. I haven't worked for the past two years, so I'm really looking forward to getting back into the workforce and being around other people who are trying to reach the goals I'm trying to reach," she says. "I like what [Wellington] said about having the right mindset. It made me feel like he's rooting for us to do well."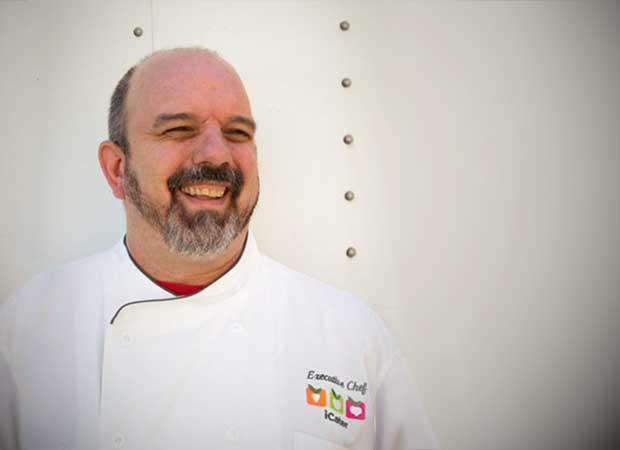 Little House on the Prairie 
Wellington, 48, grew up on Moruga, Trinidad, an area on the island nation he describes
as "real country. If you imagine Little House on the Prairie, that was my lifestyle. We had farmland, we planted food, we had animals in the yard that we ate," he says of the life he lived with his mother, a former teacher, and his stepfather, a contractor. (Wellington, "a child of divorce," often visited his father in Maryland.) For much of his childhood, Wellington's family had no electricity and only outdoor plumbing. Still, he recalls, homelessness was something "you didn't see. Trinidad is a place where, even if you don't have, someone gives you. Even if you're in a shack with a piece of tin roof, someone will feed you. We didn't have shelters. People took care of each other."
After graduating from Trinidad and Tobago Hotel School with a degree in management, Wellington began teaching at the San Fernando Technical Institute, a vocational school, on the island. For a year, he led a class in café operations and food preparation, but he was also thinking of his future. While pursuing that degree, Wellington met a man who worked for Hilton Hotels as a food and beverage analyst, traveling around the world on the company's dime and evaluating its food and drink cost controls to determine profitability. That sounded like a great career, and in 1991, Wellington enrolled at Boston University to study hospitality administration. Looking to fulfill a field placement requirement for his bachelor's degree, he answered Pine Street's ad and found his true calling.
After 10 years at Pine Street, Wellington thought he needed a change, perhaps a move into the public sector. He knew he wanted a master's degree in public administration, and while he considered several local universities, he ultimately chose Suffolk. The University's flexible class schedules meshed well with Wellington's work obligations, but that wasn't what ultimately convinced him to enroll here. "I think what sold it for me was my meeting with Sandy Matava," he says. "I sat and talked with her before agreeing to come to Suffolk."
Matava's effervescence and enthusiasm for Suffolk sealed the deal for Wellington. A clinical associate professor at Sawyer Business School, Matava displayed those same attributes in the classroom, Wellington says. "She's just so animated in the classroom. It didn't matter what she was teaching. If she came in and decided she wanted to teach you the Yellow Pages, you would be listening like you really wanted to learn the Yellow Pages. She had an ability to make me want to learn and listen to what she had to say."
Recalling Wellington as a student in her nonprofits class, Matava calls him "extraordinarily smart and so interested in everything. He wanted to learn everything on the first day. He's completely engaged in everything he does."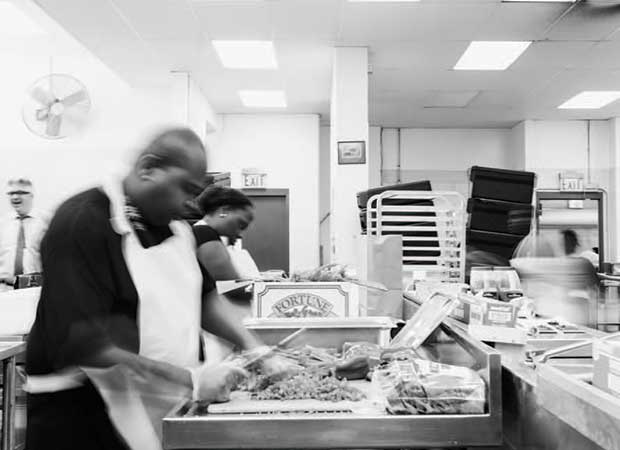 Where I'm Supposed To Be
It was Matava who convinced Wellington to bring that engagement back to Suffolk. For several years, he's been an instructor in the
Moakley Center for Public Management
's certificate program, which is separate from the master's program, although many of its students continue on to earn their MPAs. This fall, Wellington will teach Entrepreneurial Non-Profit Management.
"Teaching is something I really like doing," Wellington says. "I've had great teachers, and when people ask me what helped shape me or created the path for me to become who I am today, I can point back to different teachers at stages of my life. I believe all a student needs is to think that their teacher believes in them. That's the teacher I want to be."
That attitude is also prevalent with his iCater staff. During the lunchtime rush, Wellington breezes through the kitchen with kind or humorous words for everyone from the cooks to the drivers. The volatility common in kitchens is mostly absent here, according to Frank Overbeeke, iCater's executive chef, who spent 30 years in fine dining before coming to Pine Street three years ago. Wellington, he says, is "a fantastic manager" who cuts a calm figure and expects the same from those around him.
"He doesn't get swayed easily at all by emotion when it comes to how he manages. In a place like Pine Street, there are so many folks that are in transition in their lives, along with volunteers, plus paid staff. There's a lot of variety in the temperament and emotion in the kitchen, so there's probably more demand for supervision as well as disciplinary action than there would be in a regular kitchen," Overbeeke says. "Roger has a great way of cutting through the hyperbole and emotion. He doesn't get caught up in the moment. He has a really good way of standing back, taking notes, detailing what he has to
deal with, looking at the facts, and then coming up with whatever response is required."
Wellington, who is single and lives in Boston's South End neighborhood within walking distance of Pine Street, hopes to expand iCater into noncorporate catering, but he doesn't want the business to grow at a rate that compromises quality. "We want to recognize that what can hurt us as a business is biting off more than we can chew. You don't want to take on more only to disappoint your customers in the end." Of course, Wellington knows any such failings would risk more than the reputation of iCater; it could harm those dependent on Pine Street and its services, to whom Wellington has devoted most of his adult life. All these years later, Wellington still marvels at how what started as a mistake by answering the wrong ad ultimately became the right decision.
"I went back initially saying I would work with this group, I would get this group out, and once this group was all gone, I would be gone," he says, reflecting on his nascent days at Pine Street. "But once you have the experience, and you have the first graduation, and you see that group go on and get jobs, it just gets into your system. Then it was, 'You know what? I think this is what I was meant to do with my life. This is where I'm supposed to be.'"