Spring/Summer 2013
TIME CAPSULE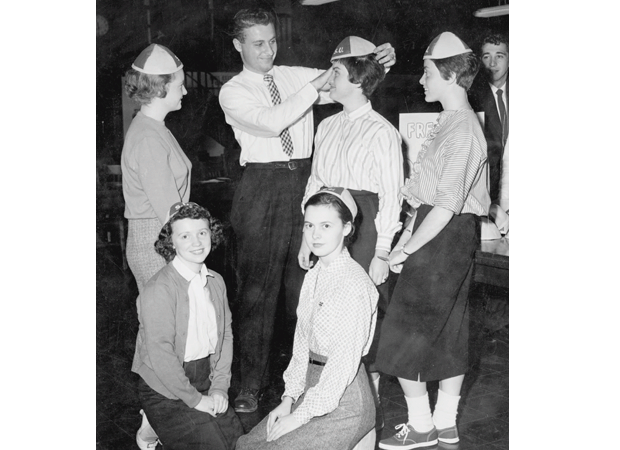 Welcome to Bean(ie) Town
The national tradition of freshmen wearing a beanie in their school's colors during their first semester to distinguish them from upper classmen was observed at Suffolk from the 1920s until around 1968. According to Moakley Archive and Institute University Records Manager Michael P. Dello Iacono, Suffolk students added their own twist with a Beanie Dance in the 1950s.
ON CAMPUS in '58 
Suffolk earns a place in the Congressional Record. 
1956 Olympic gold medal winner Charles Jenkins enrolls at Suffolk Law School. 
Drama Club presents Agatha Christie's Ten Little Indians. 
Suffolk junior Tommy Thibeault competes in National Amateur Boxing Championship at the Boston Garden.
OFF CAMPUS in '58 
Religion: Pope John XXIII succeeds Pope Pius XII.
Politics: Ted Kennedy and Virginia Joan Bennett marry.
Entertainment: The Jim Henson Company is founded.
Food: Instant noodles invented.