Winter 2014
Time Capsule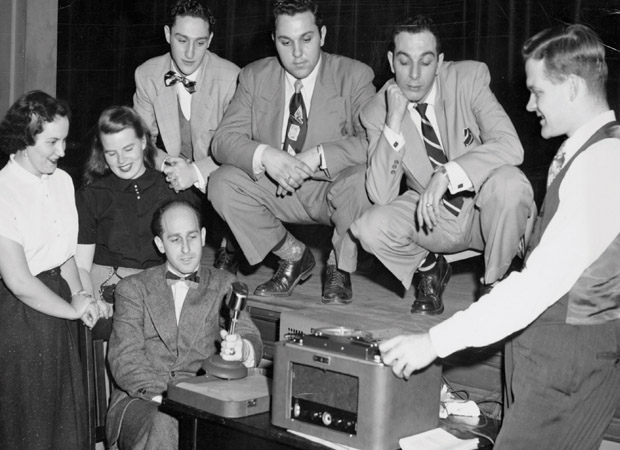 Send Us a Signal
Do you recall the Student Radio Club at Suffolk? The photo from the University Archives was taken in 1953, but little is known about the organization.
If you were a member or know more about their story, please share it at sam@suffolk.edu.
ON CAMPUS in '53 
Suffolk Law School is accredited by the American Bar Association
5' 9" guard Jack Resnick BA '55 scores the most points (75) in the history of Suffolk's Men's Basketball.
Tuition at Suffolk jumps to $400
Suffolk athletics adopt Ram mascot.
The first April Fools' issue of The Suffolk Journal.
Ice hockey, soccer, and sailing dropped as varsity sports.
OFF CAMPUS in '53
First Chevrolet Corvette. 
First color TVs go on sale. 
Jonas Salk introduces polio vaccine. 
Coronation of Queen Elizabeth II at Westminster Abbey. 
Earl Warren appointed Chief Justice of the United States Supreme Court. 
1953 babies: Pat Benatar, Jeb Bush, Kim Basinger, Chaka Khan.
The top hits of 1953 and 2013, according to the Billboard charts: