Winter 2014
Backstory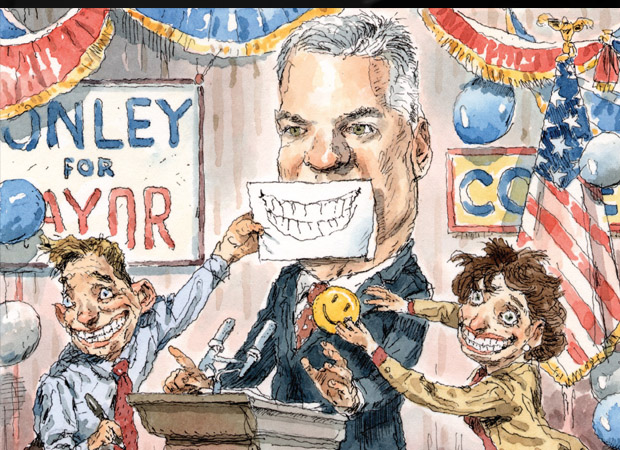 Grin and Bear
By Dan Conley, JD '83 // Illustration by John Cuneo
"Smile more." 

It seems like a piece of advice no political candidate should need, but it was one I received over and over again during my campaign for mayor of Boston last year. When you want to connect with people and convince them of your commitment to their best interests, you'd be crazy not to make your first and last impression one that features a wide and toothy grin.

But while I was running for mayor on nights and weekends and during the occasional lunch break, I also had a day job—that of district attorney for Suffolk County, one of the most densely-populated regions in the state, with about a quarter of the Commonwealth's violent crime—and my public appearances in that capacity didn't afford me much to smile about.

Less than two weeks after I declared my mayoral candidacy, for example, terrorist bombs claimed three lives at the Boston Marathon—a scene I'd left less than half an hour earlier, and one to which I immediately returned to oversee the death investigation that Massachusetts law made my responsibility until our federal partners took jurisdiction. My wife and I had been just a few feet from where the second bomb would go off. As DA, I had a professional obligation that day, but my feelings of outrage were deeply personal.

A few months later, a cold case investigation we had jumpstarted late the previous year finally bore forensic fruit, leading to the conclusive identification of Albert DeSalvo in the 1964 murder of Mary Sullivan—a determination that finally brought closure to her family. There's a sense of satisfaction in answering a question that puzzled so many for so long, but it was hardly a cause for celebration.

During another two-week period not long after, Boston was rocked by three homicides.

When good news comes in cases like these, it's that a suspect has been identified or apprehended—cold comfort to the parents, children, and loved ones left to carry on after suffering the ultimate loss. I very often meet with those families, and the last thing I can imagine doing in those circumstances is smile. Add to those high-profile cases the thousands that were perhaps less serious but still momentous to the victims, witnesses, and even defendants they involved, and the weight of being Boston's chief law enforcement official was hard to shed during a quick ride from the office to a campaign event.

This isn't to say that there weren't moments of cheer in the weeks between early April and late September. In fact, I enjoyed it a great deal. I had an outstanding team with innovative ideas, an electorate that challenged and inspired us every step of the way, and a field of fellow candidates whom I genuinely liked and respected (and still do). No one was sure what to expect during the city's first truly contested mayoral race in decades, but what we got was a team of rivals: Bostonians from very different walks of life with what were at times very different ideas about how best to lead the city, but all deeply committed to making it a better place to live, work, go to school, and raise a family. We were political, to be sure, but much more sporting than vengeful, to name Boston's three famous interests.

I would never have run for mayor if I didn't hope to win, and I wouldn't have dared hope if I didn't think I could succeed. But with the campaign behind me and the breakneck pace of the trail giving way to a more predictable one that allows me to see my incredibly supportive wife and two wonderful kids again for more than an hour at a time, I do believe I smile a little more.