Winter 2014
Ask a pro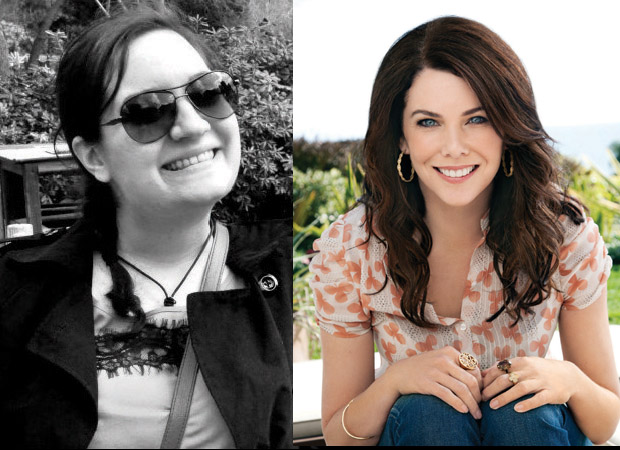 Act Two
English major Chelsea Szmania '14 found Lauren Graham "insanely talented" as an actress and "multi-faceted" in her new role as a writer.
Though she had "some amazing English teachers" throughout middle and high school, Chelsea Szmania '14 credits her grandmother for her educational direction. "She would sit on the couch with me and we would read every day," writes the West Springfield, Massachusetts native. "It could be anything from Dr. Seuss to Anne of Green Gables. I love to read mostly because of her and I think that is where my desire to pursue English stems from." When it came time for college, Szmania writes, "I was intrigued by Boston and the opportunities Suffolk had to offer." An English major with a track in creative writing, she counts Gayle Forman and Jodi Picoult among her favorite authors, but when asked to choose the one person in the world she would most like to ask three questions of, Szmania selected a new author better known as an actress.

"I grew up watching Gilmore Girls and instantly fell in love with the show and the character of Lorelai Gilmore," she recalls. "I always thought [actress] Lauren Graham was insanely talented. Since then, I've continued to follow her work." Interestingly, Szmania followed her inspiration to the literary world. In 2013, Graham, who received a BA in English literature from Columbia University, published Someday, Someday Maybe. The New York Times bestseller is being adapted for television by Ellen DeGeneres' production company.

"I love the fact that Lauren Graham is so multifaceted," writes Szmania. "She's had a flourishing career with two hit TV shows (Gilmore Girls and Parenthood), starred in Guys and Dolls on Broadway and managed to write a novel. It's incredible to me that she started off as an English major like myself and now look where she is. She has inspired me to feel that anything is possible with the right attitude." Here, SAM gives Szmania an opportunity for a little girl talk.
How has the role of Lorelai Gilmore on the show Gilmore Girls influenced your acting career? Do you ever miss playing her?
Like most major life experiences, I didn't understand how important Gilmore Girls was until after it ended. It was an all-consuming job, and I didn't have much time for reflection while I was doing it. That may sound crazy, considering it lasted for seven years, but it really wasn't until a year or so after the show had ended, and I was doing Guys and Dolls on Broadway, where I finally got a chance to meet people who were Gilmore fans, and see how the show had stuck with them. Until then, it hadn't occurred to me that even though the show was over for me, viewers might continue to see it in reruns and on DVD, so there could potentially be a whole new audience every few years. Every show has its own personality, its own strengths, and I think it was the language of that show, and of that character in particular, that was really special. The experience of performing those long funny speeches had almost an athletic quality at times, one that could be exhausting but was always exhilarating. I think that's one of the reasons the show has lasted: the writing is so good, and so dense, it's fun to watch it over and over and discover something you may have missed the first time.
Did you always know you wanted to write a novel?
In the acknowledgements of Someday, Someday, Maybe, I thank Diane Keaton, for telling me "you should write a book one day," but even after she said that, it was years before I ever did anything about it. I could have gone my whole life being perfectly happy that someone I looked up to had said such an encouraging thing to me, without ever actually trying to see if she was right. I wish I could tell you angels sang and I looked up and 300 pages had written themselves, but it wasn't anything so mystical. Even when I thought what I was doing was dumb and a bad idea -- I just kept going. In both writing and acting, I've seen that one difference between having a dream, and having a dream come true, is plain, old-fashioned, hard work. Even then, there's still no guarantee, but I know for sure you have a better chance of having your novel published if it's written on actual paper. The one that's still brewing in your mind is much harder for people to read.
Where did the inspiration for your book Someday, Someday Maybe come from? What was the writing process like for you?
People think my novel is pure autobiography, but it really isn't. I chose fiction because I wanted more freedom than a memoir might allow, to create characters and situations drawn from my experiences, but in some cases veer very far away from them. One of the most refreshing differences for me was that, as a writer, I got to play all the characters, not just one. So when people ask if Franny is me, I say yes—in a way—but so is Jane, and Dan, and the dad, and Barney Sparks, the elderly asthmatic agent. What play or movie could I act in that would allow me such a range? I didn't want to write about show business, exactly, as much as I wanted to write about starting out in life, hoping to be part of something, and being unsure if you'll ever get there. Show business is a great world to illustrate that attempt because there's so much that's unknown. You have to be a dreamer, but a tough business person too, and able to weather rejection and success and failure, sometimes on the same day. I think there's something universal in that struggle.