Spring/Summer 2014
Ask a Pro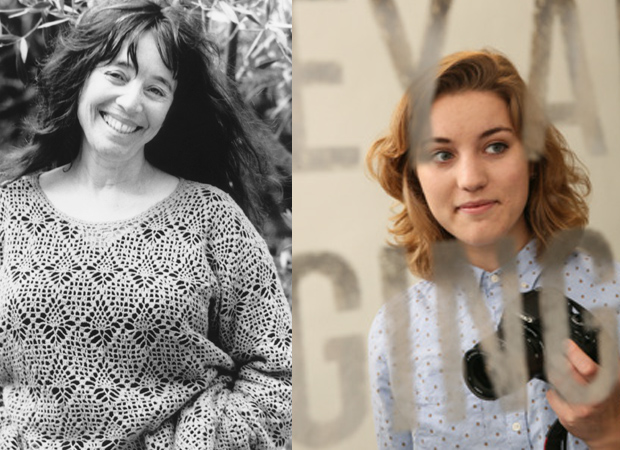 Art Imitates Life Imitates Art
CONCEPTUAL WORK BY ELEANOR ANTIN IS THE INSPIRATION FOR ASPIRING PHOTOGRAPHER ELLE DIOGUARDI '15
While studying photography in Italy last spring, fine arts major Elle DioGuardi '15 saw a series of pictures tracing a posse of creatively configured footwear on a journey from the Pacific Ocean to New York City. 100 Boots is an iconic conceptual work by Eleanor Antin, a feminist artist, filmmaker, novelist, and photographer whose work is in the permanent collection of museums such as MOMA and the Whitney in New York, the Art Institute of Chicago, and the San Francisco Museum of Modern Art. "A friend and I spent a big chunk of our class time that day looking at Eleanor Antin's photographs," DioGuardi recalls. "The 100 Boots series drew me in, and I was hooked when I saw her feminist conceptual art. Plus it's always cool to find another Eleanor!"
DioGuardi, a Homewood, Illinois native, "was sure that I wanted to go to school in a city, but I wasn't sure of much else. I wasn't completely set on majoring in art, so Suffolk was a good option to go with in case I changed my mind, as opposed to an all-art school. It ended up being a perfect fit since I wanted to do mostly art, take classes specific to my interests, and come away with a liberal arts degree. I love being able to have the best of both the art school [NESAD] and the University."
Invited to choose anyone in the world to ask three questions of, DioGuardi selected Antin because "she creates conceptual work that evokes an emotional or thought-provoking response." And, she adds, Antin also has "a really effective way of connecting to all different audiences. Her work is accessible to more than just 'arty' types, and I think that's really important." 
What do you wish you had known as a young artist starting out?
I'm stubborn and easily bored. There is no way I could have changed my character to do anything but what I wanted to do. I was always ahead of the crowd, sometimes by several decades. I was what they eventually called postmodern when most artists were still into later modernism. I was into theater and narrative strategies when those words were anathema to the going scene. I was working with a variety of media when that was believed to show a lack of seriousness. I have to admit, I do enjoy being something of a troublemaker, confounding people, choosing the unexpected way, but my way always seemed the most interesting way for me to go. Now, along with listening to your own voice and respecting what it's saying to you, you do have to know what the scene is [so that] perhaps you can fit yourself somewhere into it. There are usually small openings and crevasses. That way you will not be irrelevant, there will be some fit, but the major thing to do is discover what it is that you want to do and just do it. Later, if you made the right choices, others will do versions of what you did, though maybe you'll already be  somewhere else onto a new or more complex way, and the artists who came after you may get a lot of the credit for what you originally did. Maybe they'll make more money and get more recognition, but that's a small sacrifice to have allowed yourself to live the life you wanted to live and done the work you wanted to do.
How do you think your photography has influenced your other work, and vice versa?
From the beginning, photography seems to have moved in two seemingly different directions [that] may actually not be so different after all. One was the claim photography makes (or at least used to make) to "fact," which was usually identified with the idea of the "truth": to be a passive eye registering the objects and people in front of the lens. I've done several pieces that kid with the simplicity and essential falsity of this claim. The other major strain of photography, as exemplified by early artist photographers like Julia Margaret Cameron and Oscar Rejlander, has always interested me more, the ability of the medium to tell stories without words, to illuminate and invent allegories, mysteries, romances, and encounters with long-gone histories; in other words, to create narrative theater.

How has being a feminist artist molded how you create and view work?
As a feminist and a political progressive, I don't believe artists can change the basic evils of our society. We artists can just do the best we can to bring reality back into a world drowning in misinformation, lies, stupidity, and cruelty. I was brought up by a gutsy, intelligent, Communist, and neurotic woman who taught me both by her life, unhappy as it was in many ways, and her verbal encouragement, that I could do anything I wanted to do, but it was best to be an artist. Even when I was a very little girl, she took me to museums, concerts, ballets, operas, plays. She got me a library card immediately when I learned to read. She never divided the world into pink and blue. I was lucky in this way because I always took for granted that I didn't have to apologize for being a girl or try to hide it. That little girl came out of her interesting, nutty family and got transformed by her life experiences as an American woman into the artist she is today.