Winter 2014
Sam @ Work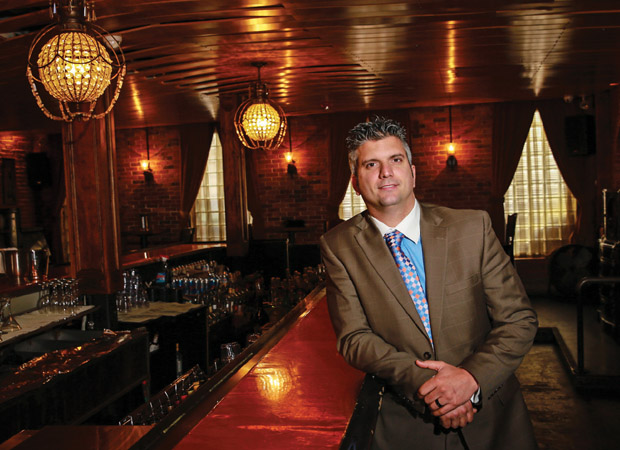 Ingredients for Success
About that restaurant you've always dreamed of opening..Russ Demariano BSBA '01, MBA '02 has been there, done that, and can tell you a thing or two.
"I had worked in the [restaurant] business since I was 15 years old in high school, worked throughout college, throughout graduate school," Russ deMariano BSBA '01, MBA '02 recalls. He chose Suffolk for its "small class size, teacher attention, [and] close-knit community." The Boston native adds that "a few professors I had at Suffolk knew the kind of drive I had, and they would push me to get the best results out of me. And that sort of leadership/mentorship has stuck with me."

After earning an MBA, deMariano worked in advertising and marketing before opening Red Sky in 2006. He owned the restaurant/lounge, which overlooked Faneuil Hall, for more than six years before shifting to the Back Bay to launch his present venture, The Brahmin American Cuisine and Cocktails. He also teaches aspiring restaurateurs as an adjunct professor at Newbury College. Reflecting on his career path, deMariano says, "I knew and understood the risks, failure rate, and what it would take. I think that's part of what drives me: to prove to myself that it can be done and that I could do it. I am not afraid to work and not afraid to fail. [I] would always be kicking myself over a 'what if?' scenario if I didn't attempt it." Here he shares words of wisdom for those with a similar passion for restaurant ownership. 
1. Permit Us to Suggest
Building permits, health permits, liquor licenses, capacity licenses: learning what paperwork you need, where to find it, and how long it takes to acquire it is priority number one.
2. Location, Location, Location.
Finding the right site can be the most time-consuming yet important challenge. Seasoned restaurateurs often rely on word of mouth. Aspiring owners should consider the services of a professional restaurant broker.
3. Go With the Flow
Do you have experience with floor plans and flow? Considered who will handle the build-out/renovations. Proper layout and design is a fundamental factor in a restaurant's success.
4. Chief Cook, Bottle Washer, Bookkeeper
Restaurant ownership isn't just playing host or chef. The bottom line is the bottom line. Do you have the education and practical experience to demonstrate to prospective financiers that you understand the business side of the job?
5. Define Your Bottom Line 
Financing is very challenging to secure in this extremely expensive venture. Do you have the proper funds? Where and how do you plan to obtain them?
6. Keep the Right Company
LLC (limited liability company), partnership, corporation, sole proprietor: what type of entity is right for your business?