Spring/Summer 2014
Sam @ Work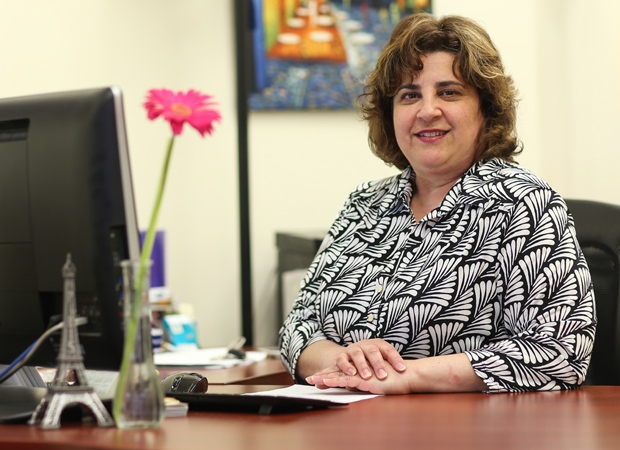 Go the Extra Mile
Certified Travel Consultant Marie Mabardi BSBA '85 shares secrets for frequent fliers
 "Probably the most mysterious travel subject is that of the frequent flyer mile," writes Marie Mabardi. She should know. In 1987, Mabardi and her sister launched Great Getaways, a boutique travel management company. "My sister and I took a leap of faith opening a downtown [Boston] travel agency at the foot of Beacon Hill," she recalls. "We started without a client base, or brochure." Since then, she notes proudly, "All of our business has been through referrals."
Travel wasn't always a part of her game plan. At Suffolk, Mabardi thought she would become a stockbroker, but an internship with a financial management firm proved "a great eye opener." Now, she says, she advises clients about their travel plans "which is a lot more interesting and complex as we marry different travel pieces together into a seamless vacation or business trip." And, she discovered, "My business classes helped with working in a new start up — understanding the important bits and pieces that otherwise wouldn't have been understood."
Mabardi has found her niche. She points out that "Travelers can be quite overwhelmed with so many websites and reviews and they consider themselves a 'travel agent' with the Internet at their fingers. . . you have to be on top of your game and help clients understand what they don't know." Here, she fills the knowledge gap on the most elusive of travel mysteries, the frequent flier mile:
1. Rearrange your map
If miles won't take you to your destination, go online and see where else they will take you. You may serendipitously visit somewhere unexpected.



2. Give miles of smiles
If you know those miles will expire – give them away. There are numerous charities that will use the miles to help families who desperately need to travel for medical needs. Be generous and give to a student traveling; they may have a better chance to use them than you.



3. Book with the buddy system
Use mileage seats for a traveling companion. Buy your ticket and redeem the miles for someone traveling with you (so you can replenish the miles and keep your account active).



4. Mix and match your miles
Airline miles not adding up? Hotel loyalty points are much easier to use than airline miles…save your Hilton or Marriott rewards for expensive cities such as London, Paris or Tokyo-where the dollar doesn't go far.



5. Use 'em or lose 'em
Each year, airlines add more fees and annoying restrictions. Don't hoard: use your miles while they're still valuable.