Fall 2013
SAM @ WORK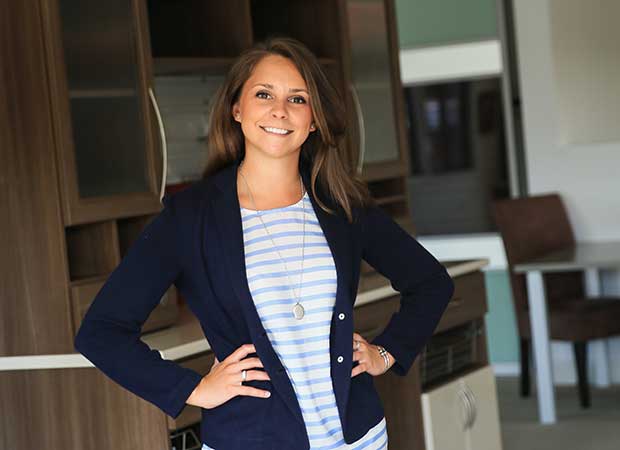 Sell High
Interior designer Meg Starsiak BFA '10 shares six strategies for staging your home.
"When I was 9 years old, my family moved to a new home in Hingham, Massachusetts," recalls Meg Starsiak. "My mother was trying to decorate the space and I was her key helper. From that point on, my love for design and space relations grew." After high school, she chose Suffolk "because I knew it had a great art school." Today, she says, in running her own interior design and home staging company, "I utilize and call upon the things that I learned in my art history classes almost every day."
Staging or preparing a home for sale by decluttering, depersonalizing, and other techniques designed to create universal eye appeal and maximize value, has become a cottage industry. According to Fortune, the average cost of home staging is $3,200, but the actual price can vary widely depending upon the level of service provided. Starsiak offers her clients a range from a simple list of recommendations for the DIY set to a complete re-staging for those with less time and a larger budget.
What kind of return can a homeowner expect on the investment? Starsiak claims a 6 to 20 percent increase over the same house sans staging, a figure used by stagedhomes.com. For SAM@Work, she came up with a half-dozen suggestions to set the stage for your humble abode or magnificent mansion.
1. Find Room for Improvement 
Transform half-empty storage space into something practical: a guest room, office, or library.
2. Think Big 
To make a room appear larger, cluster furniture instead of placing it against walls.
3. Tri, Tri Again 
If you have a roomful of "tchotchkes" you can't hide, group them in threes.
4. Take Cover 
One word for that massive eyesore couch you can't throw out: slipcover.
5. Reseal, Regrout, Repaint
Kitchens and bathrooms are huge selling points. Invest in these strategic areas.
6. Don't Think Pink 
Stick with earth tones and neutral colors.