Winter 2015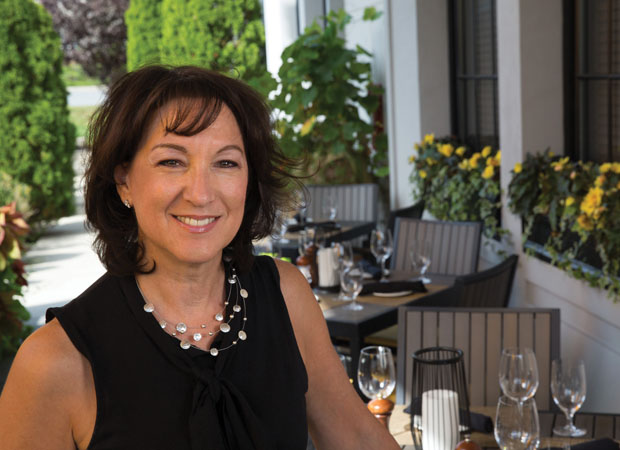 Match, not com
To introduce mature singles, Dianne Grattan MBA '02 relies on a personal touch
When talking about her business, which hosts events for singles over 40, Dianne Grattan is forthcoming about her own status. Previously married, currently single, she found herself dependent on "traditional means of meeting men, with mixed results." Yet Grattan is quick to point out that while her profile is similar to most of her clients', the idea to launch Introductions by Diana was strictly a business decision, informed by her professional history, including her educational experience.
"I applied to three MBA programs in 1999, and each contact or follow-up that I received from Suffolk was very different from the others," she recalls. "No form letters or im personal administrative staff— each touch was thoughtful, and I was contacted personally by chairs and program directors."
The Boston native applied her education to a career in business sales and new account development at Xerox that continued for over two decades. "I feel that earning an MBA as an adult learner gave me the confidence required for my start-up business," she explains. "Having already had 20 years' sales success and then to combine it with the selfassurance and knowledge you acquire from a formal education process gave me the confidence to carry it off without fear of failure."
Despite the proliferation of Internet dating, Grattan saw a niche for "an old-fashioned approach to dating"—proper introductions at hosted events for mature singles. While she differentiates between business and personal, Grattan's advice for those re-entering the dating scene has a ring of authenticity informed by experience:
Take an Expectation Vacation
Dianne says men are three times more likely to find a woman of interest the first time out than women are to find a man. Rather than seeking a soul mate the first time out, women should be open to just meeting interesting new people.
Snap the Confidence Gap
Mature single women are more confident and discerning than men when first "interviewing" a prospective date. Men should be aware of coming across as either under- or over-confident.
Read the Subtext
Over-40 singles prefer a personal approach, not texting and social media in a group setting. Men who initiate a first date via text feel shut down when women don't respond, while women feel a text shows no real effort from the man. Consider an alternative.
Break the Laws of Attraction
Though mature daters still want to look good, physical appearance is less the top priority. Those who have once felt "I'm not in their league" aesthetically may now find the object of their interest has a different criteria for what is attractive.
Don't Ask
Mature couples are less likely to be public about a new relationship early on. Be a supportive friend and avoid seeking too much detail.