Fall 2013
BackStory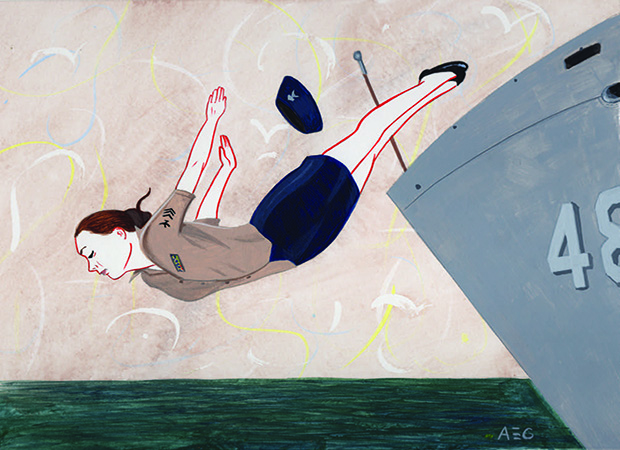 Ship to Shore
By Kristin Healy BS, '07
For most people, the idea of going home after being away for a length of time brings a sense of excitement that comes with returning to a familiar place, to people who know you best. Yet as a veteran, I had never felt more uncertain in my life.
In 1999, at 18, I joined the United States Navy and, after boot camp, arrived at my first duty station, an intelligence, surveillance, and reconnaissance squadron. After the September 11 attacks, my future detachments came in support of combat ground operations in Afghanistan and, ultimately, Iraq. The next four years brought 18-hour workdays, sleeping in tents, and questions about when I would eat an actual meal again. Still, I never felt more at home than during this time. I was planning two combat missions a day, assessing enemy threats, identifying targets, securing airspace, and conducting pre- and post-mission analysis, reporting, and dissemination.
After a tour of duty at United States Naval Forces Central Command in Manama, Bahrain, where I served as an intelligence analyst, I made the decision to separate from the Navy in order to pursue an education. I returned to Naval Air Station Brunswick in Maine, and then officially left the service in 2004.
Back in my parents' home in Weymouth, Massachusetts, the first few weeks were heaven. I did nothing but sleep on a pop-up cot, relax, and hang out with old friends. I felt like I was on leave. But soon I awoke to the reality that I had absolutely no idea what I was going to do. I seriously questioned whether I had made the right decision to leave the military, and, most importantly, if I would ever be as good at anything in my entire life as I was at being a Navy intelligence specialist. I considered going back but then thought about all of the reasons I had decided to get out. Operations Enduring/ Iraqi Freedom were going full speed at that point, which meant no rest for active duty intelligence personnel. I got out to get an education and had to keep my eye on the ball. This was difficult; I was in daily contact with still-enlisted friends and felt I was missing out. Applying to college while still on active duty allowed me to start Suffolk that same year [2004], which left no time to become complacent.
Being a full-time student wasn't enough to take up my time. I felt lazy and had very few friends at school, which was probably my fault. Though I was only 23, I was going through a very difficult time of adjustment, something most 18-year-olds wouldn't understand.
To stave off depression, I looked for a job. I was offered a minimum-wage position at a hospital in the medical billing department, though I was told I didn't have any applicable skills. That was like getting kicked in the face. "No skills?" I thought. I'd just spent the last four years chasing the Taliban across Afghanistan, working 16-20 hours a day—and all I have to do here is field phone calls. I didn't take the job but instead accepted a position at the MIT Lincoln Laboratory, working for the Navy while taking excess classes to graduate a year early.
I've graduated from college, I have a great job, and I have three sons. The best thing for me was the opportunity to go to Suffolk, because it didn't give me time to get lazy. I remain in contact with most of my military friends, which makes me realize that my feelings toward "transition" to civilian life are far from abnormal. I am certain that I will never have the privilege of working with a better group of people. But I know I made the right decision. After nine years, I feel happy with where I am personally and professionally, and I'm so glad to be home.