Fall 2013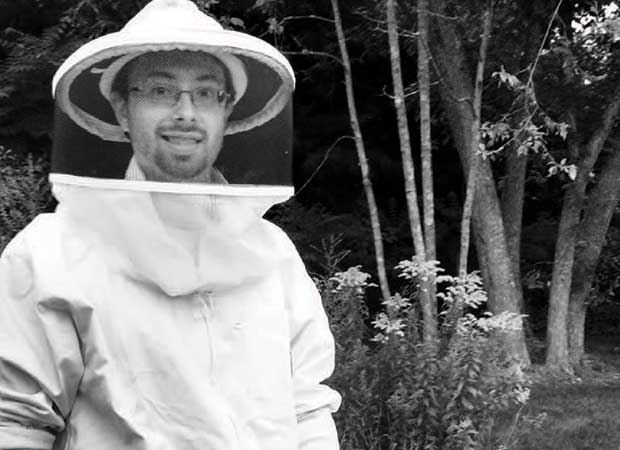 True Bee-liever
Why the hive is the safe place to be.
When artist Christoph Niemann imagined homecoming as bees returning to the hive (see cover), we wondered if that image accurately reflects, well, true "beehavior." As a fact check, we decided to put our feelers out to see if we could find a beekeeper among Suffolk's 70,000 graduates. "Have I got a bee enthusiast for you," raved Elizabeth T. Loranth BA '06. "My friend John Mahoney is quite the bee aficionado. He attended courses in beekeeping and now has his own hive. John is known in our circle of friends as Jay Ma-honey Bee (because his family recently dressed as bees and beekeepers—the Ma-Honey Bees—for a Scituate Labor Day parade, where they won first place for most creative costumes)."
Mahoney MBA '05, JD '10 who by day is an attorney at Rezendes Law Group in Quincy, Massachusetts, first had an interest in beekeeping many years ago, but he had no idea how to pursue it until he learned that his dentist was a beekeeper. More recently, Mahoney decided to deploy bees for pollinating the crops of a 5-acre farm his family is starting. As much as his avocation has a practical side and remains a passion, Mahoney confesses that "beekeeping is not easy. Although they rarely sting, the management of bees is a challenge...Most new beekeepers have problems in their first year, and I have learned some important lessons and made some mistakes I won't repeat."
Although he is relatively new to beekeeping, Mahoney confidently confirmed that for bees, "Returning home is absolutely important. The importance of the hive is that it is the safe place to be" and it "allows for the other bees to watch out for one another." What better reason to return home?
 Six Fascinating Facts for Aspiring Apiarists:
1. The average hive starts with around 10,000 bees. 
2. It takes about 21 days for bees to grow from an egg to an adult. 
3. An adult bee typically lives 2-4 months. 
4. Bees can't fly in temps below 50 degrees.
5. Bees use landmarks and scents for navigation. 
6. Average startup costs for new beekeepers: $300-$600.